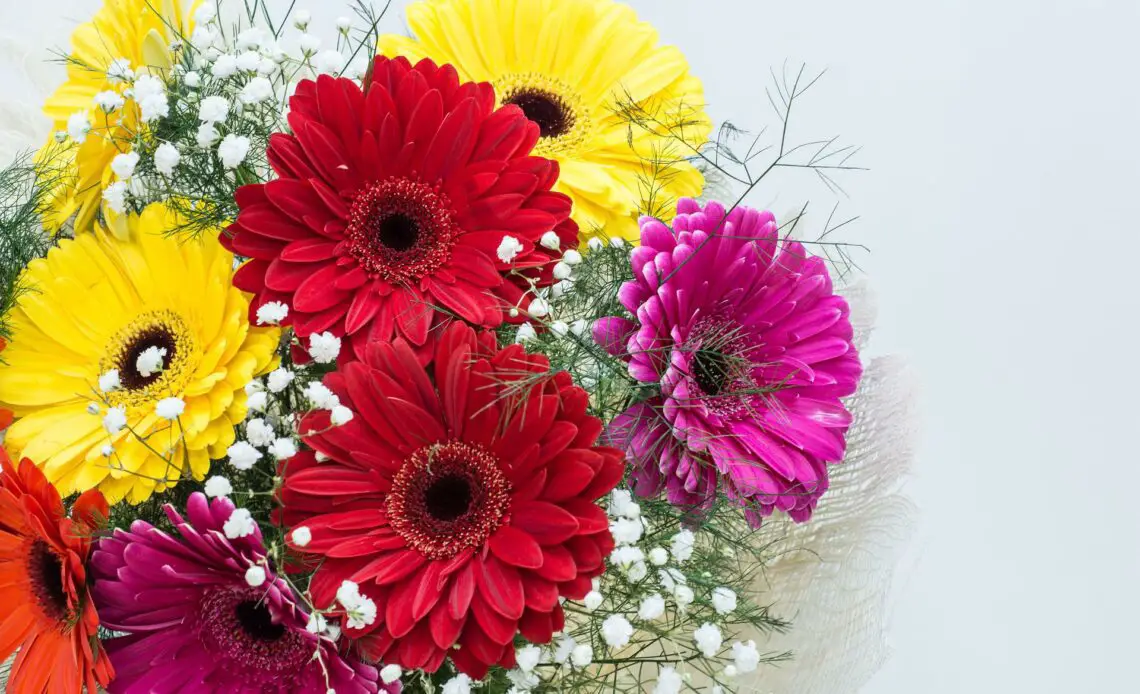 Last updated on May 20th, 2023 at 11:29 pm
Gerbera flowers, or Gerbera L., belong to the daisy family under the Asteraceae (Compositae) family. Popularly known as the African Daisy, gerberas are widely found in tropical regions of South America, Africa, and Asia. A bouquet of gerbera flowers in both large and miniature varieties speaks of the strength of love and the beauty of sharing.
Originating in South Africa, South America, and Asia, Gerberas got their name from the famous German botanist Traugott Gerber. Popular with florists for a few decades, these beauties have found their way into many different cultures around the world.
What does the Gerbera flower symbolize?
The Norse glorify gerberas as the source of life, fertility, and beauty. For them, gerberas are a direct reference to their love goddess, Freya, whose sacred flower is the daisy.
Many other cultures associate gerberas with hope, joy, and new life. Gerberas are known to bring optimism and strength to the lives of sick people. That could be one of the reasons why hospitals prefer to seed their gardens with this eternal beauty.
Gerberas can infuse our lives with joy and cheer. They are known to bring a ray of light into our day, reminding us that sharing is beautiful. The petals of a gerbera flower radiate happiness and bring beauty to our lives. Gerbera flower means cheering and celebrating.
They are a symbol of eternal love and bliss. You show appreciation and admiration when you give a gerbera bouquet to someone you care about. You are expressing your wish that the bouquet will bring them joy and make them feel loved. Gerbera flower expresses your feelings of love and affection.
Gerbera petals are long and thick, signifying power and resilience. Gerbera flower's meaning is to be bold and courageous in the face of adversity. They tell you to be your true self and to never give up on your dreams, no matter how hard the journey may seem. This is the symbol of strength and courage.
Gerberas are also symbols of innocence and purity of heart and mind. They symbolize good and innocence. Gerbera flower brings purity and harmony into your life.
All in all, the gerbera flower symbolic meanings are:
cheer
celebration
love
care
strength
courage
purity
innocence
Meaning of the Gerbera flower colors
Red color
The color red is a symbol of passion and love. Red gerberas are a symbol of love, affection, and romance. They are also a symbol of good luck and happiness. This makes them popular for weddings, birthdays, and other special occasions.
Yellow color
The color yellow is a symbol of purity and innocence. They bring happiness and joy to the people they touch. Yellow gerberas symbolize a sunny day and symbolize new dawn and new beginnings in your life. Gifting them for weddings and birthdays shows your love and care for the people you share your life with.
White color
White gerberas are a symbol of peace and serenity. They bring a sense of tranquility and calm to you and the people around you. They can ward off mental stress and help you relax. White gerberas are a great gift to someone who needs a little extra peace and calm.
Pink color
The color pink is a symbol of romance and admiration. Pink gerberas show regard and respect to the person you give them to. They also show your appreciation for their hard work. This makes them a popular choice for gifting to friends and colleagues.
Orange color
The color orange symbolizes vigor and vitality. It is associated with the sun, the ultimate source of energy. They bring a sense of clarity to your life. It can make your environment bright and cheerful. Gift it to someone you care about and show them that you are always there for them.
Purple color
The color purple is often associated with class and sophistication. It symbolizes wealth and value. Purple gerberas are a great way to show someone how much you value them – a role model or your inspiration, perhaps. Purple gerberas can make a great gift to your loved ones to show them how much you appreciate them.
Interesting facts about the Gerbera flowers
Gerberas are perennial flowers, available all-round year.
They are like sunflowers—turning towards the sun.
They are the 5th most popular flower in the world.
They are the only flowers available in 2 different sizes—large and small.
Modern hybrid variations have allowed for single-layer, double-layer, and even crested double layers of petals on gerbera flowers.
How to grow Gerbera flowers
Because of its brilliant and lovely color, the gerbera daisy is a popular houseplant and garden flower.
Plant the gerberas in fertile, well-drained soil.
Place them in a spot with a delicate balance of sunlight and moderate temperatures.
Mix about two inches of peat or compost with the top inches of ground soil.
Deeply water your plants once a week.
Apply micronutrient-rich plant fertilizer.
How to care for Gerbera flowers
Water the plant deeply when the top soil feels dry.
Keep the soil moist but not too wet.
Feed the plant with regular fertilizer during spring and summer.
Remove any blooms that wilt to promote regrowth.
Best time to gift Gerbera flowers
Gerberas are a popular flower and are used in many ways. Gifting flowers like gerberas is one of the most popular ways to send someone a cheerful and warm "Hi!" in the spring. 
These flowers bring an extra dose of cheer to any occasion. Gift them to someone who needs a pick-me-up—a little springtime cheer for someone who's having a tough day.
Conclusion
Being the 5th most bought flowers across the globe, gerberas are unique not only for their vibrant colors but also for their radiance and longevity. The petals denote rays of happiness and light in your life. The blooms are a symbol of love and bliss.
Different cultures paint different gerbera flower meanings based on their traditions. It is vital to note that gerberas have been around for a long time and are part of many cultures.
All colors of the gerbera flowers are pleasing to the eye and are an excellent choice for a bouquet. Mixing a few different colors or going with a single color would be a great choice. 
If you want to know and learn more about flowers, we at PansyMaiden can help you. Check out our fun, easy-to-read, and informative flower-related content that you will surely enjoy!