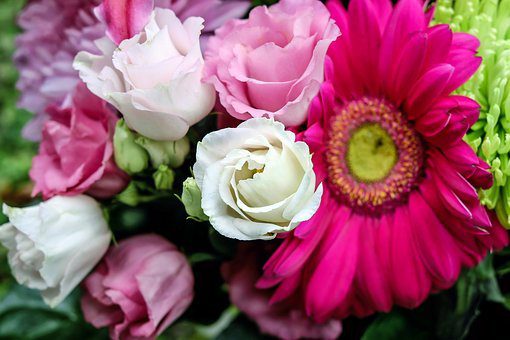 Introduction to Lisianthus Flower
The very beautiful Lisianthus flower is increasingly favored by event planners for weddings and florists. This flower is also called Eustoma, which in ancient Greek means 'beautiful mouth'. Lisianthus flowers are used in romantic bouquets and arranging wedding floral bouquets. It looks similar to a rose and can easily replace the commonly used flower.
A Lisianthus plant is an annually blossoming non-woody plant, or in other words – a herbaceous annual. It has a couple of other names like Texas Bluebell, Lire de San Padro, and Prairie Gentian. It natively grows in Mexico and the southwest US and similar dry and warm places.
The Lisianthus was originally an American wildflower. Though Japan cultivated this wildflower to be the wonderful species it is today, lisianthus wildflowers were native to South America (northern regions) and West Indies. This flower was long in demand in Europe and Japan, much before the craze caught on in the USA. The reason for this can also be that it is not easy to grow this plant from the seed and it is a slow-growing plant. But now the popularity of this flower is growing in leaps and bounds. The USA is seeing an ever-increasing demand for it.
Lisianthus Flower Meaning and Symbolism
You has to be gentle and patient while growing a Lisianthus plant, especially in the initial months. Once the flower gets habituated with the ground, the flower starts becoming stronger as it grows and can survive in difficult conditions. This is why the Lisianthus flower symbolizes overcoming hardships. According to many people. Lisianthus flower meaning is rising above after leaving all difficulties behind.
Lisianthus flowers were given to helpful folks as a token of appreciation. These flowers were also common wedding gifts and were also used for wedding decorations.
Apart from symbolism, there is more than one Lisianthus flower meaning. These are –
The everlasting bond between two individuals

Old customs and belief systems

Appreciation

Saggitarius birth flower
Everlasting bond – One Lisianthus flower meaning is the never-dying bond between two people. This flower is gifted on celebrations of love and special occasions like wedding anniversaries. As we have already mentioned, in some cultures, these flowers are used for decorating wedding venues and also given as wedding gifts.
Old customs and belief systems – A lisianthus flower signifies old customs which are favored. It is a symbol of traditional values. There are stories to support the statement that many associates this flower with a traditional belief system. In some cultures, this flower represents values that were previously valued but dying now.
Appreciation – The third Lisianthus flower meaning is appreciation. You can give this flower to show your appreciation to someone who has helped you or been there for you. In many cultures, the Lisianthus has symbolized appreciation for ages.
Sagittarius birth flower – A lisianthus flower is suitable for people who have are zestful, have a go-getter attitude, and are in love with life. These are traits that Sagittarians seem to have. They cannot hide their feelings when they are in love and have a strong creative side.
What do the various colors of the Lisianthus flower mean?
Lisianthus flowers are beautiful and bright flowers that can enliven a room or make a bouquet look charming. But if you are thinking of giving Lisianthus flowers to someone, you should know what each color means. Then choose the appropriately colored lisianthus.
Purple – Purple is a royal color that also represents nobility and beauty. A purple lisianthus is so beautiful that no matter where it is kept, it will grab eyeballs. It is an ideal gift for that extraordinary person you are in love with and about whom you cannot stop thinking.
Red – Red is associated with romantic love and passion. Therefore, you should consider giving a red lisianthus flower to the special person in your life.
White – The color white is a symbol of spirituality, purity, and an ever-lasting bond. This is the reason you will see White Lisianthus being used for floral bouquet arrangements and wedding decorations.
Yellow – Yellow is a bright and cheerful color. It is ideal to bring some warmth to your home by decorating with some yellow lisianthus. A yellow Lisianthus flower meaning is positivity and happiness. You can also give yellow lisianthus flowers to a friend as yellow signifies friendship.
Pink – A pink lisianthus is associated with adoration and love but not romantic in nature. These flowers are very commonly available. A light pink lisianthus is also a suitable gift for a new mother, a young lady, or any adorable family member.
Interesting Facts and Characteristics of the Lisianthus:
A lisianthus is a bitter flower and the medicines made using it tastes bitter.

The name 'Lisianthus' can be difficult to remember or pronounce. It is therefore also called 'lizzies' for convenience.

It is the birth flower for people born under the Sagittarius zodiac sign.

A lisianthus looks very similar to a rose. People confuse it to be a peony or a tulip.

A lisianthus is shaped like a bell or funnel-shaped.

Lisianthus blooms can be single-flowered or double-flowered.

This flower blooms in a funnel or bell shape.

There are dwarf varieties of Lisianthus.
The Best time to gift someone Lisianthus flowers:
As Lisianthus symbolizes appreciation, you can give a lisianthus o anyone whom you greatly admire. This flower is also Sagittarius' birth flower. This means that this flower is a suitable gift for Sagittarians, i.e. for people whose birthday falls between 22nd November – 21st December. You can gift it as a birthday gift.
You can also give this flower to someone with whom you feel a strong romantic attraction. Other than it being a gift of appreciation, this flower is also perfect as a 'thank you' gift. You can give this to a supportive person to let them know how grateful you are.
Thus you can consider giving anyone a bouquet of lisianthus when you want to express your love, acknowledgment, acceptance, and respect.