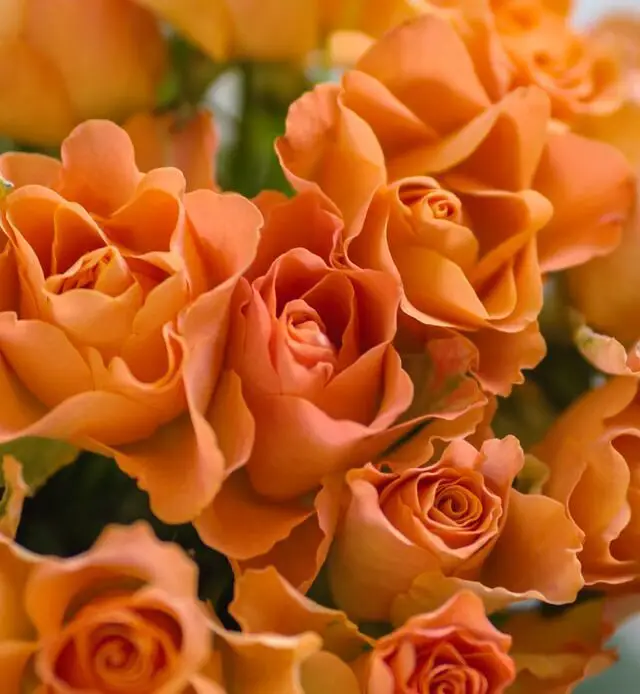 Historically and culturally, the rose flower has held a special significance in human societies across the world. The fragrance of these flowers is used for commercial perfumery due its sweet and distinct smell. Even their appearance is so fascinating that they serve the purpose of ornamentation and decoration, be it for clothes or the landscape of a garden. Certain cultures also use roses to flavor their cuisines. Some also believe that the rose flower is imbued with medicinal properties. So, roses are not your typical pretty flowers – they have substance.
Roses come in a variety of colors. The most common shades of rose petals are red, yellow, pink and white. There is, however, one variety which has a very unique color which blends shades of orange and apricot. That variety is called Westerland roses. Their unique color palette is sophisticated and calming to the eyes. And they smell as fragrant as any other rose.
If you are planning to get some roses for your garden or living room, Westerland roses are a great choice. They even serve as a perfect gift for special occasions.
The Origin of Westerland Roses
The Westerland roses are a relatively new variety in the rose family. In 1969 Reimer Kordes, a rose breeder from Germany, crossed the Westerland roses variety. He can be called "The father of Westerland roses".
Kordes used two rose varieties to create the Westerland roses. The parents of Westerland roses are Floribunda 'Circus' (comes in pink-yellow color) and Floribunda 'Friedrich Wörlein' (comes in yellow color). The name "Westerland" is inspired by the city of Westerland in the North Sea German Island of Sylt.
Westerland rose falls under the shrub category of roses. Other classes of roses are bed roses, climbing roses and more. Westerland rose is also known as the "Climbing Westerland", "Kordes Rose Westerland", "KORwest", "KORlawe" and "Rosa Westerland".
Prominence of Westerland Roses
Image Source
The beauty of Westerland roses comes directly from its parent flowers – Circus and Frederich Worlein. Both the parent flowers have already won three reputable awards. The circus flower is also a parent to other prominent rose varieties like Lydia, Angel Face, Joseph's coat, Princess Michiko and White Cockade
In 1993, the Westerland rose won the RHS (Royal Horticulture Society) / RNRS (Royal National Rose Society) Award of Garden of Merit in the United Kingdom (UK). Though it did not bag the prize for Rose of the Year, one of its parents did. In 1956, the Circus flower won the prestigious title along with an AARS (All America Rose Selections) award. This means Westerland roses share the same potential in their DNA. No wonder they are winning awards.
Other important awards won by the parent flower of Westerland rose are the ADR award (in 1974) and the New Zealand Certificate of Merit (in 1973). It is not only the beauty of these flowers that garner admiration, these flowers are also tough and resistant to diseases. This ensures that they last longer without losing their appeal.
Important Facts and Features of Westerland Roses
The Westerland roses can grow up to 5 feet (1.52 m) with a spread of almost 4 feet (1.22 m). The color of the foliage is shiny green and the length of the stems is medium in size. Westerland rose is a shrub which has great resistance to diseases. Rosa 'Westerland' is the botanical name of Westerland rose, while it is commonly called "Climbing Shrub Rose". The Westerland roses belong to Rosaceae family.
The petals of the Westerland roses have a blended orange and apricot color. Every flower comes in a ruffled, clustered formation. An average Westerland rose is medium in size with a petal count of 18 to 25. Every flower is fragrant, as the Westerland rose belongs to the rose family known for its alluring sweet smell. Although classified as a shrub, the Westerland rose can also become a climber plant. Proper support is necessary to do so. In its bud form, the Westerland rose is ovoid and pointed in appearance. It emits a spicy fragrance.
Due to its versatility, the Westerland rose can be grown at many places. You can choose to grow it as a shrub on a herbaceous border with other plants. The Westerland rose can also be trained to blossom on a pergola or against a strong rose arch. In case you do not have enough space for a garden, the Westerland rose can be cultivated in a large container or pot. Regular pruning and trimming will be required for maintenance.
The Westerland rose is a tough hardy plant which can grow under the full sun or dappled shade. Different types of soil and terrains can support and nourish it. Alkaline, chalky, heavy, moist, clay, light, sandy or well drained – the Westerland rose will blossom regardless of the soil it is grown in.
Meaning and Symbolism of Westerland Roses
In virtually all cultures, the rose flower holds a special significance. Its sweet fragrance and beautiful appearance makes the rose one of the most popular flowers in the world. Roses are commonly associated with love and romance, but their importance goes way beyond this. Elegant and classy, roses symbolize royalty, sophistication, charisma, passion, peace, tranquility and enthusiasm.
To understand this better, you should know the symbolism behind the colors of rose petals. This article focuses on Westerland roses. Therefore, the emphasis will be on the color orange and its related shades, which are yellow, red and pink.
· Orange Petals – the Color of the Westerland Roses
Orange petals on a rose are a pretty unique sight to behold. Most roses come in shades of red, pink and white. The Westerland roses however are orange in color. Orange as a color symbolizes emotions of desire, fascination, enthusiasm, passion and freshness.
For special occasions involving friends and family, gifting Westerland roses adds to the joy of celebration. If you are celebrating a victory, whether its earning a promotion or winning a competition, the gift of Westerland roses conveys your regards and well wishes beautifully. Between friends and family members, exchanging orange Westerland roses expresses love and loyalty.
· Yellow Petals
Some Westerland roses may have a hint of yellow in their petals. Yellow is the color of the sun and symbolizes vitality, happiness and youth. If you are visiting someone who is sick or suffering from an ailment, Westerland roses with a hint of yellow can revitalize their spirits. Gifting yellow-tinted Westerland roses to a sad or depressed friend will cheer them up and help them cope with their condition better.
· Red Petals
Red shades in Westerland roses are not common. But if you find such flowers, present them to someone you love deeply. Red is the color of love. Mixed with the passion of orange, the color red can convey your affections strongly.
· Pink Petals
Pink is the color of innocence, appreciation, grace, gladness and gratitude. Westerland roses with a tint of pink bolster these emotions even more. Gift these roses to someone you look up to or admire. If you are a student or an employee, pink-tinted Westerland roses make for an excellent gift to your teacher or boss. You can even present them to someone who has helped you in the past to express your gratitude.
How to Grow Westerland Roses
As mentioned earlier, the Westerland roses are a hardy plant with resistance to diseases. Still, there are some pointers you should keep in mind to grow and maintain these beautiful flowers properly.
Purchasing Westerland Roses
Roses sold in the market come in two forms – bare root roses and container roses. Each have their respective advantages and disadvantages.
Bare root roses are not available throughout the year. They are dormant and available in the cold weather months between November and March. As bare root roses are live plants, they need immediate attention and care upon arrival. This could be problematic during snow and frost.
Container roses can be purchased anytime of the year. In the summer months it is advisable to water the plant daily for maximum health and great blooms. The advantage of purchasing container roses is that you can see the type of flowers your plant will blossom before making a purchase.
Planting Westerland Roses
To plant a bare root or container rose properly, ensure that the hole is dug wide enough for the roots to spread and hold on to the soil firmly. As a shrub rose, every Westerland rose should be planted at least 2 feet (0.61 m) apart. Always use good quality compost to provide nourishment to the plant.
Also, remember that the first inch of the stem should reach below the soil for optimal support. After digging the hole, place the plant in it and hold it with one hand. Use the other hand to cover half of the depth with soil (mixed with compost). Now firm the soil by stepping with your foot. You can leave the plant. Fill the remaining hole with soil and firm the surface with a spade.
Caring for Westerland Roses
Always hard prune the plant before the actual planting. They should be reduced to around 6 inches (ca. 15 cm) before being put in the soil.
Flowering Times
The best time to plant Westerland flowers is in the winters. They will blossom for almost half a year, between the months of June and November.