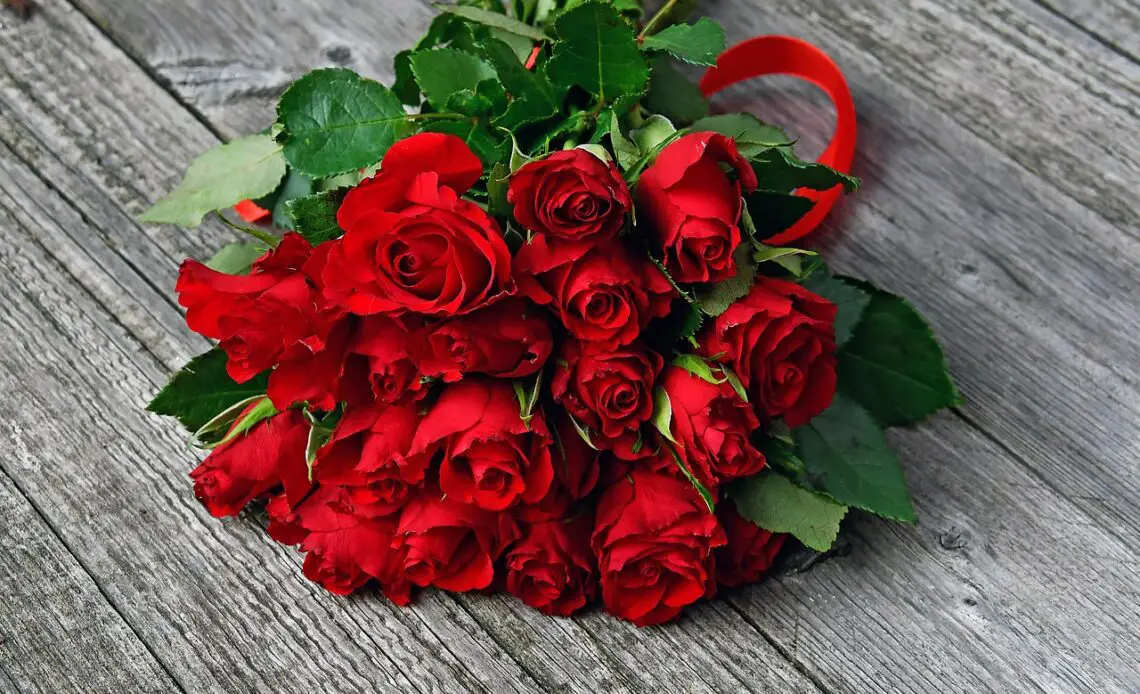 Flowers are known as a language of love; they speak out what words cannot. Among all the flowers, roses are the mainstay. They can be found gifted on every birthday, anniversary, Valentine's day, and even funeral. Roses are timeless and still perfect for gifting flowers on any occasion.
1. Gifting roses according to color
Roses symbolize love and romance, but did you know that every color of roses has its meaning? 
Each color of the rose conveys a deep meaning that can make an everlasting impact on the recipient. If you are thinking about gifting roses to your loved ones, one important thing to know is which colors correspond to different messages you want to express.
| | | |
| --- | --- | --- |
| Color | Symbol | Perfect for saying |
| Red roses | love and passion | "I love you" or "I'm sorry" |
| Pink roses | elegance, sweetness, and femininity | "Thank you" or "I care for you" |
| Yellow roses | friendship, happiness, and joy | "Congratulations," "Get well," or "I miss you" |
| Orange roses | energy, enthusiasm, and desire | "Happy birthday" or "I'm proud of you" |
| Lavender roses | enchantment, and adoration | "I'm in love with you" or "I adore you" |
| Blue roses | a new beginning and uniqueness | "Good luck" or "I appreciate you" |
| White roses | innocence, and purity | "I'm thinking of you" or "Condolence" |
Red roses
Red roses are elegant and timeless flowers, the epitome of romance. Nothing can represent passion and love the way a red rose does. We often find red roses used in movies and popular novels as a symbol of love. These flowers symbolize long-lasting bonds of relationships.
You can give a simple bouquet of red roses to make a good impression and win your special someone's heart on your first date.
If you're planning a romantic weekend vacation with your special someone, you can surprise them with a bouquet of red roses delivered directly to your hotel reservation.
Whether it be on your first or 10th wedding anniversary, red roses are always on top of the list of flowers you can give to your significant other.
Red roses are the flowers with the highest demand on this most romantic day of the year. You can give your special someone or your crush a single stem or 3 pieces of red roses which means "I Love You," to make them feel special.
Red roses are also suited to apologizing to your significant one as you express your love and affection to them.
Pink roses
The bright pink petals of roses have long captured people's hearts worldwide. Just like red roses, you can also send a message of love by gifting pink roses, particularly at the beginning of a new love. 
You can give your crush pink roses as your way of confessing your love to them.
Pink roses are a great alternative to red roses on Valentine's Day, particularly for new couples, as these flowers represent the softer side of love.
Pink roses aren't just for new relationships. You can celebrate your 15th wedding anniversary with a beautiful bouquet or arrangement of pink roses to mark your commitment to your spouse.
You can give pink roses to thank your loved ones and show them how much you care for them.
Yellow roses
Yellow roses are one of the most enchanting flowers. Gifting yellow roses to your friends is the perfect way to appreciate them and tell them how important they are to you. These flowers represent the joy and happiness you wish for someone.
Gifting yellow roses is best to greet your best friend with a "Happy Friendship Day."
Yellow roses make the best bouquet to say "Get well" or "I miss you."
You can give yellow roses to congratulate someone on their graduation day or promotions to celebrate a job well done.
You can reflect on the last 50 years with your beloved with a posy bouquet of yellow roses.
Orange roses
Orange roses are versatile; they also convey love and romance but are not as intense as the red ones and express feelings of friendship, like yellow roses. These flowers are mixed with more intense feelings of care, affection, loyalty, and the beginning of a new romantic relationship, which perfectly balances the feelings of love and friendship.
Give orange roses to show someone you are interested in them.
Wish your friends a "Happy birthday" by gifting them orange roses.
Give your partner or spouse orange roses to represent your passionate love and romance in the relationship you share with them.
Gifting orange roses is a great way to tell someone you are proud of them.
Lavender roses
Lavender roses convey a love at first sight or delight. These flowers represent something cute and innocent, like the first love. Since lavender roses are rare and aren't easy to find, they bring a unique charm and distinctive appeal to a bouquet.
A fresh bouquet of these lavender roses can leave a stunning first impression on your first date. 
Lavender roses are perfect for giving your partners and family to show your love and adoration for them.
Give lavender roses if you fall in love with someone at first sight or are eager to grow your relationship with them.
Lavender roses are ideal if you want to confess your deep feelings for someone. 
Blue roses
Blue roses are one of a kind; they look mysterious, enchanting, and extraordinary. These flowers signify a fresh start and may also mean attaining the impossible, rare romance, and a dream come true as they stand for everything rare and unattainable.
Tell someone how unique they are by giving them blue roses.
You can give your mother, teacher, or mentor blue roses to tell them how much you appreciate them.
Wish your friend "Good luck" by gifting them blue roses.
Blue roses make a unique and special gift for birthdays or anniversaries.
White roses
White roses symbolize a gesture of remembrance and reverence because of their pure and elegant color. These flowers also represent the recipient's purity, innocence, and virtue. White roses convey respect for a new start, transitioning from one phase of life to another, and express hope for the future.
You can tell someone you think about them through a bouquet of fresh white roses.
You can give white roses at your engagement to celebrate new beginnings as you announce your upcoming wedding with your beloved.
If you have a sick friend, family member, or relative, you can give them white roses to wish them well in their hospital bed.
Pay your respect at a funeral by gifting white roses to the bereaved family.
2. Gifting roses according to quantity
Gifting a bouquet of roses is romantic and timeless, but knowing the hidden meanings of the number of roses gifted to your special someone makes it even more romantic and meaningful. There are just a few differences between professing one's love and congratulating or apologizing to someone according to the number of roses you must know.
| | |
| --- | --- |
| Rose Quantity | Meaning |
| single rose | Often gifted to those you love, which indicates love at first sight or years later, "you are still the one." |
| 2 roses | Gifted to those you are deeply in love with or someone who has reciprocated your love and shared mutual feelings. |
| 3 roses | A traditional three-month gift or to tell someone, "I love you." |
| 4 roses | A perfect way to say, "nothing will come between us" or "we are meant to be together for life." |
| 5 roses | A great way to show how much you love and care for your friend or someone special. |
| 6 roses | One best way to tell someone, "I want to be yours," if you are dating and wish to take your relationship to the next level. |
| 7 roses | Signify infatuation and say, "we complete each other." |
| 8 roses | To show your support for a friend or family going through tough times. |
| 9 roses | Symbolize eternal love for someone you want to spend the rest of your life with. |
| 10 roses | A simple yet powerful way to tell your special someone "you are perfect." |
| 11 roses | A romantic way to tell someone, "you are my treasured one." |
| 12 roses | A simple way of telling your crush, "be mine." |
| 13 roses | For friends forever or a secret admirer who wants to tell, "you are all I need." |
| 14 roses | An ideal choice to say, "I am proud of you." |
| 15 roses | A peace offering to say "I'm sorry" to someone you've hurt or disappointed. |
| 16 roses | To express good wishes to someone about to go on a journey or simply "bon voyage." |
| 17 roses | To be given to your wife, whether on her birthday or another special occasion. |
| 18 roses | A symbol of trueness and sincerity to tell your loved one to "stay young and beautiful." |
| 19 roses | Gifted to someone you are planning to wait for. |
| 20 roses | Convey sincerity and belief in telling someone, "we are together forever." |
| 21 roses | To prove your commitment and dedication to someone you love. |
| 24 roses | Reveal that special someone is always on your mind 24/7 and tell them, "I'm yours." |
| 25 roses | Wish someone all the happiness in the world and congratulate them on their accomplishments. |
| 30 roses | Help to express your faithfulness to your partner and tell them, "I am committed to you." |
| 40 roses | To confess to someone that "my love for you is genuine." |
| 50 roses | To demonstrate your unconditional love to your significant other. |
| 56 roses | Convey your unconditional love and tell your partner, "we are together forever." |
| 66 roses | To imply to your other half that "nothing's gonna change my love for you." |
| 77 roses | Gifted to someone as your "soul mate." |
| 88 roses | To apologize from the bottom of your heart. |
| 99 roses | To lovely tell someone, "I wanna grow old with you," and "I will love you till I die." |
| 100 roses | A gesture of devotion to someone you dearly love. |
Conclusion
Like any other flowers, roses have a hidden meaning behind their color and quantity. Depending on what message you want to convey or how you want to express your feelings to someone, roses can help you.
If you want to surprise your friend, colleague, family, or relatives on their special day, you can use the given guides above to choose the right color and quantity of roses to give your recipient.