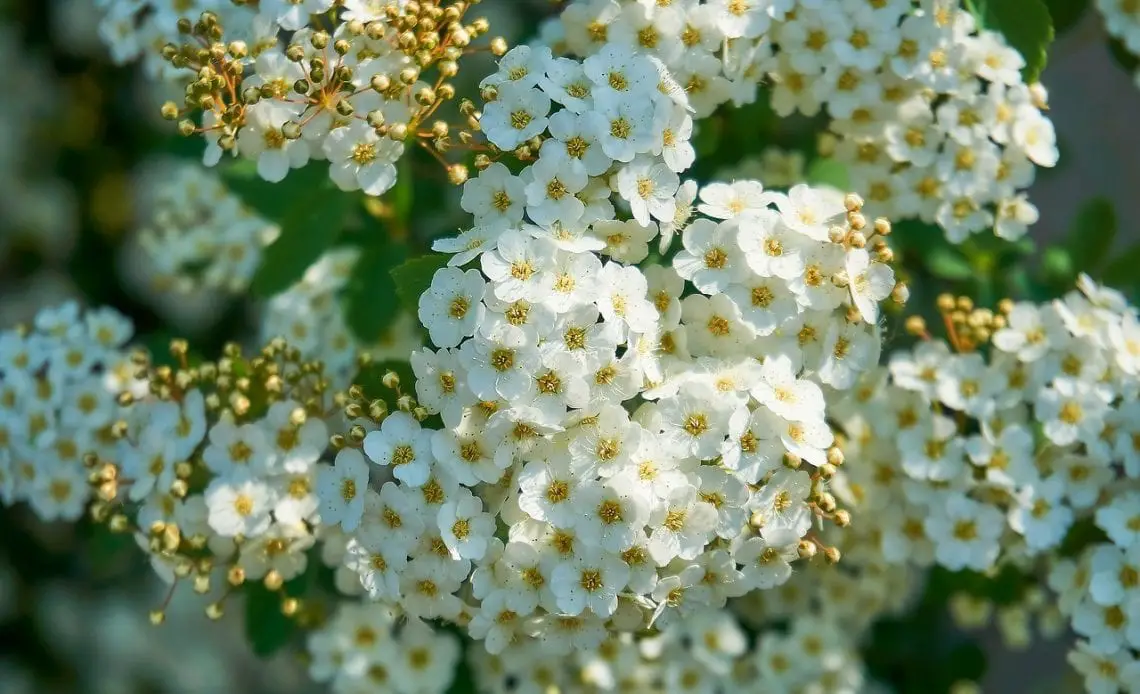 Image Source
When you want attractive foliage with a blend of vivid flowering mixed in, people opt for spirea shrubs and bushes. Available in a huge variety of foliage types and flowers, they make for lovely hedge rows, and give great cover. You can combine them with different flowers and this adds a pretty contrast to your garden area. Besides this, spirea are easy to grow and maintain. Gardeners love spirea because it makes a garden look fuller and more abundant, apart from filling areas and offering partitions.
A common variety of the spirea bush is called Bridal Wreath Bush or Bridal Wreath Spirea. Named as such for the pure white flowers it produces, it is a heavenly looking cascading shrub. You'll be taken aback when you visit your local plant store – the varieties of spirea are plentiful. Spirea is popular as it grows well in a container and looks elegant as it falls over a balcony ledge. If you want something that adds vintage charm to your garden, spirea is your plant!
Bridal Wreath Bushes or Spirea come from the family of roses. Like roses, they are popular plants. They are very easy to care for and some varieties are so colorful that you needn't plant any companion flowers. The variety of Bridal Wreath Spirea is pure white and has full flowers through the shrub. This makes it easy to choose other flowers to complement it. Spirea becomes a good backdrop for other more vibrantly colored flowers.
Popular Spirea
The most sought-after Spirea plants in North America are "Triumphans" and "Bridal Wreath Bush". Triumphans is a variety that bears gorgeous dark pink blooms in the summer. The Bridal Wreath Bush is especially lovely and grows to 5 or 6 feet in height. The flowers have a romantic appearance and wide arch-like branches. A sub-variety of this is "Grefshiem".
Bridal Wreath Spirea is known to be famous in Northern Europe. Here, you can find many gardens with its overhanging foliage. It blooms in late spring, typically in April and May. A variety you can grow in plant pots is Spirea Vanhouttei, a solitary shrub which has dense white blooms. Many of these can be planted in a row to form a full line. Spirea Thunbergii, also a white flowering bush, is a lovely sub-species of the Bridal Wreath Bush.
Companion Flowers
Bridal Wreath Bush Spirea produces dense white blooms and rich green foliage. As a backdrop or a garden hedge, the shrub looks appealing enough. You can either combine it with sections of complimentary colored Spirea, or opt for planting flowers blooming alongside.
Spirea is a robust plant that weathers harsh climates too, so your garden will never look sparse. Spirea can take most soil conditions too. In mulch-filled soil, Spirea doesn't even need fertilizer. Annual pruning is advised, just to prevent leaf loss. Bridal Wreath Spirea attract pollinators and it's a great idea to plant other flowers nearby, that attract them too. Your garden will be redolent with fragrance and butterflies every spring and summer.
With showy clusters of white spirea flowers as an accent, you can plant a variety of blooms that compliment the white look. Whether you plant the Vanhoutti variety that grows 8 feet wide, or Thunbergii, with bluish foliage, colored flowers should be chosen appropriately. It's a good idea to plant Spirea with other plants as the Bridal Wreath Bushes contain salicylate in their branches. This is a natural repellent for deer and rabbits who would otherwise destroy flowers as well.
Shrub Roses
Since the Bridal Wreath Bush is part of the rose family, planting shrub roses in its vicinity would be a good idea. Choose colored varieties like bright pink and different reds so that your white Spirea stands out more. If you have Spirea as a centerpiece, you may think of red, pink, or yellow rose shrubs all around.
Both plants are hardy and require low maintenance. Also, Spirea and shrub roses offer great ground cover. They also bloom repeatedly, so overall, you have to do less work. You can try rugosas or musks for your shrub roses.
Viburnum
Viburnum, just like Spirea is a shrub that is tough and does well next to other shrubs and bushes. It has white blooms that look a bit different, but grows in abundance with evergreen varieties too. It is resistant to deer and provides fruit and berries. There is a wide range of sizes available. It can be contained in pots, so adds nice white offset accents to the Bridal Wreath Bush. In a landscaped garden these two look great together. Their sun and soil needs are almost the same. When your Bridal bushes become bare in winter, your Viburnum will remain resplendent with winter red berries. Viburnum adds great color to a fall garden as well.
Juniper
Tall Bridal Wreath Bush teams up well with ground cover juniper plants. Juniper of the blue star variety offers a great contrasting match with tall Bridal Wreath Spirea with white blooms. Throw in some lavender bushes and your garden will be a heady haven of blue and lilac hues. Hydrangea pairs well with all these and offers powder blue bushes and some darker blue flower clusters too.
Aster
Asters are colorful flowers that pair well with cascading Bridal Wreath Bush varieties. Asters grow in full bush-like plants and range in colors and sizes. They are low-growing perennials that are suited in soil conditions and climate to Bridal bushes. Bluebird asters and the New England dark pink variety are two aster types that add a splash of color to elegant overhanging wreaths. Your garden will look romantic and quaint with old-world charm. As asters have fuller growth, you may want to choose a bridal variety of Spirea that looks similar. Reeve's Spirea has fuller mounds of white blooms.
Weigela
Weigela grows at roughly the same time as Bridal Wreath Bushes, and guarantees that both blooms appear together. This is a plus for a good companion plant. Weigela is a good perennial plant, hardy and very easy to care for. The low-growing shrub offers up beautiful flowers in pink and white. These excellently match with white blooms of Spirea. Well-drained soil are a must for Spirea and weigela, and both plants take sun well. Blooms appear in the shade too.