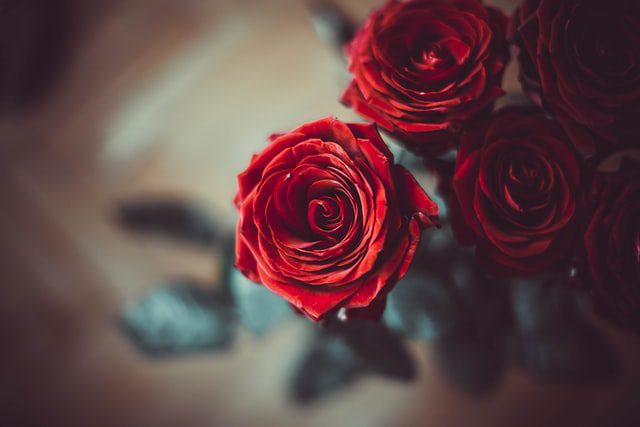 Roses are the queen of flowers, and they are called so for a reason. Apart from being the most beautiful flowers, they impart a delightful fragrance and uplift the mood of the surroundings. So if you are an enthusiast when it comes to gardening, you should consider planting the most fragrant roses. Not will they be a treat to watch, but they will also transform your garden into a perfume bar. There are so many special roses that come in an array of unique scents like citrus, spicy, anise and the old classic rose smell. You will be left confused about which one to opt for! So here is a list of the beautifully fragrant roses that you could lovingly nurture in the warmth of your care.
List of 22 best fragrant roses
Fragrant Plum
As the name suggests, this rose imparts a blend of strong as well as sweet plum smell. This rose is of an attractive lavender hue with smoky purple edges and is one gorgeous rose to look at. It falls under the family of Grandiflora rose and has a double petal pattern of a size of four inches approximately. A fragrant plum looks exotic when added to arrangements of cut flowers.
Honey Perfume
The honey perfume is an award-winning floribunda rose. This rose has petals that are apricot-yellow hued and about four inches wide. They generally bloom in clusters. This rose emits a robust spicy scent that smells like a mixture of nutmeg, cinnamon, cloves, and allspice. In addition, this rose exhibits dense foliage along with powerful blooms, and these qualities provide the honey perfume rose with good resistance to rose rust or powdery mildew. Thus, the honey perfume rose is the ultimate crowd-pleaser.
Lady Emma Hamilton
This rose is unique because of its aroma. Unlike other roses, this rose imparts a lavender fragrance which is very soothing. However, the most breathtaking feature of this rose is its color. It has an uncommon tangerine hue when it has fully bloomed.
Radiant Perfume
Falling under the category of Grandiflora roses, the radiant perfume, as the name suggests, has a very radiant citrus fragrance. This rose has giant petals, which are golden-yellow hued. Since they have long stems, they make a good indoor decoration because not only do they smell fabulous, but looking at them would make your day bright!
Munstead Wood
Apart from being one of the best fragrant roses, the Munstead blooms through the year. This rose is hued in a gorgeous dark velvety crimson interior and lights outer exterior. It has a unique smell, a combination of blackberry, blueberry, and damson, resulting in a warm fruity smell.
Heritage
Heritage is a classy petal-filled English rose that has a soft pink hue. It smells like sweet lemons. One feature that makes this rose gain all the praises of the gardeners is that it has fewer thorns than its other rose counterparts. Also, this rose is disease resistant, which makes it a healthy plant. Due to its splendid beauty, Heritage is known to act as a good-cut flower.
Louise Odier
The Louise Odier rose is a very popular heritage bourbon garden rose which was introduced to the floral world in 1851. It is a very desirable cut flower because of its bright pink hue. It imparts a very sweet classic summertime rose fragrance, making it the gardener's all-time favorite.
Ebbtide
Acting as a literal show stopper, you will surely adore the flower with a deep purple hue if you look at an Ebb tide. They impart a spicy clove fragrance and are good for decorating indoors since they have longevity even after they are cut along with their stem.
Boscobel
Also referred to as old roses, Boscobel, one of the most fragrant roses, was one of the eminent roses in the vintage European era. With an aroma like myrrh with notes of elderberries, pears, and almonds, these roses are hued in salmon pink.
Citrus splash
This is one gorgeous rose to look at. It has orange and pink-hued petals, which make it extremely beautiful. Apart from its stunning looks, it is one of the most beautifully fragrant roses imparting a sweet citrus scent. The citrus splash takes time to bloom, it might even take a few years for a citrus splash to bloom, but the results will be spectacular.
Madame Plantier
This falls under the alba rose and was introduced in the floral world in 1835. Being pure white, the fragrance is the specialty of the rose. It has a classic sweet smell, making it popular among the most fragrant roses. You will need to prune this rose plant once after spring to get the best results out of this plant.
Claire Austin
Clarie Austin is one of the decent-looking roses in the world of roses with their pale lemon and cream hue. However, the most attractive feature of this rose is its enchanting aroma. It smells like myrrh but has hints of heliotrope, meadowsweet, and vanilla.
Secret's Out
Being one of the most fragrant roses, Secrets Out is a white-hued rose with a scintillating spicy fragrance. It is a compact rose, and its plant can grow till a considerable height, unlike other rose shrubs.
Fragrant Cloud
This rose is highly honored in the floral world. Why? Because it has been voted as one of the most attractive flowers in the Hall of Fame for roses by the world federation of rose societies. This rose is coral red and emits a scintillating fragrance which is similar to the aroma of a pumpkin pie. This rose has a combined aroma of spice, citrus, and fruity smell, making it a prolific rose.
The Generous Gardener
This rose is known for its antique, classic rose fragrance. Hued in soft pink petals, this rose smells like a combination of myrrh as well as musk. The Generous Gardener is resistant to diseases as a climber scrub, making it the gardener's favorite.
Autumn Damask
Also called the four-season rose, this is a classic and old-fashioned rose and has been growing since the 1500s. This rose blooms all over the year but reaches its ultimate potential in spring. It is beautifully pink-hued and imparts a strong fragrance and has been equally loved for centuries. Being very popular in the perfume industry, it is proudly representing the old European Heritage.
Gertrude Jekyll
This is an English rose with a combination of soft pink hue along with an antique rose fragrance. This rose plant grows easily, and its best feature is that it is resistant to diseases. Generally maintained as a tall shrub, it is considered to be one of the most fragrant roses.
Double Delight
Being the winner of All America Rose Selections, double delight has achieved the highest honor one can achieve in the United States of America. They are one of the most beautiful hybrid roses. They have a distinct hue with creamy white interiors and cherry red edges, which make them stand out.
Climbing Rose
Hued in pink and coral-salmon, the climbing rose is one of the commonly grown roses in America, and that is why they are also called the American Climbing Rose. They impart a spicy clove perfume and are disease resistant, which makes them one of the florist's favorites.
Scentimental
Scentimental is often considered an outstanding rose for a garden because of its rich color combination as well as its strong fragrance. Being a part of the floribunda category, this rose is hued in a unique white and red pattern and imparts a strong spicy but sweet fragrance.
Buff Beauty
Buff Beauty is known to bloom when it's autumn, making it unique. They are of apricot hue and impart a very pleasing musk scent. They are low scrubs but can also be grown as climbers in vining canes.
Mister Lincoln
Mister Lincoln is such a perfect rose that it sets a milestone in the world of roses. It has been thought to be the favorite of the florists since 1965 when it won an award among all the other tea roses. It is petals hued in velvet red which are splendid to look at apart from imparting a strong, pleasing fragrance.
Madame Alfred Carriere
Often referred to as the old classic rose, Madame Alfred Carriere blushes pink and white hued . It has a strong spicy fragrance and is considered to be one of the most fragrant roses by the florists. It was introduced in the floral world in 1879, and since then, it has earned its eminent position in the world of roses. It is a climbing rose plant with fewer thorns as compared to its other rose counterparts and blooms throughout the year, especially in spring.
Bottom Line
If we need to choose a flower as a masterpiece, it will be a rose. A rose is an instant mood lifter as it emits positive vibes. There is something very unique about the rose, which makes it the symbol of love in this world full of flowers. Rose has made an eminent position in our hearts, and here are the 22 most fragrant roses which will mesmerize you with their beauty and fragrance.