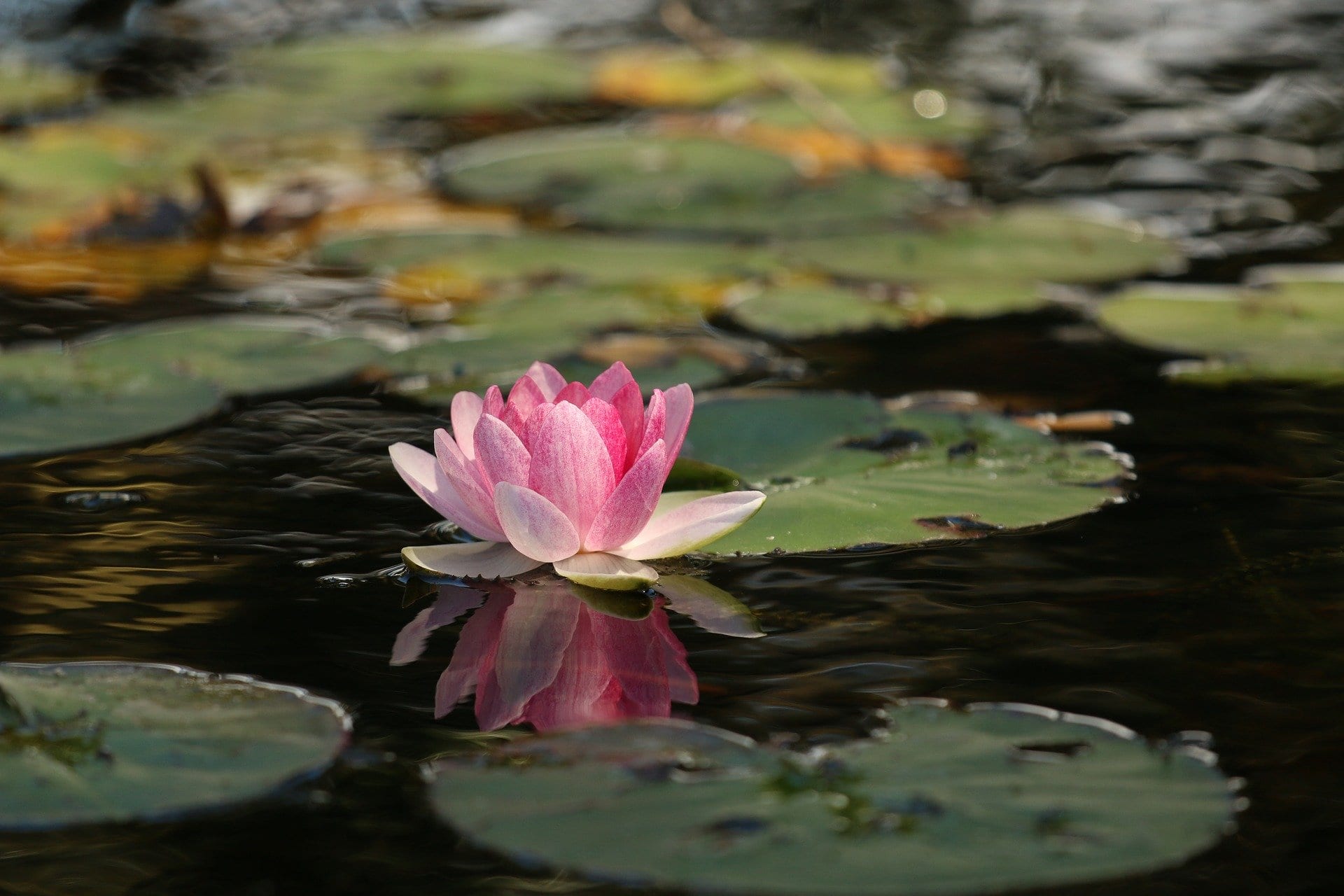 The Lotus is considered a sacred flower in many parts of the world, especially in Asia. Lotus is known for its beauty and religious significance all over the world. The Lotus is an ancient flower and some of its seeds have been germinating since the past 1000 years. This makes the Lotus one of the oldest flowers to have a record in history and botanic books. One of the prominent features of the Lotus is that it can generate heat and can generally self-adjust the temperature.
Now let us look at the types of Lotus flowers and the ones which can easily be grown at home.
The Lotus flower is an aquatic perennial flower and has several sub-types of flowers that can be classified based upon their roots and flowers. Lotus can have a few petals, many petals, multiple petals, and come in colors such as Pink, Red, Yellow, and White.
The following are the most common types of Lotus:
1. American Lotus
American Lotus is one of the most common types of Lotus flower and is found in different types of weather conditions. It has circular-shaped, blue-green leaves. The American Lotus's flowers are very delicate but its stems have a lot of strength and are fairly rigid. They have either white or yellow flowers and have about 20 petals in each. The American Lotus is also sometimes referred to as Water Chinquapin.
2. Vietnamese Lotus
The Vietnamese Lotus is found all over Vietnam and is primarily white or sometimes pink. Such types of Lotus flowers are found all over the Asian continent and is considered as a culinary delicacy over there.
3. Angel Wings Lotus
The leaves of the Angel Wings Lotus are relatively big-sized, which measure up to twenty-four inches. These are round-shaped and light green. The petals of the Nelumbo nucifera are white and don't need a lot of water to grow.
4. Momo Botan
The Momo Botan is a type of Lotus flower that can grow up to two feet in height. These produce double blooms and the petals are rose-pink. Quite often, these flowers are seen open during the night. These are very easy to grow and can be placed in small ponds.
5. Sacred Lotus
The Nelumbo nucifera is a sacred type of Lotus, especially in India, and can grow in the dirtiest of places. Its leaves are not difficult to keep clean and are very rigid and strong. The Nelumbo nucifera's petals are white and pink and can reach up to 13 inches in diameter.
6. King Lotus
As the name suggests, King Lotus is one of the biggest varieties of the Lotus flower. It can reach up to 15 inches in diameter and has a distinctive color as well. It is usually red on the inside and white on the outside. These flowers can stay afloat even if they are carrying weight. These flowers can self-adjust their temperature, and thus, they can easily adapt to varied environments.
7. Lavender Lady Lotus
The lavender Lady lotus is primarily lavender in color, which sometimes converts into pink. Quite remarkably, these can grow up to seven feet in height and love thriving on humid climate types.
8. Royal Lotus
The Royal Lotus is unique and hard to find a Lotus flower breed. They are relatively small in size as compared to other types of lotus flowers. These don't require much space to grow and remain quite short throughout their life. They have quite a few pink petals and their inner side is yellow or sometimes white. Their pod has big, beans-looking seeds.
9. Frankly Scarlet Lotus
The Frankly Scarlet Lotus is a very colorful lotus variety. Their petals are vibrant pink in color. These can grow up to six feet high and they have a nice fragrance.
10. Mrs. Perry D. Slocum
Mrs. Perry D. Slocum is a rare variety of Lotus flowers that can grow up to four feet in height and are extremely bright in color. These are made from different colors ranging from pink to cream to yellow. They have a wonderful fragrance.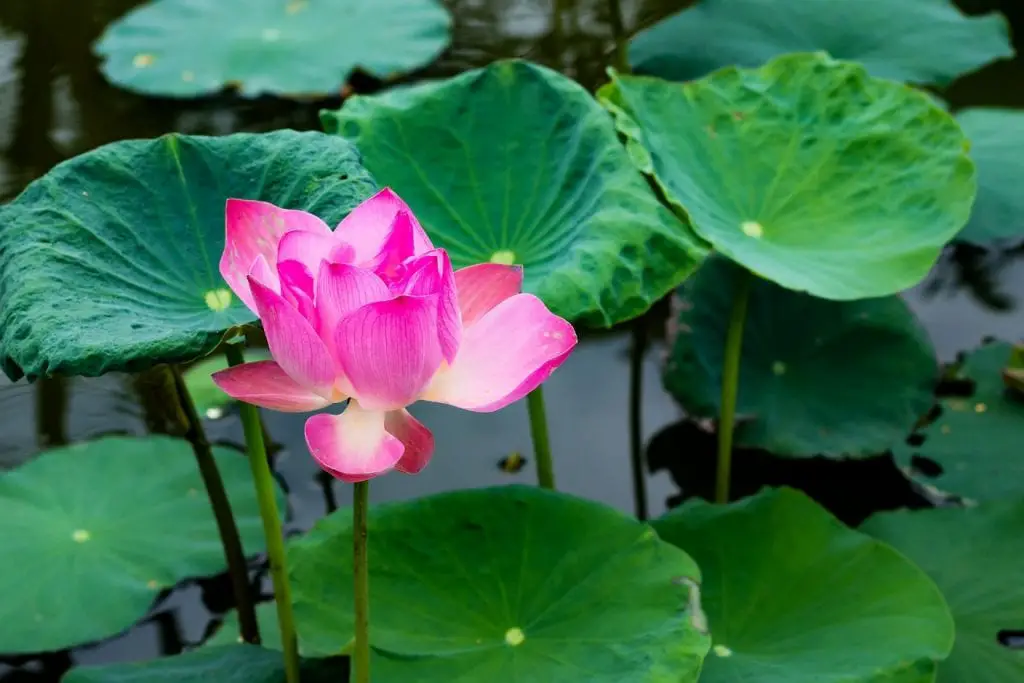 11. Carolina Queen Lotus
Carolina Queen Lotus is a big-sized variety of Lotus that can reach up to six feet in height. They have a significant resemblance to Tulips and have rose-pink petals. This variety of Lotus flower types quite enjoys the Sun.
12. Tinh de Lotus
The Tinh De Lotus is an extremely rare variety of the Lotus flower that has a unique shape. It hs two flowers which grow from a common stem. They symbolize love and purity. This type of Lotus flower has pink or white petals and they appear only for a few months in the year.
13. Green Maiden Lotus
This is a very elegant variety of the Lotus flower, which has a very unique shape and color. This type of Lotus flower can easily transform the color of its petals. This usually goes from pink to yellow to a dark cream color. These can grow up to four feet in height and have a slightly oval-shaped petal type.
14. Celestial Lotus
The Celestial Lotus variety of Lotus has at least eighty petals per bloom. They are very light red-colored and have very soft leaves. As for their growth is concerned, they grow up to a height of four feet.
15. Chawan Basu Lotus
This variety of the Lotus flower is considered a dwarf species. This is because they grow only up to 35 inches in height. They have dark pink borders on the outside and soft pink flowers inside. The Chawan Basu is a bowl-shaped flower.
16. Yellow Lotus of the Shine
This Lotus variety also has a peculiar shape. It was developed in 1968 and is a hybrid lotus flower type. They have bright yellow flowers in the center and white petals with a slightly pinkish touch. They only grow up to a height of 1 foot.
17. Sunflower Lotus
As the name suggests, the Sunflower Lotus has a great love for the Sun. However, they also need a long time to grow properly. They have dark pink petals with a white center. Their leaves usually reach twelve inches in diameter. The Sunflower Lotus type likes warm weather, but they can survive in colder climates as well.
18. Red Lotus of Yohan
The Red Lotus of Yohan is one of the most beautiful, striking lotus flower variety that has dark red petals. They can grow up to decent height and have a minimum of 25 petals per bloom.
19. Cherry Lotus
The Cherry Lotus type has a minimum of 18 petals per bloom and is purple-red. They grow up to eight inches in diameter and have oval-shaped petals. This is an extremely common type of Lotus flower.
20. Asiatic Lotus
The Asiatic Lotus flower type has a white-colored flower that grows up to a height of 4 feet. Usually, the Asiatic Lotus is a big and stunning variety of the Lotus flower type. They grow all through the year and have a remarkable fragrance. Another notable feature is that they are almost always found in groups or herds.
By now, we hope that you would have chosen your variety of the Lotus flower that you would like to grow at your home. We bet it would be one amongst the above types of lotus flowers.