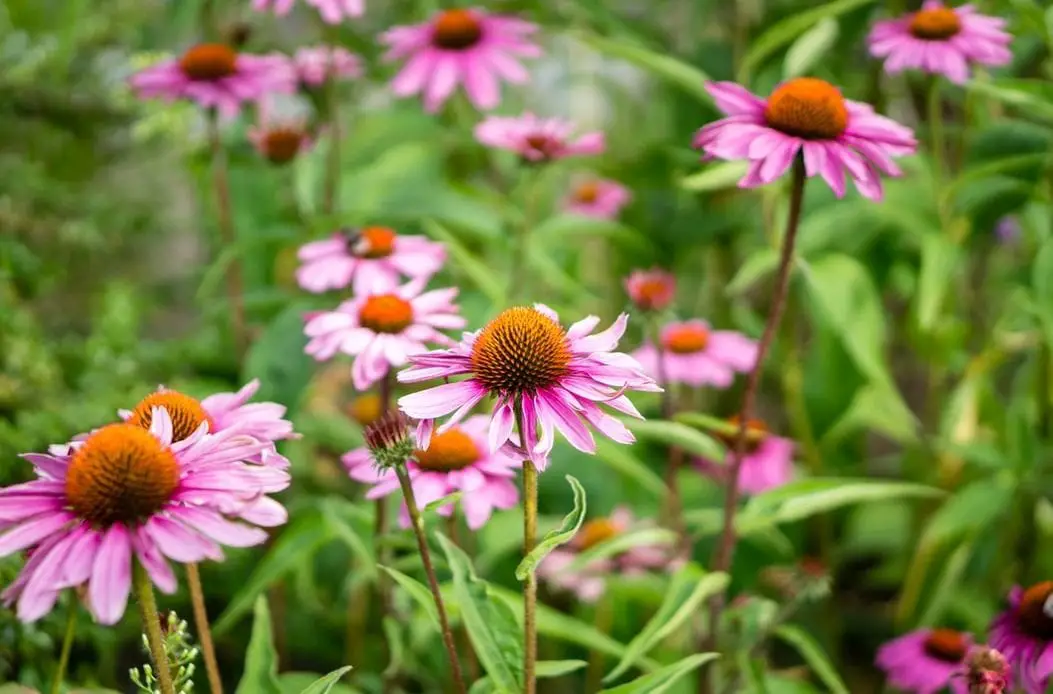 Flowers in all colors
If you have ever grown flowers, and even if you haven't, you know how important their presence is. In nature, their relevance lies in every conceivable place. They feed insects, birds, animals and human beings. Flowers produce natural medication for human beings and animals too. They help in the reproduction of plants by way of attracting pollinators. The most important reason for their existence, to humans at least, is their color and form. Without them, the world would be a dull place to live in. Blooms of many varieties exude strong and potent fragrances. To gardeners and green thumbs, flowers are a source of purpose and a way to form a hobby. Flowers play a significant role in our ecosystem and its survival.
Whatever flowers you pick to plant in your garden will add zest and a lively appearance. There is a wide variety of blooms to choose from. They come in all sizes, shapes and colors. Pink flowers have a universal appeal. These symbolize love and an awareness and add a spark to a boring space. The color pink itself can be very bright and splashy. Pink prompts a cheerful attitude and a playfulness. You will see these energetic blooms at weddings and parties. They are a big part of celebratory events. Why not celebrate life everyday by planting pink flowers in your garden? The following list will help you select the ones that are most appealing to you and add fun to your space.
Cherry Blossom
These are world-famous Japanese flowers. They were first introduced to the USA as a friendly gesture in the early 1900s. Blossoms are dazzling light-to-dark pink flowers that grow on trees. The flowers bloom in April, with flowers that have a sweet spring fragrance. Japanese culture claims that the flower is symbolic of life and spring. It needs full sunlight and well-drained sandy soil to grow.
Orchid
Pink orchids are flowers that exude extravagance. Orchids aren't easy to tend to. The flower needs full sunlight and soil that is properly drained. It blooms in spring and fall. Orchids, especially pink flowers, will add new life to your garden, making it look resplendent with life.
Begonia
These vivacious blooms come in three principal varieties with a number of subcategories. Tuberous begonias are so like roses in appearance, they are mistaken for them. The pink begonia is an edible flower. The leaves and stems can be eaten too. Needing partial sunshine to thrive, begonias grow in well-drained soil. Begonias are symbolic of care and caution, but these flowers give an air of freedom and fun.
Stargazer Lily
These versions of lilies are as bright as stars. Petals are in a characteristic star shape in light or dark pink, with white accents. Stargazers will immediately be a draw to anyone. Pink flowers have long yellow stamens that produce an incredibly sweet aroma. These flowers are poisonous for cats and young children, so grow them far away where they can't reach them. Symbolic of prosperity, the lily shines through all the other plants around and needs partial sunlight and soil that is drained well. It blooms in summer.
Azalea
Flowers that offer a vibrant hue are a welcome sight in any garden. The azalea is a pink flower that represents femininity. The plant is actually a shrub. It has the advantage of acting like a curtain or covering. Azaleas bloom from spring and grow right through summer. They need partial shade and soil that is well-drained.
Rose
Roses are classic flowers to have in your garden. They have always represented eternal beauty and love, and are the top-notch flowers to own. All rose colors are splendid, but pink varieties are especially sweet to see and smell. Roses that are pink flowers are sophisticated, yet full of spunk. Roses bloom intermittently from the middle of spring to fall.
Calla Lily
Calla lilies are representative of innocent frivolity and zest. These uniquely shaped pink flowers hail from Africa. They can grow to 3 feet tall. It is hard not to spot this signature bloom with its singularly exclusive stamen. Requiring full sunshine to grow, these blooms start to sprout buds in late spring. They continue their growth all summer long. They need well-drained soil, which is of loose consistency.
Hyacinth
Hyacinths originally had a lot of popularity during the reign of Queen Victoria. Pink flowers of this bloom were very sought-after in public gardens and at residences. They originally hail from Mediterranean regions of the globe and their blooms symbolize a playful energy. Hyacinths grow in vertical clusters of flowers and the pink variety resembles the stargazer lily to a great extent. Bulbs are poisonous, so great care should be taken while handling them. You may want to wear gloves. If you desire a spring blooming season, you will have to plant them in fall in soil that is nicely drained. They need partial sun for good growth.
Petunia
Originally from South America, petunias come in a huge range of colors. Pink petunias are particularly appealing with white centers. These flowers are interesting to look at because of their contrasting flower veins. They are convenient to grow in planters and containers. When grown in the garden, they give great ground cover as they grow low. They symbolize longing and anger, but look far from that. Pink petunias look sprightly and need lots of sunlight and quick-draining soil. They bloom from summer to the middle of fall.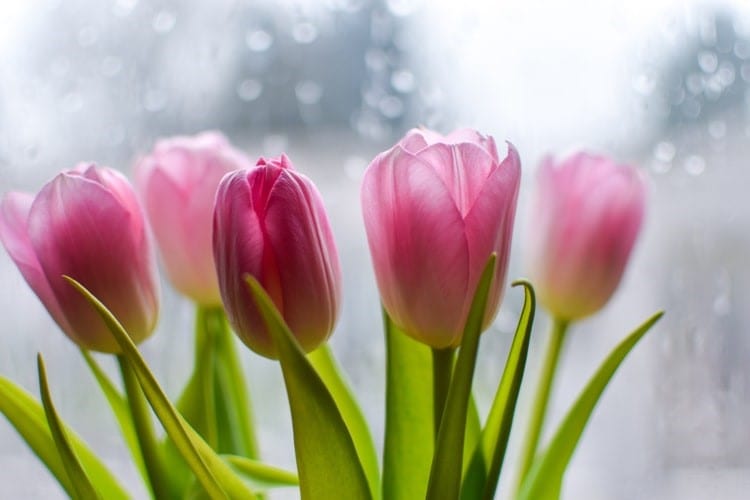 Tulip
Pink tulips are a delightful synonym for nurturing love. Blooming from the end of March to the middle of May, they are great to give as Mother's Day presentations. Pink tulips are symbols of the Easter holiday. In Amsterdam, pink tulips grow for miles and attract visitors from all parts of the globe for their vitality and splendor. They are the highlight of any garden area. These pink flowers need partial to full sunshine and soil that is properly drained.
Hydrangea
Hydrangeas are very famous as they grow in clusters of tiny flowers. Pink flowers of the hydrangea look particularly gorgeous, as they are lush and seem to dance together in the breeze. The flowers need a great deal of water to grow well. The hydrangea requires full sunshine and partial shade for optimal growth. Sandy soil with peat moss is ideal for this flower. It grows from the middle of spring to summer.
Dahlia
Dahlias come from Mexico, especially the typical pink flowers. They are part of the chrysanthemum family and you can see the resemblance clearly. Growing in a lighter shade of pink, with fluffy heads, they have symmetrical petal formations. They look mischievous with some pink blooms having curved petals. Needing complete sunshine to grow well, this flower blossoms in rich and well-drained soil conditions. It starts to show buds in late spring and grows till early fall.
Carnation
Carnations have a natural color of pink or purplish pink. The other colors are produced by genetic breeding artificially. Carnations are memorable and playful to see. They are metaphors for gratitude and are edible too, often used as garnishes. The bloom needs soil that is appropriately drained and fertile, with a portion of sunlight. Blooming in the latter part of spring, their life continues through the whole of summer.
Chrysanthemum
Chrysanthemums are popular pink flowers due to the fact that they bloom in autumn and can grow into early winter. Originally from China, they have medical properties that relieve throat infections. The pink flower of the Chrysanthemum family appears so cheery, it melts your heart with its full head of petals. It's no wonder that these blooms stand for happiness. "Mums" need full to partial sun to grow well and sandy soil that is drained properly. They bloom in late summer and go on growing into fall.
Peony
The peony mimics the rose so much, it almost looks like a twin. It has a full head of closely positioned light petals, and the pink variety looks especially succulent and brims with vitality. These flowers are native to North and South America and Asia. The pink blooms are a bright shade of pink and are synonymous with honor and good fortune. When you see them, all together in a group, you will want to jump for joy. Peonies need soil that is loamy and full sunshine to evolve fully. Their bloom time is brief, only from late spring till early summer, but they will last till autumn at times. Flowers are large and grab all the attention.
Pink flowers
Pink is one of the colors that can liven up any space. In your garden, you can do this by picking a combination of pink flowers and team them with other complementary hues, such as white or yellow. If you want your garden to look more colorful and vibrant, you can team pink flowers like peonies with similar-looking blooms in another color, like red roses. You can have accents of foliage or white flowers interspaced with these, just so you balance the brighter hues. Pink flowers liven up partially paved garden areas where you only have some spots that grow plants and flowers.