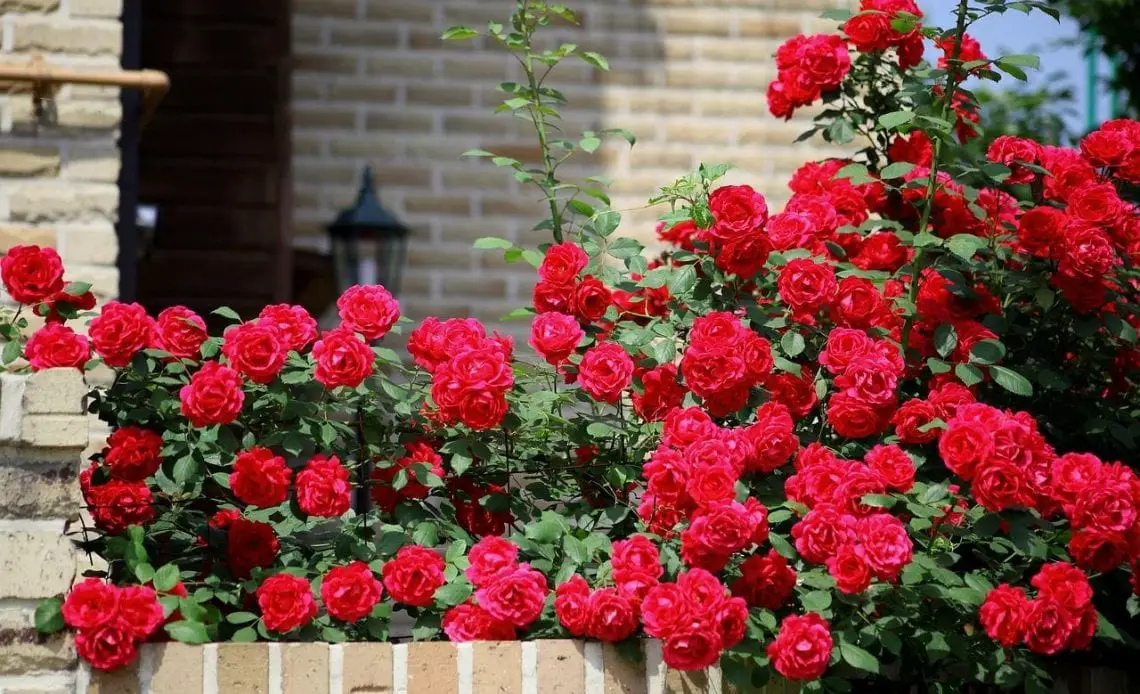 The classic look, sweet aroma of blooms, ease of growth, has made rose bushes one of the most popular garden plants. With so many new varieties of roses available in the market, it is now easy to dress up your garden with rose bushes that match your landscape. These floral favorites grow up to different heights and there's always one to fit into your garden plan.
Once you plant your rose bush, it's going to thrill you with its beautiful flowers for years to come. Keeping that in mind, take your time and make your choices wisely. Think about all the pros and cons before you pick up any rose variety.
Things to consider –
Where do you plan to plant the rose bush
How tall would you like it to grow
What rose bushes thrive in your location
Varieties of rose bushes that match your requirement
How much care do they require
Are they available in flower colors of your choice
How to decide the ideal rose bush size for your garden?
Deciding the perfect rose bush sizes for your garden is not a difficult task if you know exactly where you want them. Are you planning to grow them along the pathway or grow over an archway, fence, trellis, or a wall? Do want your roses to be a pretty backdrop for the smaller shrubs? Which rose bush sizes match your plan will entirely depend on their purpose.
Rose bushes and shrubs are also wonderful for creating attractive and colorful hedges. Their ornamental and showy flowers look splendid and welcoming near the entrance. Do you want to hide a garden pump or an unsightly structure in your garden? A rose bush can be your best ally to disguise any unattractive thing in your yard.
Once you have pinpointed your purpose, you ponder over the rose bush sizes that fit your requirement. Do you want them to grow tall, medium, or train them to be short and bushy? It is also important to consider the thorniness of the rose bushes. If they are planted near play areas, pools, or beside entries or benches, people may encounter unpleasant prickles.
There are innumerable varieties of rose bushes. You can find climbers and ramblers, miniature roses, hybrids, tall grandifloras, floribundas, and of course wild roses.
Tall rose bushes
If tall rose bushes serve your purpose, look for Grandiflora roses. These showcase qualities of hybrid tea roses as well as floribunda. They grow up to 8 or 10 feet tall and have either one or a cluster bloom. They flower profusely during the season. Queen Elizabeth was the first of its kind. Some other roses of this variety are Gold Medal, Munchen, Octoberfest, Ms. Congeniality.
Few varieties of hybrid tea roses also grow as tall as 7 feet and bear single blooms on a stem. These plants produce showy flowers that are a favorite among florists. They grow upright and bloom in a variety of colors. Sundance, Peace, Mr. Lincoln, Double Delight are some varieties you can try.
Rose bush sizes greatly depend on the location, water, weather, soil pH, pruning, and fertilizer. Roses like the sun. To flourish, most require a minimum of six hours of direct sunlight.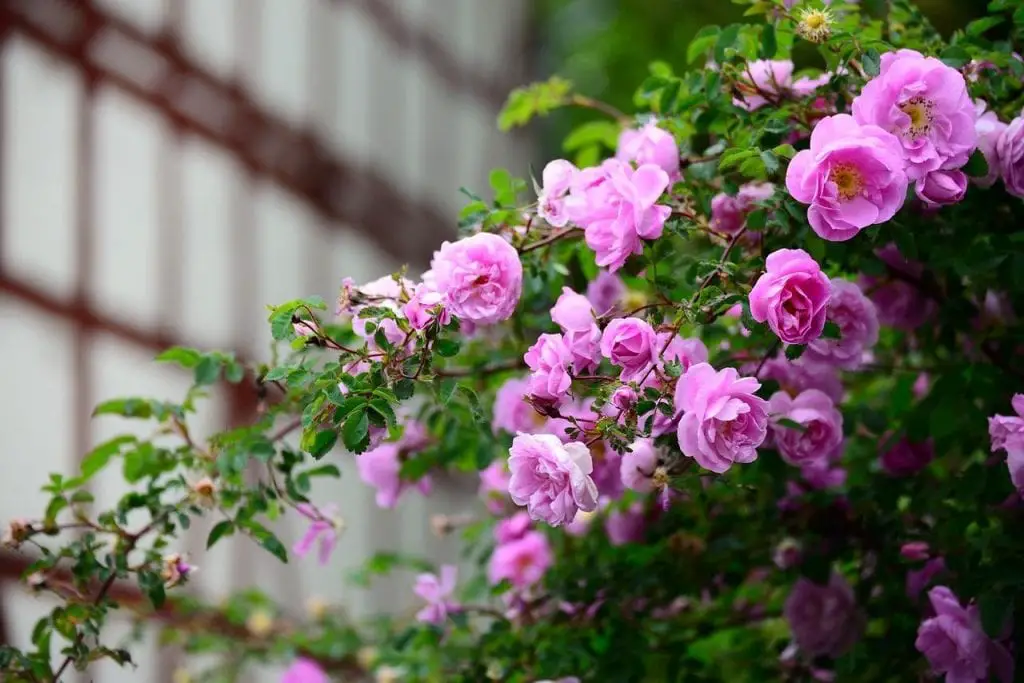 Climbers and Ramblers
Do you want a rose bush that spreads out, covering your garden wall or fence? Climbers and ramblers may be what you are looking for. When selecting the variety, remember that climbers usually bloom repeatedly throughout the year but, ramblers may only flower once every season. If you want more flowers, go for climbers! If you prefer foliage, look for rambling roses.
Before planting roses, it is better to remember climbing roses look gorgeous but involves pruning work and training. You can enjoy blooms in abundance when the canes are horizontally tied up with an arbor, wall, trellis, frame, or a fence for support.
Some popular climbing roses are-
Highwire Flyer – lush, full, hot pink blooms, climbs up to 6 feet
Tangerine Skies – Brilliant orange, climbs up to 8feet
Zephirine Drouhin – Cerise pink, fragrant blooms, 10 to 15 feet
Lady of Shalott- Apricot yellow, lush blooms, climb about 8 feet
Cecile Brunner – Climbs about 10 feet, also called Sweetheart Rose, best for arches and trellis
Don Juan – Fragrant dark red blooms, soft and velvety petals, climbs to 12 feet
Eden – Delicately scented, blooms are soft pink to creamy white, grows from 6 to 12 feet
Floribunda Rose
If your garden demands rose bush sizes that are shorter, upright, bushier, and hardy, then floribundas may ideal. Floribundas have dense growth like shrubs and bloom in full clusters in an amazing color palette. These are roses that are a combination of polyantha roses and hybrid tea roses. These varieties are best suited for as hedges, in big containers, and near the garden entrance.
Julia Child – Buttery yellow, 2-3 feet
Impatient – Reddish orange blooms, 3-4 feet
Iceberg – White, very less thorn, 3-12 feet
Mardi Gras – Pink, yellow, and orange mix, 3-4 feet, good for hedges
Hot Cocoa – Rust orange, 3 to 4 feet
Burgundy Ice – Fragrant reddish-purple blooms, 4-5 feet
Rhapsody in Blue – Purplish blue, 6-7 feet
Sexy Rexy – Peachy pink blooms, 4-5 feet,
Scentimental – White and red stripes, large blooms, fragrant, 3-5feet
Shrub Roses
Shrub roses are ideal as screens and hedges. These are one of the easiest to grow and do not need much care or maintenance. However, these roses can be difficult to train as they grow in every possible direction up to about 15feet. They are prolific bloomers and the flowers last longer.
Bonica – Light-pink flowers, 3-5feet
Teasing Georgia – Yellowish orange, very fragrant blooms, 4-5feet
Falstaff – Crimson or deep red flowers, very fragrant, 5-11 feet
Rainbow Knock Out – Coral and yellow, 3-4feet
Miniature Rose
Do you want to grow rose bushes that are only 2-3 feet tall? Well, consider planting miniature roses or miniflora. These are compact, bushy, and can be found in varieties that climb and form a cascade. Miniatures are hardy, have a long blooming season, and grow well in patio containers and as borders.
Sequoia Ruby – Deep pink, 2-3feet
Jeanne Lajoie – Climbing variety,
Snowfall –Climbing variety, white blooms,
Chasin' Rainbows – Scarlet and yellow blooms, Micro-mini rose, 10-15inch
Bambino- Light pink, 6-12inch
You have so many rose bush sizes and varieties to choose from. Take your pick and grow some pretty blooms in your garden!