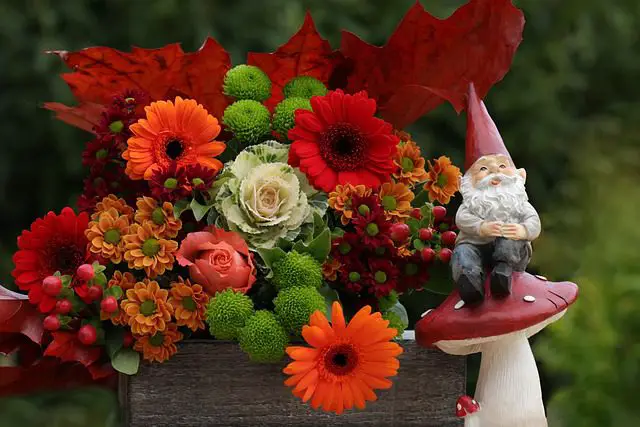 For far too long, bright flower arrangements have been neglected in favor of muted, pastel-coloured ones. Most people consider more understated colors elegant, while colourful ones are seen as tacky and outdated. But today, we'll prove that's absolutely not the case. Whether you want a bouquet that's an absolute riot of neons or a minimalistic table centerpiece with a few bright pops, this article will help you get exactly the look you want.
General guidelines for putting together bright flower arrangements:
Combine colors that are either analogous or complementary i.e. either next to or opposite each other on the color wheel. For instance, orange and blue are complementary colours that go together very well, so do orange and yellow because they are analogous. On the other hand, sunflower yellow and teal may look a little garish together because they are neither. This principle becomes more important the brighter a color is, though, so you have much more freedom with pastels and neutrals.

If you plan to display your colourful arrangement rather than use it as a bouquet, choose clear, white or other neutral-coloured containers. This way, the pot won't distract anyone from your lovely flowers and allow them to shine.

Colourful flowers can show signs of wilting or drying up faster than muted ones, so be mindful of their hardiness while creating your arrangement. If your flowers will be outdoors in hot weather for an extended period, choose more durable varieties.

To tone down an arrangement, replace some of the fresh flowers with dry ones. Not only will the softer colors of these make your bouquet more harmonious, it will also add in a different texture and increase its longevity.
But most importantly, remember that none of these are hard-and-fast rules! Feel free to experiment. After all, half the fun of creating floral arrangements is playing with colours, textures and scents until you've made something that's perfect for you.
Roses
Roses are a classic for a reason, and you absolutely needn't restrict yourself to the classic red. Yellow and orange ones would be a perfect gift for a fun-loving child while peach, coral and fuchsia would make for a flirty summer wedding bouquet. And, of course, a mix of baby pink, salmon and lavender would be an elegant and refined (but certainly not boring) choice for your bedroom.
If you're looking for something a little unusual, two-toned roses certainly stand out. The ombré Beryl Joyce and Catherine varieties are lovely. But if you want something that wouldn't look out of place in a modern art museum, try using Claude Monet and Candyland roses. These hybrid varieties are called striped or painted Bourbon roses because they look like they've been splattered with bright paint!
If you want to tone down an already bright flower arrangement, though, white roses would be just the thing.
Lovely Lilies
Perhaps the most versatile bloom of all, lilies can be the star of all kinds of colorful flower arrangements. The orange Oriental lilies and irises in a green abstract-art vase pictured above, for instance, would be a perfect accent to a mid-century modern living room. Huge multicolored Asiatic lilies, on the other hand, are best by themselves in simple vases.
If you want a touch of drama to bring a space to life, tall and striking tiger lilies would be just the thing. They can be paired with white lilies for a clean, symmetrical look. Or, add roses and even sunflowers for a bouquet that will bring warmth and sunshine to even the coldest basement.
Orchids
These flowers may look exotic and delicate, but many varieties are actually quite hardy and can be easily grown indoors. Along with the iconic violet, orchids come in plum, orange, salmon and many other colors. Most highly coveted of all ornamental flowers are blue dendrobium orchids. With midnight blue and purple petals and cerulean centers, these orchids represent luxury, love, beauty and strength. Since they are so dramatic themselves, they are best paired with simple greens like myrtle and eucalyptus. For Valentine's Day or a wedding, though, pale roses make a charming addition.
Since orchids have long, slim stems, they can be displayed both in tall vases and in wide, shallow pots as centerpieces for tables. Blue, purple and white orchids look divine floating in basins of water. No matter which space or event you want to imbue with a sense of royal splendour, bright flower arrangements featuring orchids will do the trick.
Carnations
Carnations were once the most popular flowers in the world, but today, they are often made to play second fiddle to showier flowers like roses. Slowly, though, they are being recognised as the beautiful, romantic flowers that they are. Carnations in pink, peach and orange paired with baby's breath in similar tones is the perfect gift for a baby shower or a little girl's birthday. Dark, moody shades can help bring in the fall.
If you still can't choose between roses and carnations, why not combine them? Hot pink and red together have become a popular sight on high-fashion runways, and bright pink carnations with ruby roses can give you the same editorial look. Another interesting option is deep purple Moonvista carnations with black roses.
Hydrangeas
Pastel-coloured hydrangeas paired with snow-white lilies and roses have long been a popular choice for weddings, but that's not the only way you can use these magnificent flowers. For a simple yet stunning bouquet, bundle together about a dozen hydrangeas in pink, purple, blue, green and any other color you can find. Tied together with a white silk ribbon, these are perfect for the bride who wants a rustic wedding.
Dried hydrangeas are not a common sight, but such blooms with coppery-brown undertones could be perfect in a bronze urn. This is a very different look from the usual pastel freshness of hydrangeas, so they're sure to spark some interesting conversations with your guests.
Another unusual but incredibly endearing arrangement is cornflower blue and white hydrangeas with sunflowers. Even on the cloudiest of days, it's sure to remind you of sunny weather and clear skies.
Sunflowers
Speaking of sunflowers, how could we forget to mention this symbol of joy, vitality and good harvest? You could place a couple of sunflowers in the drabbest bouquet to instantly brighten it up, but the flowers go especially well with other colorful flowers and crisp whites.
A sunflower centerpiece on your breakfast table is a great way to start your day off right. Clear glass vases and bowls will show their lovely colors off and fruits like oranges, apples and pears amp up the freshness even further.
Since the flowers symbolize long life and good health, they are perfect for new mothers. Daisies may not be the most sophisticated flower, but the two cheerful blossoms together are a guaranteed mood-booster.
Dahlias
Dahlias are available in every hue from baby blue to mustard yellow, but you'll probably love the specially bred exotic and bright varieties the most. The compact Roxy dahlia with its magenta-and-yellow blossom and reddish-green foliage is a stunning addition to any room. The Thomas Edison dahlia, first introduced in the 1940s, is an oldie but a goodie. Its intense coloring, with a deep purple center that fades out to a pure white at the edges, makes it equally suitable for both nighttime and daytime events.
Orange and peach dahlias are especially lovely paired with round succulents like the Echeveria pegasus. Since they don't dry out or wilt easily, this arrangement is perfect as a bouquet or table centrepiece in a boho-chic outdoor wedding.
Marigolds
Another summer favorite, sunset-hued marigolds might be even more joyful than sunflowers themselves. Place these in a wicker basket with plenty of bright greens to create bright flower arrangements that will transform your city apartment into the cottage-in-the-woods of your dreams.
For a more "grown-up" look, arrange them in a white ceramic bowl and add hyacinths and irises in complementary colors like purple and violet.
French marigolds in their bold crimson-and-yellow pattern are gorgeous paired with cream-coloured flowers.
Anemones
Anemones are not a popular choice for bouquets or decor, but that just makes them all the more special. These blooms are generally available throughout the year in colors like white, pink, purple, red and blue. You can use them as fillers in an arrangement focused on a large flower like a hydrangea or use them as the groom's boutonniere.
Or, if you're a true maximalist, combine them with orchids, roses, tulips, peonies, poppies and bougainvillaea in similar shades. You'll have a bridal bouquet or centrepiece that absolutely will steal the show.
We might be in the depths of winter, but hopefully, this read has given you some ideas for bright flower arrangements to welcome back the spring next year! Whether you choose roses, orchids, dahlias or any other flower, we're sure you'll create beautiful, intricate flower arrangements that bring back color into all our lives.