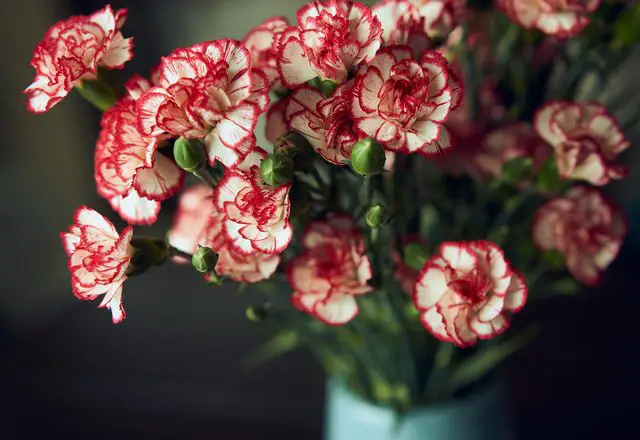 Are you thinking of decorating your garden with flowers that are unique and not used commonly by every other person? Well, then we have you covered. In this article, you will learn about the incarnation flower, its types,, and how to take care of them.
Carnations, also known as Dianthus, means the flower of gods. Carnations are unique and exotic flowers. They come in hundreds of varieties, have various species having their symbolism as well as unique colors,. But despite all these exciting features, they are one of the most underrated flowers in the floral world.
Suppose you are interested in growing and nurturing the Dianthus or carnation flowers. In that case, you need to know about the types of carnations since different species of carnations have different requirements. There are three major types of carnations:
Major or Large-flowered carnations,
Spray or miniature carnations, and
Dwarf Carnations,
But, in this article, we have put forward many more carnation types, because these beauties are not restricted to only the above mentioned types!.
With the help of this piece of content, you will get to know about the 23 most popular varieties of carnation. Intriguing right? Jump into the piece then!
Varieties of Carnations
Dianthus Caryophyllus
This is one of the most famous types of carnations and generally grow in a humid environment. These beauties come in a variety of colors like salmon, pink, red, or even white, and even more!
Dianthus Grataniapolitensis
These carnations are dense bushes and require sun for their proper growth. Also referred to as Cheddar Pinks, they are intolerant to wet soil and also have difficulty surviving in the cold environment.
Dianthus Barbatus
An advantage of this carnation type is that it can grow in any climatic condition. Though it does not bloom in its first year, its rate of growth is pretty impressive. Another name for this carnation is Sweet William.
Dianthus Plumarius
This type is the most common type of pink-colored carnation plant and grows in most gardens. They have fringed petals imparting the flowers with a unique look.
Dianthus Chinensis
These carnation plants are also called the Chinese Pinks. They do not thrive well under the sun, unlike the other types of carnations. They are also intolerant to a humid environment. These flowers are red, pink, or white-colored and are generally native to the land of China. But they are observed to grow in other regions of the world as well.
Dianthus Maiden Deltoides
Also known as the short-term perennials, these carnations come in a pink and red hue. They impart a very strong but sweet aroma which makes them desirable in gardens.
Dianthus Chinensis Heddewigii
The flowers of this plant come in white color along with black colored edges. To sustain, these plants require well-drained soil in warm and humid conditions.
Dianthus Superstar
Like its other carnation counterparts, this plant also requires a warm environment to survive. These carnations are cherry red and hence are very attractive to look at. They have this special feature that the color of the petals darkens towards the center of the flower.
Dianthus Superbus
This is a special type of carnation since the fragrance of this flower is used in the making of aroma tea. Requiring moist and warm conditions to sustain, this flower is also pretty to look at, with a beautiful red, white or purple hue and comes in fringed edges.
Dianthus Armeria
The other name of Dianthus Armeria is Deptford Pink since it is a soft pink-colored flower. Since it is gorgeous to look at, you could add these to your garden to enhance the beauty of your garden.
Dianthus Pinkball Wizard
Being one of the favorite flowers of the bees and butterflies, this is a uniquely colored flower found in tropical regions. The flowers are pink in color and contain pink flakes and stripes along with their petals.
Dianthus America Pie
These flowers can withstand a cold environment, unlike their carnation counterparts, and is a common flower of America. It has a bright pink hue which will enhance the beauty of your garden.
Dianthus Neon Star
Apart from being very pretty, these flowers are easy to nurture since they can sustain in extreme climatic conditions.
Dianthus Lavender Everlast Lace
This is one of the types of carnations that are widely used for decoration purposes since they are so gorgeous. They are dark raspberry in the center and transform into lavender as they progress towards the edges of the petals.
Dianthus Laced Romeo
This carnation plant is the product of hybrid. It is a short plant and contains petals of double fringe and is white with pink stripes and a pinkish tinge at the edges. This plant also grows well in a warm environment like its other counterparts.
Dianthus Peach Pie
This carnation plant has flowers of exotic colors. The central area of the flower is coral in color, and the edges are pale pink. This flower also imparts a sweet fragrance, and the flowers of this plant bloom throughout the year. All these features make this plant a showstopper.
Dianthus Coconut Punch
This plant falls under the types of carnations that feature double flower petals are grow taller in length than its carnation plant counterparts. The flower has a dual-tone; it is white in the center and deep red towards the petal edges. If the flowers are plucked daily, then this flower can bloom the entire year.
Dianthus Basuticus
Also referred to as Lesotho, these are small plants that exhibit grass-like leaves and contain white and pink flowers. The leaves and stem of the plant can grow to a considerable height, but the flowers are small in size. They thrive well in warm environments.
Dianthus Repens
Also called the Boreal Carnations, they are flowers of purple and pink hue and grow in clusters. Each cluster has two to four flowers growing together. It is observed that these flowers can also grow separately without clustering. They are generally seen to grow on the ground or tufted mats.
Dianthus Gallicus
These plants can survive in moist conditions and are often seen to grow abundantly in tropical areas. They are generally seen to form a tufted mat and feature leaves which are lance-shaped along with three pink flowers, usually small in diameter.
Grenadin King
This is one of the types of carnations that appear to be black since most of the carnations are of red or pinkish hues. In reality, these carnations are not black, but they appear black. They are deep purple or red and thrive well in the tropical environment.
Vienna Mix
This type of carnation contains flowers of various colors, including pink, white, red, or purple. That is the reason why this incarnation type has the mixed word in its name. This plant grows well in humid environments.
Scarlett Beauty
These types of carnations are becoming very popular due to their exotic look as well as the beautiful aroma. They generally grow in clusters and are bright red.
Taking Care of Carnations
Now you know about the types of carnations, it is important that you also know how to take care of carnations once you have planted them in your garden. These are-
Keep the carnations under direct sunlight every day for a few hours.
Regularly trim the plant if it is turning into a shrub.
Keep the carnations moist by watering them daily.
Avoid overwatering, and it harms the plant.
Pluck flowers daily; this promotes the bloom capacity of the plant.
The soil should be well-drained, where you are planning to plant the carnation plant.
When you are plucking, ensure that you do the activity gently without harming the plant.
Care should be taken that the foliage of the carnation plant should not be exposed to the sun or any form of heat directly.
Bottom Line
If you are planning to plant carnation, it is always good to invest your time in knowing about the details of the plant. Carnations can become prominent garden plants if you nurture them in the right manner. It is important to choose the right species of carnation among the various types of carnations because all the different species of carnations cannot thrive under the same climatic condition.
You should choose the carnation type, which is well suited for the climatic region where you reside. Since carnation plants are not very difficult to grow, you can consider growing one in your garden. Apart from the splendid looks, a few of the carnation plants also impart a sweet aroma which would make your garden prettier.
You can also opt for planting more than one carnation in your garden and provide your garden with a complete makeover. Everyone thinks of adoring their garden with mainstream flowers, and if you can decorate your garden with these offbeat and unique carnation flowers, you will love it. All you have to do is choose the desired color of the carnation flower that you wish to see in your garden.