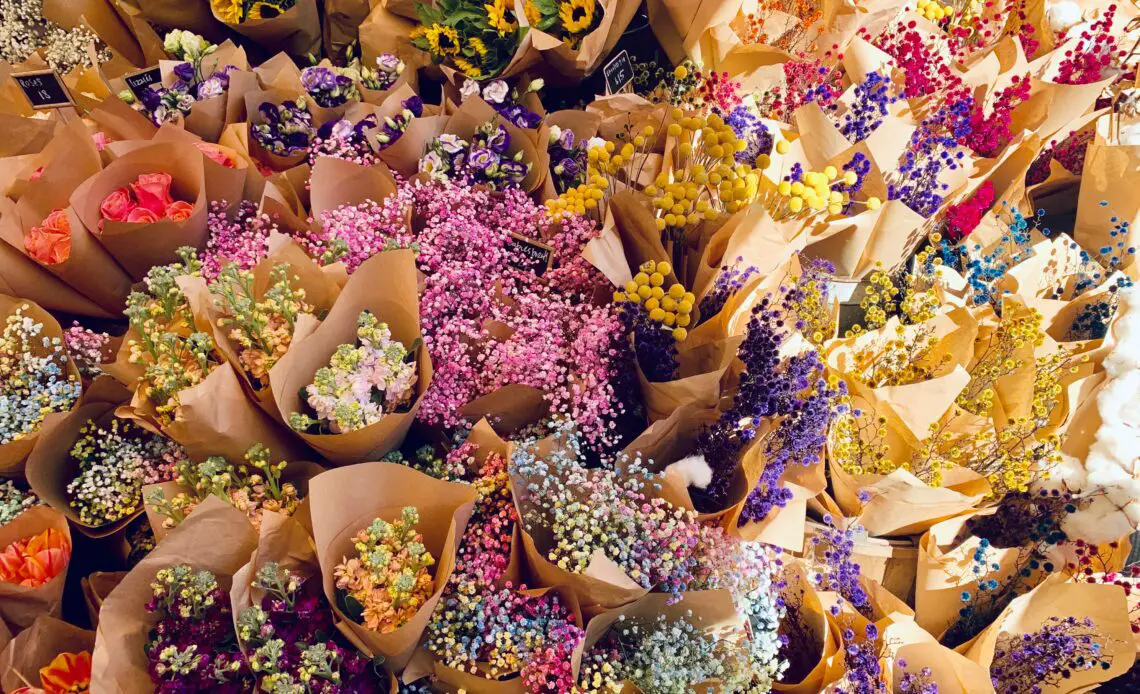 Baby Breath Flower: Meaning, Symbolism, and Colors
Introduction
The baby breath, also known as Gypsophila is a blooming plant that is a part of the Carnation family. The most perceptible component of baby breath is the variety of colors, especially in pastel and light tones. Baby breath gets its name from the soil they grow on. This flower belongs to a species of the Gypsophila class. The term Gypsophila is derived from the Greek words 'Gypso' denoting 'Gypsum' and 'Philios' denoting 'loving'. Gypsum, a calcium mineral, makes the soil heavy and thick. This enables the flower to grow in abundance.
The meaning behind its name is the delightful and innocent look that resembles a child. They are used in events and special occasions because of their size. The flowers of baby breath are used especially in any floral arrangements and flower borders. Aside from that, it is found everywhere and grows throughout the entire year.
What Does The Baby Breath Flower Symbolize?
The symbolism of flowers not only helps you in finding the right kind for gifting. They can likewise be an incredible way to know about nature and things that grow within it.
The baby breath flower signifies purity and innocence. It is popularly used in marriages as decorations, bouquets for brides, and baby showers to signify new beginnings.
As the name represents, the baby breath flower is closely related to newborns and infants. People gift baby breath flowers to new mothers as blessings and to reap good fortunes. Besides celebrating happy occasions, in some cultures, the baby breath flower is also given during memorial services to pay respect to the dead.
In some cultures, the baby breath flower meaning is the ability to cultivate self-discipline and morality. The flower is a sign to have a clear mind and ethical quality in life to liberate ourselves from wrongdoings and corruption.
What Do The Various Colors Of The Baby Breath Flower Mean?
The baby breath flower meaning dates back to the early 19th century. They are available in different colors, each color having its own meaning and is suitable for any occasion as a gift.
White
The white baby breath flower is the most popular and widely known shade of color. It represents purity, goodness, sincerity, innocence, beginnings, etc. Back in the day, florists use these flowers as fillers in bouquets, vases, and floral baskets. It is now used for weddings and special occasions because of the symbolic representation behind it.
Blue
The blue baby breath flower meaning represents trust, sincerity, faith, and loyalty. This shade of baby breath flower can be gifted to someone whom you trust or have faith in. They are also given to a person whose trust you want to win to tell them that they can trust you.
Pink
The pink baby breath flower is the most delicate shade of color. The soft pastel pink shows tenderness and gentle affection. Pink baby breath flowers are gifted to young mothers in celebration of a newborn baby. They are also gifted to close friends and family to express affection and sincerity.
Red
The red baby breath flower is an iconic symbol of love and passion in a romantic relationship. They are used as gifts between couples and love interests. A bouquet of red baby breath flowers can be the perfect gift to your partner to express your genuine love and affection.
Yellow
The yellow baby breath flower is commonly used in friendships. The bright yellow color represents joy, cheerfulness, and light. Yellow baby breath flowers can be the best gift in a friendship or between family members to put a smile and brighten the day.
Orange
The orange baby breath flower meaning represents optimism, energy, and joy. They can be gifted to people who are celebrating achievements, anniversaries, and birthdays.
Purple
The purple baby breath flower meaning represents the color of respect, royalty, and virtue. Representing high moral standards, this flower can be gifted to the people who inspire you to show your admiration and respect. As a shade of excellence and honorability, they send a wonderful message of respect to the person who gets them.
The various tones and shades of the baby breath flower represent a wide scope of characteristics and attributes. The baby breath flower meaning is not bounded to innocence and eternal love alone. It attributes to qualities such as honesty, joy, faith, respect, trustworthiness, excellence, and compassion.
Interesting Facts And Characteristics Of The Baby Breath Flower
Some interesting facts and characteristics of the Baby Breath flower are —
Asia, Australia, Europe, Africa, and the Pacific are the birthplace of baby breath flowers.
Depending on the species, the baby breath flower develops to as long as 15 to 90 centimeters (6 to 35.5 inches) in height and is grown best in the hot sun.
The roots of some certain species of baby breath flowers are edible. For this purpose, the roots and plants are grown and used as an ingredient in medicine.
Turkey is known for having probably the most noteworthy collection of baby breath flowers.
Saponins, a chemical present in the flower have the property to tear down cancer cells.
Baby breath flower is known as soapwort in Britain.
The average lifespan of a blooming baby breath flower is 8-10 days.
The baby breath flower is an ornamental flower that can be dried easily and preserved.
Best Time To Gift Baby Breath Flowers
The baby breath flower is a symbol of love, purity, affection, innocence, and trust. These qualities make the flower a perfect gift for special occasions. They can also be gifted to a person to convey love and affection.
They are a significant addition to the marriage flower bouquet and wedding decoration theme to address the everlasting adoration and fondness between the couple and their families. Furthermore, they likewise address the innocence of babies and are gifted to expectant mothers for the event of baby showers.
This flower, which is small and fragile, can perhaps be the best gift to pass on the message of respect and value.