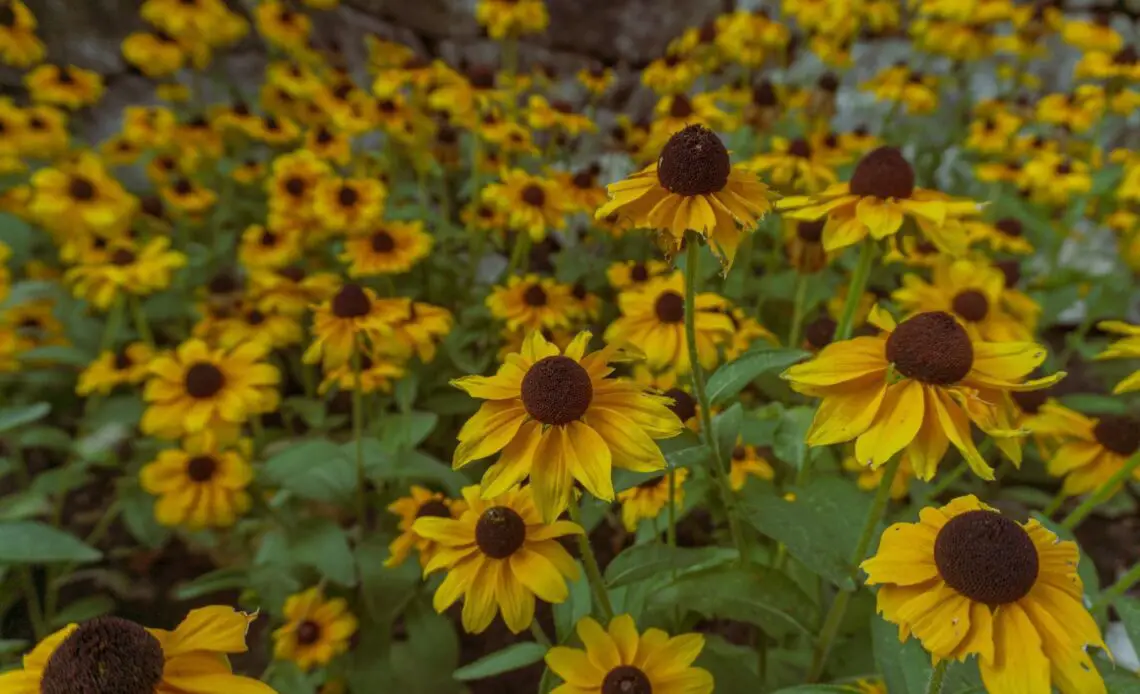 Black eyed Susan has the scientific name of Rudbeckia Hirta and is native to North America. This variety of flowers are also found in Western China and many provinces of Canada. As wildflowers, they grow in thick beds and often exude a charming sight to behold. These flowers are known for attracting different types of bees and butterflies in their bloom season.
It is considered that Black eyed Susan flower meaning is quite unique. While the flower belongs to the Asteraceae family of flowers, which has varieties like aster and daisies. Some of the common names of Black eyed Susan are brown betty, yellow daisy, gloriosa daisy, golden Jerusalem and English bull's eye.
What do Black Eyed Susan flowers symbolize
Black eyed Susan grows perennial and often biennial. They are essentially yellow in color with a prominent black center that resembles an eye. The flowers grow in thick beds and bloom around late summer or early autumn season. They reach their full height in about a year. The leaves are hairy and scratchy and have bright greenish appearance.
In terms of Black eyed Susan flower meaning, the state of Maryland has designated Black eyed Susan as the state flower. It also celebrates 'The Run for Black-Eyed Susan' in the observance of this. During this traditional ceremony, garlands of black eyed Susan are placed on the neck of horses upon winning the race. The flower symbolizes celebration, and affection in the state and viewed as a sign of triumph and glory as well.
In addition to this, the flower is used in herbal preparations by native Americans. The roots are known to fight colds and enhance immunity. In native cultures, the flower petals are used for treating snake bites. The flower, as wild in nature, is also known to be toxic for certain animals.
Varieties of Black Eyed Susan flower
Black eyed Susan grows well under full sun and can also go through periods of non-watering with ease. The best condition for germination requires 10 degree F of soil temperature. In relation to Black eyed Susan flower meaning, they look amazing for the summer garden, adding a golden glow and striking look to the environment around. Today, in variety, this flower is grown in 43 different types. Cherry brandy, Chocolate orange, Denver daisy, Cherokee sunset, Goldstrum, Early bird gold, Cut-leaf coneflower, Green eyes, Indian summer are some popular varieties of black eyed Susan.
Rudbeckia gold star species have comparatively thin petals and are bright yellow in color. This variety grows in masses and are perfect for home garden or secluded zones. They are grown for commercial purposes and can be seen planted in large containers.
There are varieties of black eyed Susan like Becky and Toto which are dwarfish and don't grow too tall. Variety like early bird gold are bright yellow in color and have thick petals. They usually attract butterflies and bees to the maximum.
Cherokee sunset Rudbeckia has a chocolate, dark mahogany or orange center with bright yellow half–petals bloom. This variety grows up to 36 inches tall and have hairy bright green leaves. They grow best around June and the end of autumn season.
Rudbeckia maxima, also known as large coneflower, can grow up to 9 feet tall. It is native to the southern and western United States. They best grow in prairies, cottage gardens, meadows and corners of home gardens.
Interesting facts and characteristics of the Black Eyed Susan flower
In connection with Black eyed Susan flower meaning, it was selected as state flower in 1918 by Maryland state in West Virginia.
Black eyed can be toxic if eaten by animals like for cats.
As an inspiration, the black and gold color of Black-eyed Susan was officially taken as school colors for University of Southern Mississippi in 1918.
The flower is known to attract many species of butterflies like bordered patch and gorgone checkerspot, which host their larva for breeding.
Rudbeckia maxima variety grows fairly tall in comparison with other species. With a large cone in the center, this species is also called giant coneflower.
Black eyed Susan are self-seeding and grow or spread often on their own in the bed.
More than popular for Black eyed Susan flower meaning, they known for their 40 plus species grown around the world.
The flowers bear fruits in seed-like brown color.
Animals such as deer, rabbits, and slugs eat the flower.
Best time to gift someone Black Eyed Susan flowers
Along with uniqueness of Black eyed Susan flower meaning, the flowers are attractive and exude cheerful appearance. They have sun-kissed look, and can be great for gifting purposes. These flowers can be combined into a flower bouquet with Russian sage, salvia and giant hysopp. The Black eyed Susan flower meaning, since the old times depicts celebration, attention, victory or cheerfulness. As a reason, on happy occasions like family parties, baby showers and marriages, black eyed can be gifted. They can also become part of tradition easily. Many North American regions still opt for the flower varieties in community decorations.
Caring for Black eyed Susan
Black eyed Susan, though, are classified as wild flowers owing to their appearance and certain characteristics – however, they are not endorsed as wild flowers. They are commonly called garden flowers. This flower type can also grow as ornamental flowers for flower beds at home, or around the patio space. The flowers are also identical to purple coneflowers and can be grown alongside the pavement corners, leading to the main door. in bed with sunflowers, easily. While selecting a Susan variety, don't rush and select the variety that is most resilient as per the environment. Since the flower grows better in warmer climates, it requires careful pruning while the growth happens from the root. To prune, normally the edges of the flowers are should be removed.
If you are planning to plan your own bed of black eyed Susan then some of the top varieties of black eyed Susan are Autumn sun, Indian Summer, and American goldrush. Autumn sun can grow up to 7 feet tall and looks elegant alongside patios. These species are more resilient in nature in comparison with other prairie flowers. It is advisable to treat the plants once in a while, as they're susceptible to fungus. However, they require minimum upkeep while its watering needs are also minimal.