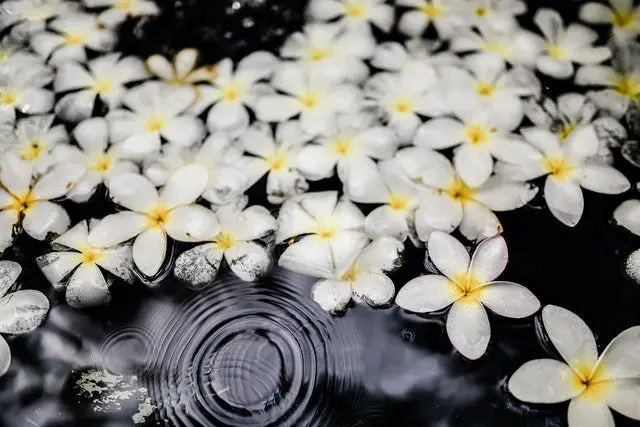 The scientific name of Sampaguita is jasminum sambac. Other names include the Philippines jasmine and Arabian jasmine. It is important to note that Sampaguita is different from the common Jasmine or Jasminum grandiflores. Learn more about Sampaguita flower meaning.
Etymology
The flower takes its name from a Spanish term – Sampaguita which is derived from the Filipino words – "sumpa kita" that mean "I promise you".
The Sampaguita flower meaning is associated with two legends. According to an old Filipino legend, Princess Lakambini fell in love with the Prince Lakan Galing. Sampaguita flowers adorned their marriage ceremony representing their love and devotion to each other. Once he went to a battle but did not come back. The princess waited for long but finally accepted he is dead. She returned back to the place on the hill where their marriage ceremony was held. Overcome by grief, she died there. A Sampaguita vine grew at the place of her death.
Another story associates it with the legend of Rosita who was the daughter of the datu of Balintawak barangay. Delfin, the son of neighbor Gagalangin barangay's datu, captured her heart. An argument over the fence between the two barangays led to a war between them. Delfin died in this war. He was buried according to his wish at the place where he used to meet Rosita. When she died, Rosita was also buried near the same spot. After several years, people visiting that spot found Smpaguita vine growing. They could hear a lady saying the words "Sumpa kita"
Where Does Sampaguita Grow?
Sampaguita flower is native to the South Pacific and some southern parts of Asia, such as India, Myanmar and Sri Lanka. These places associate this flower with the feelings of romance, love and devotion. Each area associates this flower with their own symbolism and meanings. The flowers grow extensively in the temperate and warm climate of Asia. The shrubs can be easily cultivated in gardens or grown indoors. Sampaguita flower is the national symbol of the Philippines. Its plant grows easily in this region and the flower is used extensively on religious ceremonies and wedding events.
What Do Sampaguita Flowers Symbolize?
Sampaguita flowers look simple but they convey powerful symbolism and meaning. Sampaguita flower meaning is associated with love, dedication and promise. People seeing this flower see new life opportunities and feel positive energy. The same feelings and messages can be conveyed to another person by presenting this flower on right occasions.
The flower represents the eternal love and faith in the partner. It symbolizes truthfulness and sincerity. When you give this flower to someone, it shows you care about the person and intend to keep your promises. It conveys your pure and genuine emotions. The flower is commonly associated with love in the Pacific and South Asia. When you surrender your soul to someone for dedication and love, this flower can be helpful in conveying your emotions.
Sampaguita is symbolic of hope and purity. Just give a few of these flowers in any form to someone and its pleasant smell will overpower them. The recipient can feel your emotions. You will receive good vibes and establish a strong connection with that person. The beauty of Sampaguita stuns the viewers. The divine flower will establish your deepest emotion with the person you love most. Your feelings of love, hope and expectations are conveyed immediately.
Sampaguita flower meaning has been a symbol of love, dedication, devotion, purity, fidelity, hope and divinity. You cannot go wrong with the white flowers with a strong, attractive and pleasant smell. It gives hope not only to you but also to the recipient. The floral arrangements made with this flower are used extensively for weddings, religious ceremonies and other private ceremonies.
What Do the Various Colors of the Sampaguita Flowers Mean?
White Sampaguita
Sampaguita flowers are found in white and yellow colors. Both colors evoke strong and deep emotions in the viewers. White color flowers convey the meanings of love, hope, devotion and better future expectations. They are associated with purity, innocence, honesty and reverence.
Yellow Sampaguita
Yellow flowers are used for decorations where the organizer wants to convey the message of love, dedication and reverence.
Interesting Facts and Characteristics of Sampaguita Flowers
Sampaguita flowers are combined to make floral arrangements. The oil from Sampaguita flowers has been used for centuries in the perfume making. Its essence is used extensively in traditional and aromatherapy medicines. It is used to make medicinal products that help relax the body and treat depression and anxiety.
Sampaguita flowers are well known for their rich aroma. This is the reason they are used extensively to make perfumes, essential oils, and many other aromatic products. The flower's essence is used to make a wide range of personal, skin and beauty care products.
Sampaguita flowers grow on vines that need support to help them grow. This flower plant can be planted along with bushy plants. It has glossy green leaves while the waxy blooms grow in white or pale yellow. The plant requires little maintenance but sufficient watering during the summer. The flowers start appearing in late spring but they can grow year-round in the tropical climates.
Best Time to Gift Someone Sampaguita Flowers
Sampaguita flower is the right choice when you want to make someone feel special. Show your strong feelings of like and love. The flower is not only associated with love and faith, it also denotes dedication and devotion. Depending on the occasion, its meaning can change slightly. At the same time, the basic meaning of love toward someone remains in its place. A person may be trying to use this flower to show devotion to a religious entity. You want everyone coming to your religious ceremony or private event feel welcomed. On all these occasions, this flower delivers impressive result. The unique, simple and pure look of the flower conveys innocence and purity.
The Sampaguita flower meaning brings cheer and happiness to your home. Use it when you want to bring positive changes in your life and surround yourself with a bright outlook.