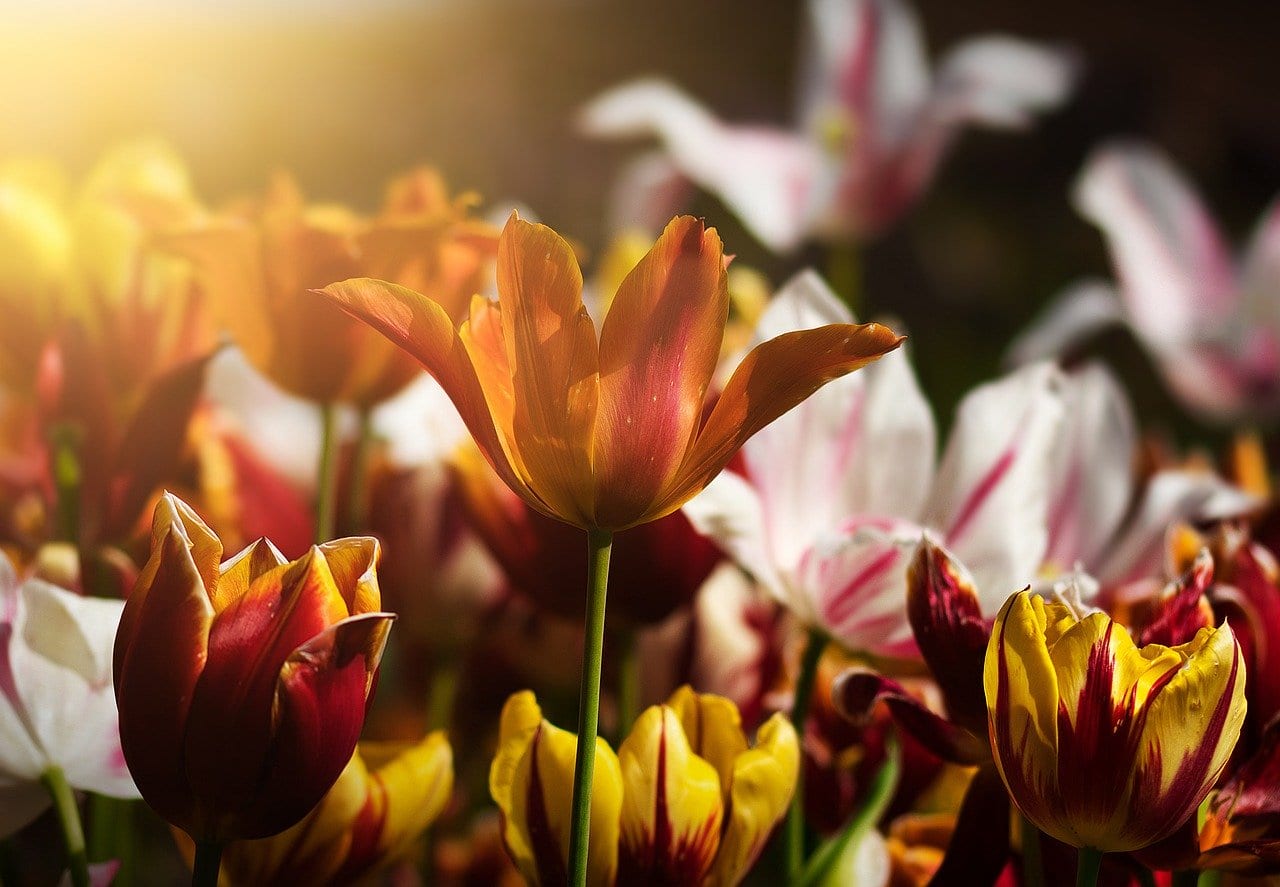 Few sights are more exuberant than a summer floral garden in bloom. Summer plants that flower are typically showy with bold and bright colors and proliferate blooms to attract nature's pollinators. The presence of fluttering butterflies, buzzing bees, and hummingbirds amidst a riot of colors in the garden is a reward worthy of the work that goes into gardening. It is, however, even better when all of these can come from little work and more chilling in the garden while the gentle summer breeze blows on. For that, it is imperative to pick summer plants that are easily pleased and whose gifts just keep on giving.
Blooming Beds: Prolific Flowering Summer Plants for Garden Beds
Preparing flower beds need not be a difficult ordeal. The reward for such work ensures that your summer plants get as much help as they can to endure the boiling days of summer. The first step towards making the soil more plant-friendly after winter is to loosen it up. Next, you should remove debris like leaves, sticks, and stones so that the roots of the plants can find their way without obstacles. Weeding the soil thoroughly to is the third step. Depending on the flowering plants you have chosen, you can add a top layer of fertile soil on the beds. While raking the soil, it is a good idea to collect dried leaves to be used as required for mulching. As long as these few steps are followed, these flowering plants will bloom freely all through the hot season and require little to no maintenance:
● Cosmos
Cosmos, also known as Mexican aster, is one of the most low-maintenance flowering summer plants that you can plant in your garden bed. Of the two most common varieties, cosmos sulphureus (yellow) and cosmos bipinnatus (multi-colored), the former is more heat resistant and a popular choice in drought-prone areas which get soaring temperatures in the summer months. The bees and butterflies love these summer plants, which grow between 1-6 feet in height and flower freely throughout the season. Plant both varieties in well-drained soil under the full sun for best performance.
● Sunflowers
The happiest of flowers, the sunflower is one of the most heat, drought, and pest-resistant summer plants that you can choose for your garden bed. Scientifically termed Helianthus annuus from the Greek words helios (sun) and Anthos (flower), this annual plant resembles the sun. Sunflowers are heliotropic, i.e., they follow the movement of the sun in the sky from east to west. While the most commonly recognized variety of this flower is bright yellow with a large brown center, sunflowers are available in different colors like red, orange, maroon, and brown as well. Plant sunflowers in a well-draining spot that gets full sun exposure to welcome bees, birds, and butterflies into your garden and enjoy plenty of beautiful blooms.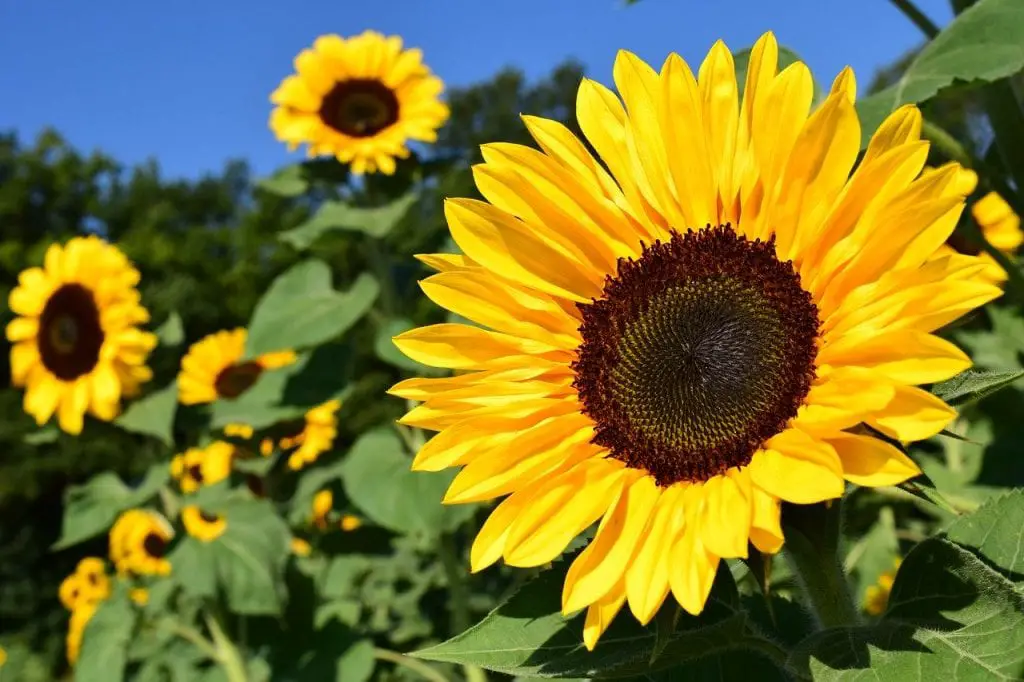 ● Geranium
The garden geranium, scientifically known as Pelargonium x hortorum, is a dainty and fragrant flower very well suited for beds that get partial sun in the summer. Also called zonal geraniums, these freely flowering herbaceous summer plants offer blooms in a variety of colors like pink, white, purple, orange, and red. These plants do well in edges along garden paths or grouped in beds. Organic soil that drains well is best but it is important to ensure deep watering and mulching in areas prone to strong sunlight.
● Yarrow
Yarrow is a very care-free flowering herb that grows all summer long, even in the poorest of soil beds. Long considered as essential in a medicinal herb garden, yarrow has many uses for a herbalist. However, these flowering summer plants are sweetly scented and add great ornamental value to any outdoor garden. Heat-resistant and highly adaptable varying garden conditions, yarrow is a must-have for those who want to build a low maintenance garden or have patches of poor dirt to fill up.
● Marigolds
Marigolds are a beginner gardener's favorite. A well-drained, fairly fertile soil, full exposure to the sun, and frequent watering are the three basics to growing these summer flowers in abundance. It is best, however, to provide partial shade to these perennial herbs in places where it gets extremely hot and dry in the summers. Available in more than 50 varieties, marigolds are most commonly red, orange, yellow, or brown. These flowering summer plants also make a great addition to vegetable patches as they attract beneficial insects like ladybugs and deter pests with their strong aroma. Marigolds germinate and reach the flowering stage very quickly, so they are best grown from seed directly into their beds.
Vibrant Planters: Summer Flowers for Planting Pots
Container gardening is a fail-safe way to care for the more delicate flowering plants which may get heat-stressed or frost-bitten if allowed to grow on the beds. Some flowering plants can do well in both beds and containers but are chosen for pots because of their ornamental nature. Planters of varying shapes, sizes, and designs are a great way of adding color to spots that may otherwise look barren and boring. They also can help elevate the ornamental value of common flowers and make them look more magnificent.
● Bougainvillea
If you have heard a bougainvillea being referred to as a flowering machine, you have heard it right. This perennial shrub loves the heat and sun and blooms profusely once established. There are many varieties of bougainvillea and most work wonderfully well as landscaping plants. But if you are looking to add color to your life without the hassle of maintaining a twenty feet towering plant, potting a low growing variety is your best bet. A deep container with good drainage and good organic soil mix is sufficient for a happy plant. You can choose from among different color varieties like pink, orange, yellow, and red.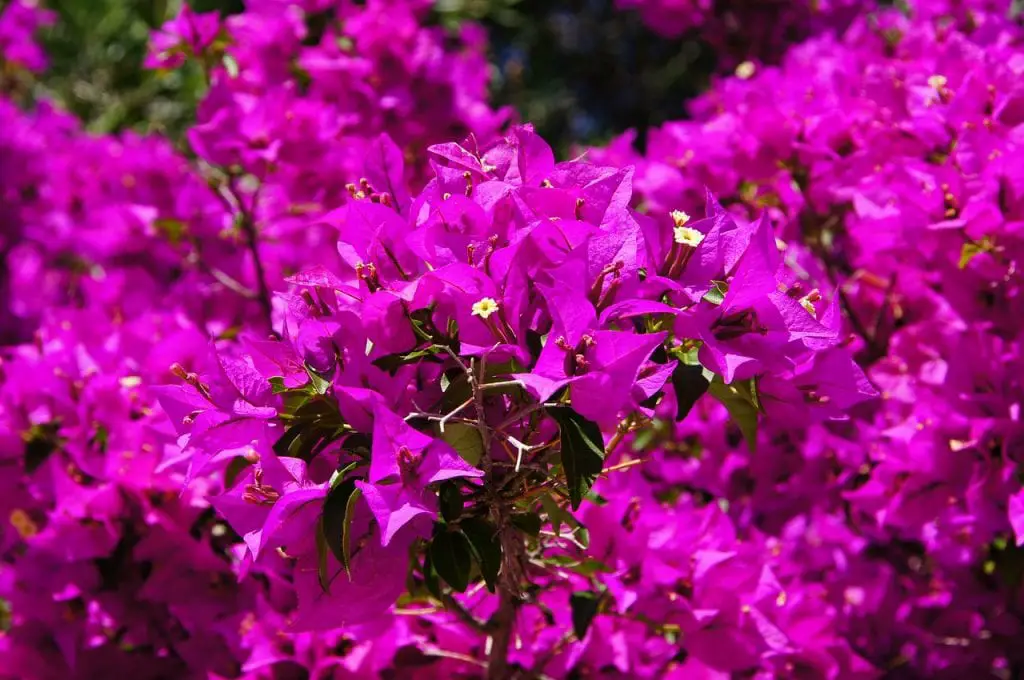 ● Lotus
Lotus is an aquatic plant that comes in enough varieties to suit all occasions. This perennial flowering plant stems in springtime and blooms in summer. A minimum 6-hours of sunlight and a wide and deep container to hold soil and water are essential for the lotus to do well. A porch that receives sufficient sun is an ideal place for a potted lotus. To transplant lotus, place the plant in the center of a wide container without disturbing its root system. Then surround it with garden soil (up to one-third of the container) and layer with pea-gravel. Fill the remaining space with water taking care not to submerge the leaves. Lotus is low maintenance and requires only to be lightly fertilized once a year. Growing lotus flowers in a pot is totally worth it for the oriental vibes it gives on summer afternoons.
● Verbena
It is always a delight to have dainty verbenas spilling in a vibrant show from their window boxes or containers. While these annuals look great as they add tufts of colors on a flower bed, most gardeners prefer them in pots because of their easy nature. With new cultivars being developed, the color choices for verbena include red, pink, coral, purple violet-blue as well as bi-colored varieties. Verbena is also a highly valued plant for pollinator gardens as their sweet scent, bright hues and plentiful sweet nectar attracts hummingbirds, bees, and many butterflies. Plant them in containers with moderately rich and well-drained soil and place them in any area which gets at least a good 8-hours of sunlight for the best blooms.
● Moss Rose
Moss Rose or Portulaca grandiflora is a flowering succulent that loves the sun and heat, being a native of South America. Gardeners love this plant for placing in pots, which blooms from early summer till the frost sets because the plant is drought resistant and trails really well. Moss rose is available in colors like red, white, pink, yellow, rose, orange, etc. Drip irrigation works best for moss rose along with sandy and rocky soil.
• Million Bells
Popularly known as mini-petunia or trailing petunia, million bells can create a riot in a hanging basket. The sun-loving flowers bloom on this herbaceous annual plant from spring to frost and present a wondrous sight in shades of pink, red, magenta, bronze, blue, yellow, white, and violet. The blooms themselves are quite small, being only an inch across, and as the name suggests, the plant bears many flowers at once and continuously as long as it is happy. A well-draining soil, which is organically rich and moist and a full sun every day make this great pollinator happy. With robust green foliage and bright blooms, you can expect your million bells to attract the bees and the hummingbirds into your garden.
There are many more flowering summer plants that you can choose from. This list covers the hardiest and most easy-to-grow flowers that do well to resist heat and drought. Explore the different varieties and check for zone hardiness as well as legality (in case a species is considered invasive). Then you can set out to make your garden a kaleidoscopic wonderland.