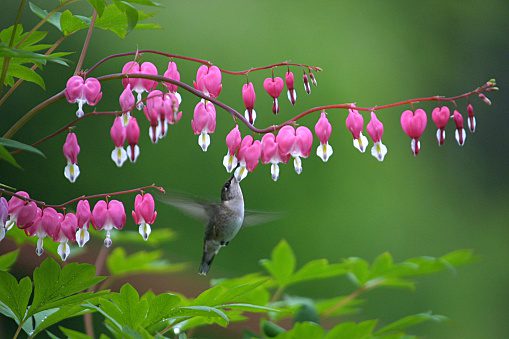 A look at the bleeding-heart flower indicates how it got its name. It is also called fallopian buds or Asian bleeding-heart. It belongs to the lamprocapnos genus and is part of the ranunculales family. It is treasured by gardeners for its heart-shaped flowers which are pink and white. Its other names include heart flower, lyre flower and lady-in-a-boat. It is also called Chinese Pants.
Bleeding heart flowers are native to northeastern China, Korea and Japan. They were imported to England by a member of the Royal Horticultural Society in 1846. It then became a common sight in gardens across Europe and America.
The bleeding-heart plant is a perennial grows to 3 feet in height. It grows best in the shade and has powdery green leaves. Some varieties of the bleeding heart have foliage that resembles ferns. The leaves grow in the shape of a rosette. Every stem has up to 20 flowers which hang like pendants. The flowers can be 1 or 2 inches long and dangle on an arching stems. Each flower has two heart shaped petals which puff out. The shape looks like a tiny lantern. Small white inner petals appear to drip from within. The flowers have a delicate perfume.
Bleeding heart plants like moist and humus rich soil. The soil should have a lot of organic matter and be slightly acidic. Add a 2-to-3-inch layer of compost or manure to the soil regularly. Aerating regularly will help the roots system to grow and thrive. Soil that drains well will prevent root rot. Bleeding hearts should be well watered and more so in the summer. The plants require at least an inch of water a week. Bleeding hearts go dormant and regrow after a thaw. The plant does well in humid conditions. Expect flowers to show up from late spring through the early part of summer.
Bleeding-heart plants don't need to be pruned as the plant may bloom again in the same season. Trimming the foliage back when it starts to go brown will help the plant to conserve energy. The Bleeding-heart plant is usually grown from seeds and seedlings. Dividing clumps or using stems to propagate the plant is best done in early spring. Propagation should be done after flowering is finished.
It is possible to grow bleeding-heart in containers as long as the conditions are right. Plant seeds or seedlings in a large container. A mature bleeding-heart is a large plant and requires a lot of room for the roots. If you don't have enough space, get a smaller variety like the dicentra formosa, which tops out at 20-inches in height. Make sure that the soil used in the container is rich and replicates natural soil conditions closely. Fertilize and water regularly.
What do bleeding-heart flowers symbolize?
Bleeding-heart flowers are a symbol of romance and passionate love. They also signify unrequited love or a broken heart. In a few cultures the flower represents compassion and an ability to speak freely about emotions. White bleeding hearts stand for purity. Bleeding heart flowers come in pink, red, white and sometimes even yellow.
What do the various colors of the bleeding-heart flower mean?
A white bleeding-heart flower's meaning is purity.
Pink and white bleeding-heart flower's meaning is unrequited love or a broken heart.
Red and white bleeding-heart flower's meaning is a broken heart or unrequited love.
Interesting facts and characteristics of the bleeding-heart flower
· Bleeding-heart flowers are native to oriental lands. They are found in southern Siberia, northeastern China, Japan and the Koreas. Bleeding-heart flower meanings may vary based on culture, but they signify affairs of the heart across the world.
· The plant thrives in slightly acidic, moist and well-draining soil.
· It is easy to care for and has showy flowers.
· It grows by self-seeding and can be propagated in many ways – seeds, cutting, clump separation etc.
· Bleeding heart plants are available as bushes and vines. The bush is a perennial and found widely in Asia.
· The vine is a different species and is indigenous to Africa. It looks different from the usual bleeding-heart flower and plant. Its hardiness and growing conditions are also different.
· Bleeding-hearts can also be grown indoors. If the climate is cool and 65°F, the plants will thrive even indoors.
· If you plan to grow bleeding-hearts from seed, the seeds must be cooled in the fridge or freezer for 8 weeks. This acts as a winter freeze. After this period, the seeds can be taken out and planted in good soil for germination.
· Bleeding hearts are woodland flowers. In cold regions, they can handle full sun. In warmer climates, they grow in partial shade conditions.
· It is one of the most popular ornamental plants and used often in landscapes across the globe.
· Bleeding-heart is a deciduous plant and sheds its leaves as summer ends.
· It is a great source of nectar and attracts hummingbirds and other pollinators.
· Every part of the plant is poisonous. It causes skin irritation in people. If cows eat either the vine or the bush, they can die from it.
· This plant is a source of food for some species of butterflies, aphids and snails.
· Bleeding-heart is used by Native Americans to treat stomach pain, cough, insect bites, and dizziness.
· It is also used to treat hair loss.
· Some varieties of bleeding heart have golden yellow leaves which resemble ferns.
· Since it is a perennial, it can live for more than 2 years in the wild.
Best time to gift someone bleeding heart flowers
Bleeding heart flowers are the perfect gift to give a friend or loved one on Valentine's Day. These can also be used in flower arrangements, wedding and other bouquets. If you have a special occasion and want to host a romantic dinner or celebrate an anniversary, bleeding heart flowers are the best choice. You can gift a bleeding-heart plant in a pot to a couple just starting life together and wish them a great life together. Since you now know the bleeding-heart flower meaning by color, you can decide which one to give as a gift. Any color of this unusual flower is the perfect choice to express love and togetherness.
Thanks to their unusual shape and color combinations, the bleeding-heart flower is a fitting symbol for romance, passion and romantic love. In the language of flowers, it expresses love and romance elegantly. The flower's heart shape, the petals and stamen look like "drops of blood" waiting to fall from the bloom. It is no wonder that it stands for unrequited love or a broken heart in many cultures. Bleeding heart flowers are good gifts for romantic occasions and add interest to a bouquet as well. They also add interest to a landscape and brighten shady spots in a garden.