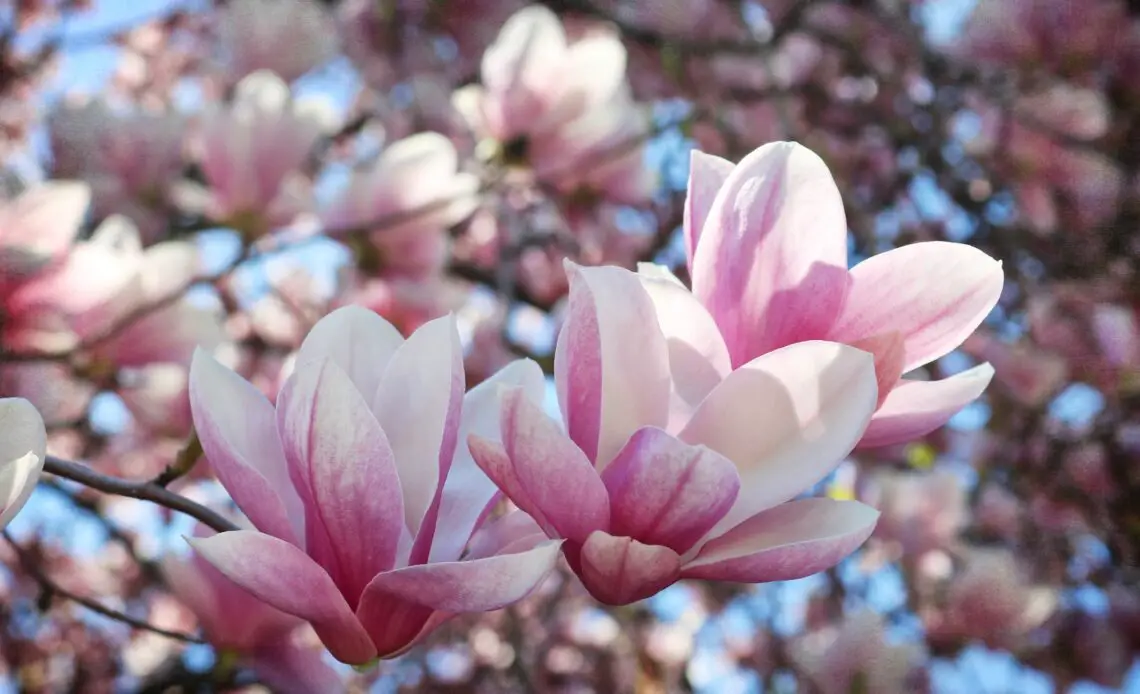 Last updated on May 22nd, 2023 at 03:10 pm
Perseverance is a notable character trait, and it may often be linked to a person's capacity to withstand harsh conditions no matter what. Flowers that represent perseverance are popular for this reason.
As humans, flowers play a vital role in our lives. We can send them on any occasion and choose flowers that tell the story of perseverance to help us stay strong. 
In this post, we will show you some flowers that indicate perseverance, and we will talk about what these flowers signify to us as a whole. 
Flowers that Mean or Signify Perseverance
There are 3 major flowers meaning perseverance, described as follows:
1) Magnolia Flowers
Magnolia itself is a scientific name. Magnolia contains around 200 species of flowers. The flowers are beautiful and fragrant and have the appearance of cups. The flowers are available in several hues, including purple, yellow, lavender, pink, and mauve. Magnolias grow and blossom on trees, not vines, shrubs, or stalks. 
Magnolia trees may survive an additional 100 years due to their "perseverance." The best example of a flower meaning perseverance is the Magnolia. 
French botanist Pierre Magnol is the namesake of the Magnolia that Plumier discovered in Martinique. Magnolia, an eastern native, is one of the most majestic and fragrant plants.
Magnolia, said to have existed since dawn, represents longevity and tenacity. Magnolia flowers symbolize grandeur, appreciation for nature, femininity, and sweetness. The southern lady from the 1989 movie Magnolia is defined as a "Steel Magnolia." Flowers often appear in bridal bouquets to signify the bride's pride, dignity, and purity.
Purple Magnolia
Wishes of good health and good luck.
Green Magnolia
The green Magnolia represents good fortune, health, and luck.
Pink Magnolia
This beautiful flower represents innocence, pleasure, and youth.
White Magnolia
Represents perfection, nobility, and purity. In most weddings and bridal bouquets, this signifies the bride's purity.
Interesting Facts about the Magnolia Flowers
Many traditional Chinese remedies use flowers and bark. They may be found as tablets, powders, tinctures, and teas.
Magnolia is widely regarded to be effective in treating a variety of conditions.
Magnolia wood has been utilized for building or furniture construction.
Magnolia is famous worldwide as an ornamental. Magnolia sieboldii is the North Korean national flower.
Southern Magnolia was proclaimed the official flower of Louisiana in 1900. This species was also proclaimed the state flower of Mississippi by law in 1952.
Magnolia grandiflora naturally grows in North Carolina and west of Texas. It is particular to the southern United States, notably Mississippi. This describes the relative popularity of this plant in Mississippi: "The Magnolia State." Furthermore, it is essential to note that Mississippi Avenue of Magnolias was planted at each primary highway entry.
It is believed that magnolias evolved very early in Earth's history. Fossil remnants reveal that they existed on Earth for 100 million years.
The flower's name honors 17th-century French botanist Pierre Magnol, who helped to identify that plants came in families rather than merely species.
The genus Magnolia has more than 200 species in the family Magnoliaceae. They may be found throughout South and Central Asia and the Americas.
The beauty of Magnolia trees is noted for their brilliant blooms and gorgeous evergreen and glossy foliage. They are great garden plants!
This flower has been utilized to symbolize endurance because of the plant's capacity to adapt to shifting environmental conditions and geologic circumstances.
This plant is noted to thrive in almost all circumstances and can adapt to many situations.
This plant is noted for having the potential to live for over 100 years, wherever it is located, making it an exceptional plant to symbolize perseverance.
This flower signals that we must put all our efforts into all we do and ensure we survive whatever hardships we encounter.
2) Kalmia Flowers
The other one is Kalmia itself is the scientific name of the flower. Kalmia represents perseverance. Also, it is an indication of treachery. 
Kalmia is a new Latin word named after Pehr Kalm, a Finnish botanist. Kalmia majorly grows in the Mountain Laurel. 
A standout attribute of Kalmia flowers is their capability to flourish in unappealing locations such as hilly regions. Even under challenging circumstances, this flower continues to thrive and bloom gracefully. 
It is well renowned for adapting effectively to unfavorable settings and persisting wherever it is discovered. This flower tells you to be strong and believe in your survival capacity.
Red Kalmia
This bright color is the symbol of deep love, unconditional love, and pure love that exists between lovers. If you have someone you love and would love to spend the rest of your life with, this can be a great flower color to give them. This can be an excellent flower piece for celebrating the love between you and your lover on anniversaries and Valentine's Day.
Purple Kalmia
This flower signifies honor and might be a beautiful gift to present to someone you respect. Use this flower to convey honor to someone you respect as a leader. An excellent present if you appreciate the person for whom you're getting it.
Pink Kalmia
Pink signifies motherly affection, passion, and femininity. This is the best flower to give to a lady you care about. This might be the appropriate flower to give to the lady you care about. Gift a pink Kalmia flower to someone you think is lovely, kind, and loving.
White Kalmia
This hue is symbolic of innocence, spirituality, and purity. This is the perfect flower to give someone innocent or possessing any of the above attributes. White kalmia flowers are an excellent present for everyone and may be included in wedding bouquets.
Interesting Facts about the Kalmia Flowers
Kalmia has two principal varieties, ground laurels and mountain laurels.
Connecticut and Pennsylvania designate Kalmia as their state flower.
This exotic flower has ten species.
This flower was given the name Lambkin because it is harmful to sheep.
3) Taraxacum (Dandelions)
We also have Taraxacum itself as the scientific name. We commonly know this flower as Dandelion. Taraxacum is a crude Latin name for the Dandelion. However, the name translates to "lion's tooth" in French. While this flower is a nuisance and a weed for many, it has some importance. One of the most outstanding examples of flower meaning perseverance is the Dandelion. 
The Dandelion represents a gift of pleasure and absolute loyalty. Taraxacum is a plant that is bitter, like tarragon. This may be a case of Tarasco, the Greek word for disturbing. The Latin-specific epithet officinale means "medicinal" or "from the apothecaries." Native to Europe and Asia, Taraxacum officinale was initially transported to America as a food crop. Now it is found in countries like India, Australia, New Zealand, South America, Southern Africa, and North America.
Dandelion means pleasure and young ideas, but it may also indicate health, power, tenacity, and endurance. It should also reflect the sun's strength, good wishes, optimism, and wealth.
Yellow Taraxacum
Yellow represents happiness, freshness, enthusiasm, vitality, and optimism in good and bad circumstances. If you give this flower as a present, there will be no mistakes if the recipient is yellow. If you want to add freshness and optimism to your house, you may use it as decoration.
If yellow symbolizes envy, avoiding offering this flower to someone who could misinterpret it is better. Instead, construct a gorgeous bouquet of dandelions and set it in your room to brighten your day. Yellows may be utilized to stimulate dialogue or to signify recall. This is a great flower to choose while visiting someone's grave or offering respect.
Yellow excites our brain cells, making us think more. It helps us feel bold and more involved in activities. This hue is often used to entice and draw attention. So we regularly encounter notices with important announcements on them. Light yellow is ideal for reading, mainly if the page is far away.
Interesting Facts about the Taraxacum Flower
Pioneer or ruderal plants are also called dandelions (like land after a wildfire).
Folk medicine uses dandelions to heal liver conditions and infections. Dandelion tea, when brewed, acts as a diuretic.
Some individuals get allergic after being exposed to Dandelion. Even if the pollen from the plant is too big to induce allergies, the sap contained in the plant (latex) may induce contact dermatitis.
Insects variously fertilize the dandelions. Achenes are the numerous yellow fruits of the puffball flower. Dandelion seeds feature a parachute-like extension that assists wind distribution.
The tallest Dandelion may grow to 17 inches.
The dandelion leaves are 2-10 inches long. Green leaves create a rosette at the stem's base. Dandelion leaves have tooth-like edges.
Many animals like dining on the seeds or nectar of Dandelion.
Dandelion seeds may be spread up to 5 kilometers from their origin.
Dandelions' leaves, roots, and flowers all have several purposes. It is used in coloring, food, and medicine.
Dandelion is the only flower that changes to match the phases of the sun, moon, and stars. The golden flower of the plant has petals that resemble the sun, and the puffball of the Dandelion looks like the moon.
Best time to Gift Someone Perseverance Flowers
When they bloom, offering someone a piece of Magnolia is never terrible. They provide volume and beauty to any bouquet.
In Connecticut and Pennsylvania, kalmia flowers make the ideal gift for someone who has just moved to the States. This is an excellent present for anybody who loves gardening or is beginning their first garden. An excellent present for a recent graduate or honoring a milestone or notable achievement!
Homemade gifts are always unique. Having such presents readily prepared and disseminated throughout the year is a benefit. Dandelions are the finest of both worlds. Dandelions can be gifted at any time of the year on any occasion.
Conclusion
In this article, we have combined the best flowers with the flower meaning perseverance. Flowers have always been part of human society, and these flowers are thought to imply and symbolize tenacity. 
The flowers mentioned above symbolize patience and endurance. These might be great gifts for anybody with such a calm and composed demeanor. Use any of these flowers as unique presents for someone who can withstand various circumstances and scenarios.
If you want to know and learn more about flowers, we at PansyMaiden can help you. Check out our fun, easy-to-read, and informative flower-related content that you will surely enjoy!