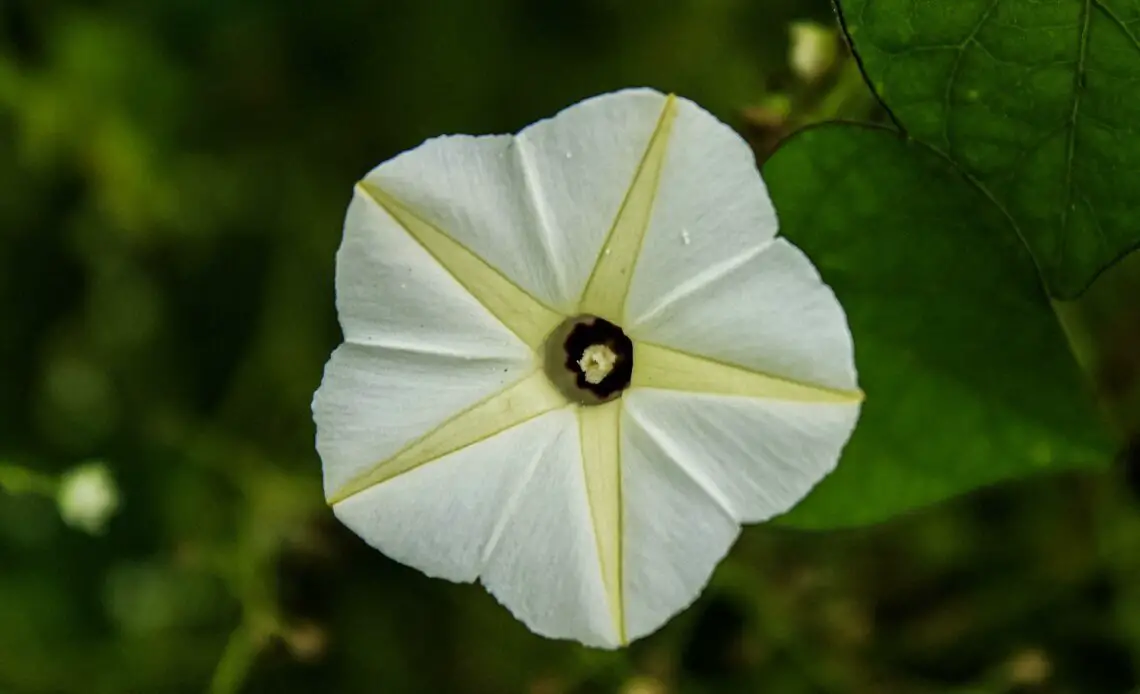 The elegant moonflower that is also commonly referred to as the moon vine has many deep meanings associated with it. These flowers are night beauties and almost all moonflower meaning are directed towards their special quality to bloom at night.
The scientific name of the moonflower is Ipomoea alba. These flowers are most commonly seen in white but at times you might spot purple moonflowers as well. As the name suggests, the moonflower blooms in the evening and it is shaped like a moon. The flower is an absolute night beauty and it attracts a lot of night insects, bats and moths.
The moonflowers are native to tropical North America and South America. Some of the places where you will find them growing into beautiful healthy vines are Argentina, Northern Mexico, Florida and the West Indies. They look so beautiful when planted next to other flowering plants that bloom during the daytime. This is a great option for anyone with a small garden as they make the garden look quite full and beautiful with their many glowing night flowers.
This gorgeous plant is large and is a perennial vine and can grow wild without much maintenance.
The Symbolism of Moonflower
The moonflower meaning and its symbols revolve around the fact that it is a night flower. It represents the beauty that comes out of darkness. The flower also stands for dreaming of love. This trumpet-shaped flower calls out to anyone who feels low. It uplifts the soul with its pleasant smell and by just shining bright against the night sky. These flowers look like a ray of hope amidst dark and distressing times and bring joy to everyone around.
The Colors of Moonflower and Its Meaning
White Moonflower
The white moonflower is more common and is widely grown as an ornamental plant. The white variety is quite visible and looks like the moon when they fully bloom. When the plant blossoms with many flowers, it will look like there are so many little moons in your garden. The moonflower meaning is associated with dreams and romance as it is a night flower. It is also an encouraging flower as it blooms in the darkness, and teaches one to bloom despite trying times.
Purple Moon Flower
The purple moonflower meaning also describes its elegance as it stands against the night sky. The purple blends so beautifully with the darkness and shows growth and emergence. While the white moonflower is bright and beautiful at night, the purple moonflower is more subtle and mixes well with the darkness.
Interesting Facts About Moonflower
There's so much more to a flower than its color, shape and texture. When you maintain a beautiful garden, It's always good to learn a few interesting facts and stories that you can share with others. In fact, when you have people over, plants and flowers are great conversation starters as well. On that note, here are a few interesting facts about the moonflower that you might not have heard before.
· Apart from being a popular choice as an ornamental plant, the moonflower has also been used to make rubber with the milky liquid that comes out of it.
· Moonflower is now a popular plant in many places including Hawaii, Australia South Africa, New Zealand, and some islands in the Pacific region also. The warm weather in these places are just right for these beauties to take their place and bloom.
· Since they are night flowers, always find meaning in the darkness of the night, dreams, and everything that is associated with nighttime.
· This plant is mostly propagated naturally by seeds, and you can even spot them along the roads and railway lines.
Tips to Grow Moonflower in Your Garden
Moonflower can grow quite fast and are usually considered easy to maintain. They look beautiful when they are dense and bushy, but also grow perfectly well with support.
They are hardy plants and so do not get easily destroyed by insects and pests. However, if they do get affected, organic repellents can be used to get rid of them.
They can be added on your patio as they glow in the night and any midnight stroller will be able to gaze at its beauty. The sun requirement is something that needs to be observed for this plant. Like many other plants, moonflower loves the warmth of the sun, but too much of it can burn them as well. They are great options to grow on the sidewalk where people go on evening strolls.
As you have read, these flowers are night beauties and will look best when planted towards the moon. They glow in the darkness and uplift every soul that needs it.
The Best Time to Gift Moonflowers
One of the most common gifts that women receive is flowers. There are so many flowers out there that you can pick as a gift for someone dear to you. However, it is a great idea to gift flowers with a beautiful meaning attached to them.
You can consider gifting an entire plant to someone who needs a little encouragement and joy. Moonflower meaning shows how they are able to bloom and prosper despite the tough dark times of life. These flowers will uplift anyone who is experiencing challenges and teaches you to glow despite the darkness that is all around.
Moonflower is beautiful and subtle and will look beautiful will with other plants as well. These nocturnal flowers are tender white flowers that look dreamy and add character to any garden. The plant is perennial and blooms mid-summer all the way until fall. They grow perfectly in well-drained soil and need to be watered regularly.
Moonflowers are vines and can be a great addition to bouquets as moonflower meaning also has love and intimacy. These flowers can also be used for weddings as they are subtle and will work as a perfect complement to any wedding theme.