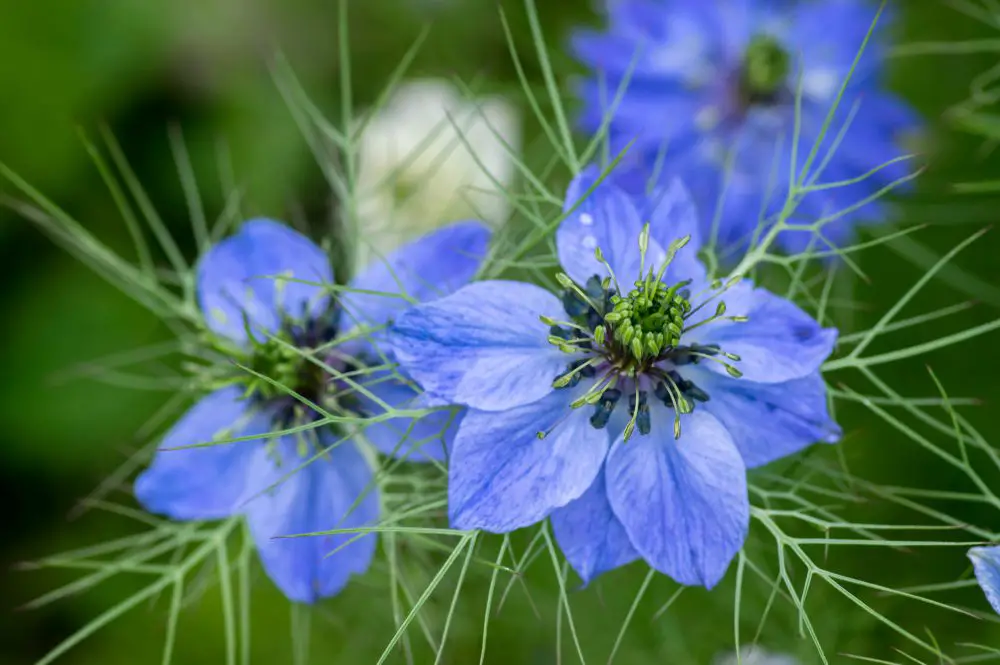 Nigella Flower, Meaning, Symbolism, Colors
Nigella flowers are amiable old-fashioned flowers that bloom in spring and early summer. The plant has bright green finely cut leaves which are similar to fennel leaves. There are finely divided light green thin bracts to form a "mist" surrounding the flowers. It belongs to the buttercup family Ranunculaceae is a genus of about 20 species of the family. It comes from Northern Africa, Southern Europe and Asia. It is indigenous to grow in rocky or waste ground, in fields and along roadsides.
Nigella flower meaning and botanical name is "Nigella damascena". It is also known as "Love-in-a-mist "or "devil in the bush". The word Nigella comes from the Latin "niger" which means black. It refers to its intense black seeds. The Love-in-a-mist name is commonly used because then flowers are encircled with ruff leaves which give the appearance of flowers fenced by mist.
Nigella flower meaning and, it is 1.5 inches across, with sepals like 5 large petals veiled beneath the stamens. The flower has an attractive seed pod which is balloon-shaped. It looks good in a garden even it does not bloom due to its foliage and seedpods. The natural flowering period of Nigella flowers is from June to September. It will attract bees abundantly and other helpful pollinators.
Nigella flowers are fugitive annual flowering plants which grow as filler between the longer blooming annuals and perennials. It is grown in flowering landscapes, container gardens or rock gardens. Nigella flowers bloom with showy pink, white or bluish flowers with vibrant feathers-like green leaves. The plant will grow with a spread of 6 to 8 inches and heights of 12 to 18 inches. It requires only minimal maintenance. It can be grown anywhere and is familiar with a variety of soil conditions.
What do Nigella flowers symbolize?
Nigella flower meaning and symbolizes love and harmony. It is a symbol of the bonds that bring people together. These are adaptable plants of spring.
If you are in love with the mist plant, it is Nigella flower. Nigella flower meaning and is well known for its romantic name. Nigella flower is enclosed by bracts. These are braced by a thread like leaf structure called a ruff. This gives the appearance of the flowers being encircled by a mist. So, it is also named "Love-in-a-mist".
Nigella is a flawless annual to disseminate over spring bulbs. Once the bulbs start blooming, you can see love all over the place.
What do various colors of the Nigella flower mean?
Nigella flower meaning and is usually bright blue to pale blue, but some are lavender, pink or white.
Blue– The blue color represents freedom and inspiration. It is very traditional and conservative. "Miss Jekyll Blue" blooms in June with attractive sky-blue flowers. It is the most valued self-seeder. It is a great filler in the garden and reseeds profusely. This flower is a good companion plant for Asiatic roses and lilies.
White – White is a positive colour and represents purity. Miss Jekyll Alba is pure white Nigella flowers with pretty green seed pods. It suits the cottage garden where you can make beautiful cut flowers and foliage for any vase.
Pink – Nigella flower Mulberry rose is a beautiful pink flower with plumy foliage which grows in just 8 weeks. It is easy to cultivate and a great addition to dried floral arrangements.
Deep blue – Nigella flower, Oxford blue, is very beautiful and appealing. It is a classic nigella flower. Heaps of feathery foliage with dreamy blue flowers are so attractive. It is great for a country-style garden. It usually germinates in 10-15 days.
Mix of colors– Nigella flowers Persian Jewels are elegant and very colorful to look at. It is self-growing up to 16 inches tall. It is a delicate combination of flowers of pink, blue, white and blue supported by fine bright green stuff.
Interesting facts and characteristics of Nigella flower
Nigella flower meaning and works well in a cottage or informal garden. It can be grown in cutting garden and meadows. It is good for short term massed bedding and filling gaps in the border areas. It can be used for edging, as in combination with sliver-leaved plants, or in mass planting. It can be easily grown in pots with drainage holes and a drainage layer.
Nigella flowers are easy to grow in fertile and well-drained soil. The taproot of the pant is very long. It does not produce well in hot weather. Nigella flowers are short blooming. If it has to bloom for the entire summer, you have to do successive planting every 21 days.
Nigella flowers grow in full sun and also in partial shade. It needs water only once or twice per week. During the flowering period, it will produce tiny fruit capsules which deliver seeds to grow next year.
The seeds of the Nigella flower are aromatic. It is used for medicinal and culinary purposes in India, the Middle East and Turkey. When the seeds are chewed or ground, the flavor is like oregano and, it tastes slightly bitter like black cumin. Black cumin and nigella belong to the same family. The difference is black cumin does not have hair-like bracts and is less delicate.
Nigella is very well known as a medicinal plant around the world. It has antioxidant, antiparasitic, antifungal, antibacterial and anti-inflammatory features. Nigella is used to treating many medical conditions and diseases like digestive troubles, blood disorders, respiratory conditions, skin problems and nervous system disorders. It can destroy cancer cells and strengthen the good cells to fight against cancer.
Nigella seeds are used in cooking. They are used in baked foods, pickles and dried foods. It is a good substitute for pepper. The seeds are aromatic and smell like pepper.
Best time to gift someone Nigella flower
Nigella flowers and its burgundy and green seed pods are used for dried or fresh floral arrangements. If leaves of the lower part of the stem are taken, the flowers will last longer. The charming flowers and their ornamental seed pods make lovely bouquets. Nigella flowers are very popular and can be dried for winter decoration.
Since bouquets are made with both fresh and dried forms, they can be gifted anytime throughout the year.