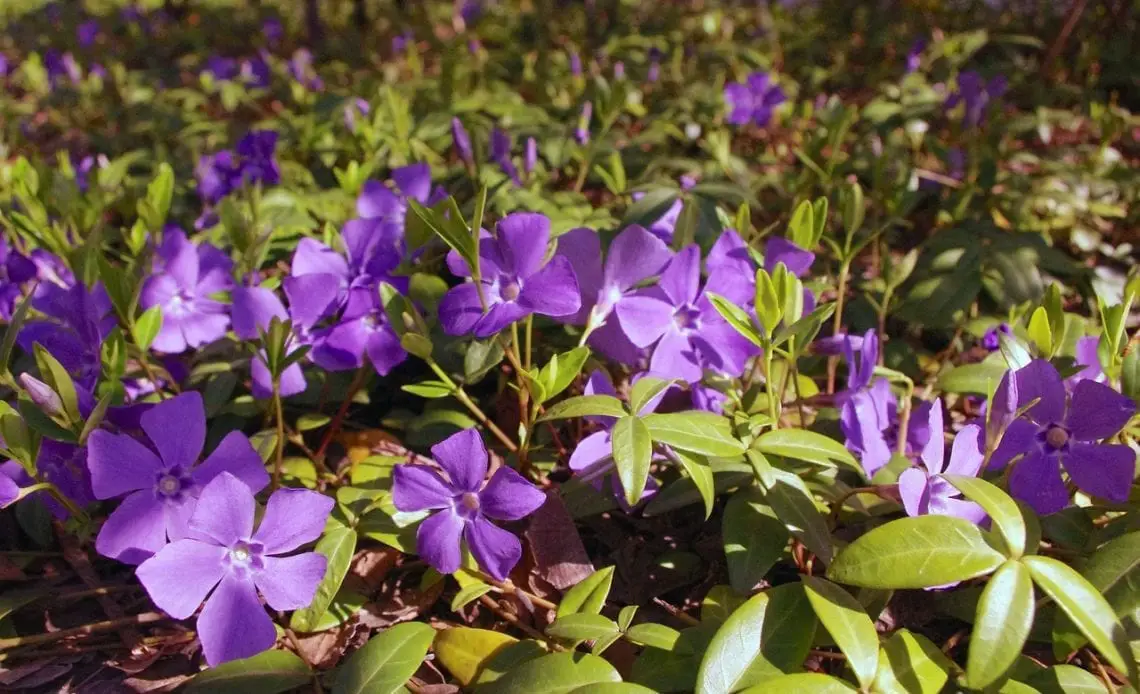 Periwinkle also known as Vinca, is a genus of 6 species of evergreen shrubs or herbaceous perennials and belongs to the Apocynaceae family. The Periwinkle flower is a small evergreen size plant that grows in the wild. They have the ability to tolerate harsh environmental conditions and it often difficult to spot them amongst larger plants. These flowering plants are easy- to-care and they are grown for their shiny, dark green foliage and attractive, unique pinwheel-shaped flowers. This flower is a native to Northwest Africa Europe and Middle East. Periwinkle flowers blooms in red, white, pink and blue color.
What is the Etymological meaning of Periwinkle flower?
Periwinkle flower has been part of the European history for thousands of years. Periwinkle flower got its name from Latin through Old and Middle English. The Romans used to call this flower "pervinca". Over the years it slowly evolved into its current name and came to be known as Periwinkle flower.
The name "periwinkle" most likely originates from "poule-de-roche" – a French word. It means "rock dove". The name is derived from the blue color of the feathers of a dove. But that is not the only origin associated with a Periwinkle flower.
The name Periwinkle could also have been derived from another French word. "Pourpre" means purple in French. This is a name often associated with the origin of the Periwinkle flower. Some Periwinkle flowers come with a white center and lavender blue petals.
In English botany, the name Periwinkle comes from the similarity in looks between the flower and a kind of shellfish called by the same name.
What we refer to as Periwinkle flowers, is a genus that belongs to the Apocynaceae family. Within the Apocynaceae family, the Vinca genus has two variants: Vinca Major and Vinca Minor. Both these variants love shade and thrive under shade. Periwinkles fall under the category of Vinca Major. The two variants differ in shape and size.
What are different meanings associated with the Periwinkle flower?
Every flower has its own meaning and significance. In earlier times, people used to give a lot of importance to the nature of the flower and that is why a lot of meanings have been associated with each flower.
Periwinkle flower stands for the following emotions:
New and exciting beginnings: Periwinkle flower symbolizes the start of something new and exciting. When you gift a periwinkle flower to someone who is opening a new venture, you are wishing that person good luck.
Everlasting love and romance: Periwinkle flower stand for eternal love and romance. This flower and romance goes hand in hand.
Friendship: Periwinkle flower is a symbol friendship. This is a great gift to be given to a close friend or someone who just entered your life. It conveys your thoughts that you truly appreciate the presence of that person in your life.
Strength and purity: The periwinkle flower may look fragile, but they hold great symbolic value. They are a symbol of strength and purity.
Achievement of dreams: The periwinkle flower also means achieving great and big things in life. Throughout the winter this flower stays green and fights against all the odds of nature and thus this flower has such great significance and has been associated with conquering big things in life.
What does the Periwinkle flower symbolize?
Every flower has its own symbolic meaning and significance. This symbolic value has been created by various cultures all across the world. It is important to understand what a flower symbolizes in order to understand the significance of the flower. Periwinkle flower has a very deep and strong connection with Virgin Mary in the Middle Ages. Flowers are given a lot of significance in Christianity and Virgin Mary is associated with several flowers.
The Periwinkle flower is also popularly known as the "Virgin flower" and especially the blue Periwinkle flower which closely corresponds to this symbolism. In the Victorian era, the Periwinkle flower was associated with friendship, new beginnings and even today this meaning holds true. That is why this flower is an ideal gift to be given to friends and close associates.
For the Ukranians Periwinkle flower symbolizes eternal love and they considered this to be an ideal gift for news weds to wish the newly-wed couples happiness and good luck.
Periwinkle flower also symbolizes recollecting fond memories form the past and remembering our dear ones who are no longer with us anymore.
For many centuries, Periwinkle flower was seen as a symbol of hope. There is an interesting story as well, associated with this flower. In medieval times, it was believed, if a prisoner picked up a flower in the jail and smelled it, the jailer would set the prisoner free.
What do the various colors of the Periwinkle flower mean?
Colours play a very important role in flower symbolism and the meaning associated with the flower. Flowers bloom in different colors and thus it is very important to choose the color wisely depending on the event and the occasion. You certainly don't want to go wrong in choosing a wrong color for an important occasion. So, do pay attention to the meaning associated with each color so that you do not send the wrong message to the recipient.
White Periwinkle flower: The white Periwinkle flower symbolizes everlasting love and memories that are cherished forever. White Periwinkle flower is often used as decoration flowers for wedding or as a wedding bouquet arrangement. Because it symbolizes love and eternal devotion it's a perfect flower for a wedding decor.
Pink Periwinkle flower: The color pink symbolizes romance, femininity and love. The pink Periwinkle flower stands for eternal love. This flower is an ideal gift to be given to your partner as it will convey your deep emotions and feelings to your beloved.
Blue Periwinkle flower: The blue Periwinkle flower is a symbol of a new start or a fresh beginning. You can gift this flower to someone who is starting a new venture or someone who is entering a new phase of life. By gifting a blue Periwinkle flower you are wishing the person good luck and happiness for his new beginnings.
The blue Periwinkle flower also means friendship and trust. You can gift a beautiful bouquet of blue Periwinkle flower to a close friend or someone whom you adore.
Red Periwinkle flower: The color red stands for love, romance and passion. Undoubtedly you can gift Red Periwinkle flower to your partner to express your innermost feelings and true love. A bouquet of red Periwinkle flower is a perfect gift to be exchanged between lovers.
What are the interesting characteristics and facts of the Periwinkle flower?
Periwinkle is also popularly known as evergreen, paveric or small evergreen. It can tolerate harsh environmental conditions and was mostly grown in the wild. They have been transferred from natural habitats and now are grown in gardens as decorative garden plant. They are often used as decoration plants in gardens and terraces where there is not enough sunshine. They require minimum care, they grow very fast and the flowers are in bloom for long duration.
Periwinkle range in size from very small species that can grow only about 10 cm (4 inches) tall to the larger variants that can grow up to 60 cm (2 ft) in height.
Planting and growing of Periwinkle is very simple and be done by anyone without much effort. The seed is sown at 1 cm deep and it is sealed after watering. Since, its mostly an outdoor plant, natural rain water is enough for a Periwinkle flower. You should water it only if there are long periods of drought.
You should sow a Periwinkle seed during the season of spring and before winter. You can even sow a Periwinkle seed in summer but you should do it atleast in a rainy or a cloudy day. Periwinkle plant grows best on a loose, well-drained, neutral or a slight acidic reaction and fertile soil. It's best to grow them in the shade or partial shade but a little bit of sunlight is good as well.
To promote growth and to ensure that the plant stays healthy, you need to fertilize the plant from time to time. You must saturate both the young and old shoots. A balanced fertilization with organic and mineral fertilizers are good for this plant. You can even use organic substances like compost, soil and humus. If the conditions are good then a Periwinkle flower spread very fast.
It's a good choice to plant small Periwinkle flowers in a garden with shades. You can place the seeds in a blanket of soil or in a lawn if it's a garden. There should not be more than 20 plants per m² planted in the garden. Other than terraces and garden you can event plant small Periwinkle flower in a rocky garden with little soil. It does not require much watering and sun and thus the flowers bloom well in this kind of setting.
Some interesting facts about Periwinkle flowers are as follows:
This evergreen plant is used for medicinal purposes especially folk medicine in ancient times. The whole plant including the stem can be used for healing. Periwinkle has been used in medicine to treat coughs, colds, coughs, diabetes and sore throat. In earlier times it was also used to heal lung and eye infections.
Another interesting fact associated with Periwinkle flowers is that it can be used as a strengthening beverage to detoxify and cleanse your body. All you need to do is put Periwinkle flowers to sit in wine for sometime and it will turn into a strengthening beverage with great benefits.
The original habitat of Periwinkle flower is Europe and from there it has been bought to North America and other continents.
Periwinkle flowers are the national flower of the state of Georgia.
Periwinkle tattoos are quite common and a blue Periwinkle tattoo is a representation of hope, peace and tranquility. It is also a symbol of devotion, sincerity and faithfulness. People with a Periwinkle tattoo conveys the message that they are true to their word and promises they make. Such people can forever be trusted.
When is the best time to gift someone a Periwinkle Flower?
The Periwinkle flower is a very versatile flower and thus can be gifted during many occasions. You may feel that gifting a flower is an ordinary gesture. But in reality there are various reasons for which you can choose to gift a flower and a particular one. They are the perfect bloom to treat your loved ones with something special.
Periwinkle flower stands for peace, so this is a perfect flower to be gifted to someone who had a traumatic experience or is undergoing some stress in life. When, you gift a Periwinkle flower you send a message of encouragement to that person.
Periwinkle flower means eternal love and you can gift these flowers to newly-weds. It is also a favorite flower which is gifted between lovers to express their love and passion for each other.
For ages, Periwinkle flower has been associated with friendship. So go ahead and pleasantly surprise your friends with a beautiful bouquet of Periwinkle flowers.
Like we have mentioned earlier, Periwinkle flowers are very versatile and are associated with several positive feelings and emotions. Hence, choose the color of the flower and the occasion to gift someone a bunch of this beautiful Periwinkle flower.
Periwinkle flower has an important message to give to all of us. This flower stands for friendship and it's a reminder to us to cherish friendship and keep our loved ones close to us. We often encounter negative moments in our lives but it is important to brush them aside and keep only positive ones.
Life without love and friendship is like an empty vessel. We should keep filling the vessel with love to making it more meaningful and the Periwinkle flower is a reminder of that.