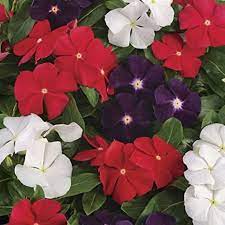 Sending a bouquet to someone you care about is an excellent method to express your feelings without having to say a word about it first.
There is a wealth of symbolism hidden within each flower, and all you must do to unlock it is learn more about flower meanings. To execute anything perfectly, it's only natural to spend some time deliberating on the ideal flower to use.
This delicate, yet stunning, the flower has a wealth of symbolic significance, as you'll see when you read about some of the fascinating things we learned about it.
Vinca Flower Meaning
The periwinkle flower, like other flowers, has a special meaning and importance of its own. Each flower's meaning is heavily affected by the views and beliefs of individuals from other civilizations. They paid too much attention to floral meanings and nature as a whole back in the days of the ancient world. Their phrases and the connotations they attribute to the Vinca flower are what we are following and studying.
The Vinca flower meaning symbolizes new beginnings, eternal love, strength, friendship, purity, and achieving one's ambitions.
Periwinkle flowers are a wonderful way to congratulate someone on the start of a new chapter in their life. The Periwinkle flower gives us wind in our backs as a sign that everything is going to be OK.
Give your loved ones the Periwinkle flower if they desire to make a fresh start in their life.
Old Latin gives its name to the periwinkle flower. It's also worth noting that this flower's origins may be traced back to both Old and Middle English.
What Do Vinca Flowers Symbolize?
Vinca flower meaning symbolizes fresh chances and positive sentiments, which your friends and family will love.
In addition, the Periwinkle flower is a sign of friendship, both old and young. The Vinca flower may be used to welcome a new person into your life. It can be used to express your gratitude to those who have been at your side for so long.
A periwinkle flower is a symbol of gratitude and joy for the friends you've been blessed with.
The Vinca flower meaning is linked with several love tales. To demonstrate that the Periwinkle flower may also represent eternal love and profound romantic sentiments, we'll go into further detail about these two attributes in the following paragraphs.
The Periwinkle flower, on the other hand, actually symbolizes purity, which you may expect the moment you see it. The Periwinkle flower is a terrific method to show someone that your intentions and feelings are clean and honest.
As a last note, the Periwinkle flower symbolizes attaining your goals and objectives. The Periwinkle flower is a symbol of prosperity since it remains green even amid the harsh winter weather and perseveres in the face of adversity.
What Do the Various Colors of the Vinca Flower Mean?
Vinca flower meaning relies heavily on color, however, this isn't always the case. For certain flowers, such as the periwinkle, certain hues have special meanings. Flowers called periwinkles might be white, blue, pink, or red.
White Vinca flower
Purity and eternal love are two of the key connotations associated with the white periwinkle flower. Traditionally, white has been associated with religious rituals as a symbol of purity, purity of heart, faith, and hope. In terms of wedding décor and flowers, white is a hue that must be omitted from consideration.
Do not hesitate if you're looking for a method to express to your loved one that your love will endure a lifetime by sending them an arrangement of white Periwinkles.
Blue Vinca flower
The major connotation of this flower is purity and fresh beginnings, and the blue periwinkle blossom fits right in with that. If you have a fear of stepping beyond your comfort zone, you could be missing out on something amazing. The blue periwinkle flower symbolizes a fresh start for a friend or member of your family. Alternatively, you may offer a blue Vinca flower to such a new acquaintance to help you get to know each other better and begin your journey together.
Pink Vinca flower
The pink periwinkle flower has long been associated with love, passion, and enduring affection. If you want to show your lover how very much you love and care for them, gift them the pink Vinca flower. For this reason, you may offer the pink Periwinkle flower to any lady who has a particular place in your heart.
Red Vinca flower
Emotions such as passion, desire, and love are symbolized by the red periwinkle flower. Only your companion would be the right recipient for this present since it conveys feelings of love and desire. As a present for your spouse, you won't be disappointed with the pink Vinca flower, as it will convey the correct message.
Interesting Facts and Characteristics of the Vinca Flower
The Periwinkle flower was connected with the Virgin Mary by medieval Europeans. Periwinkles are revered in Christianity because they are a symbol of innocence, purity, and rebirth. The periwinkle flower is known as the Virgin Flower because of its symbolism, which resembles the Virgin Mary. The lesson of the periwinkle flower should be taken to heart by all of us. It emphasizes the need of cherishing all of our connections, old and new, and the importance of keeping those we care about near at hand.
It's easy to get caught up in the minutiae of a relationship, but it's important to focus on the positive aspects of a person who means a great deal to you.
The Vinca flower meaning tells us that a life devoid of love is a lonely and empty one, thus we should share love & express our sentiments.
In the Victorian period, the Periwinkle flower was seen as a sign of fresh friendships and new beginnings. When you think about periwinkle, you think of happy moments with your families, friends, and even with those who are no longer in your life.
Best Time to Gift Someone Vinca Flowers
The Periwinkle flower was utilized by the ancients to treat many ailments. If you steep Vinca flowers in wines for a while, you'll get a blood cleanser and an excellent drink for boosting your body and spirit. Gathering leaves from Periwinkle flowers is best done shortly after they've finished flouring. The vinca flower meaning in its native environment is Europe, from whence it was transported to North America and further to other continents.