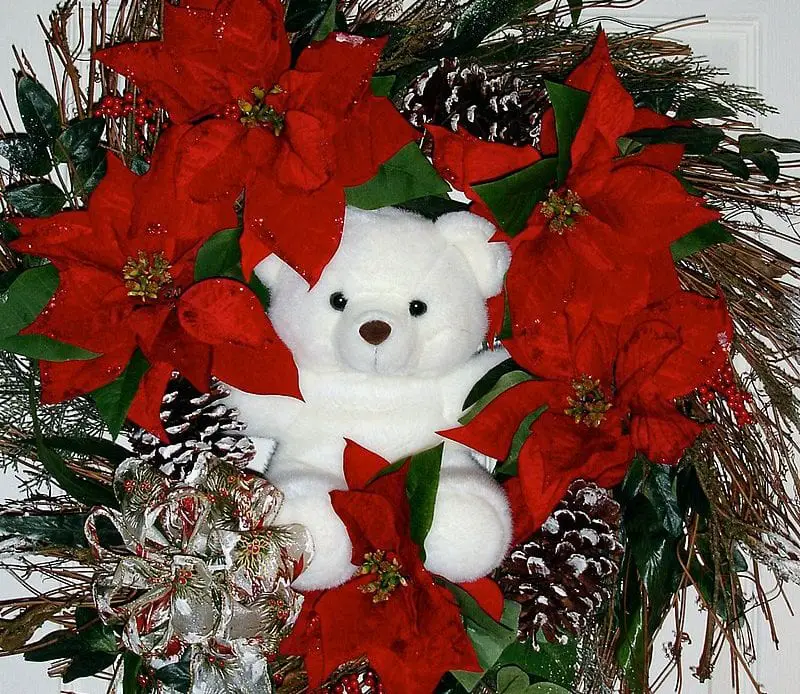 Most people do not consider greenery and flowers during the holiday season. You may not see fall chrysanthemums at Christmas, but during the holiday season, the necessity of flowers should be at its peak. It is, after all, the season to be jolly. Different types of flowers add to the splendor of Christmas. Flowers evoke color, life and cheer in any home at any time of the year. So, why not at a particularly celebratory time of year? Their value is typically underestimated during the holidays when people think that cookies and candy are more important. Make no mistake, flower arrangements are a huge part of Christmas and play a vital role in the season's decor.
Christmas Flowers and Color Symbolism
In holiday bouquets, wreaths, and other Christmas flower arrangements, there are distinct colors seen as there are different types of flowers. Conventional colors, acknowledged from ancient tradition, are bright and merry hues. Although they appear as colors of cheer, they have been chosen as the colors of the season for religious purposes of symbolism related to Christ's birth.
White is the color for the snow, a natural element of the season, but it also signals purity and innocence. Peace, as seen in the white peace dove, is related to Christmas. Red is as synonymous with Christmas as holly is. It is symbolic of the blood of Jesus Christ. The color green is the iconic color of all things Christmas, such as the tree, stands for eternal and everlasting life. It is evergreen, and so is the spirit. Gold and silver are the colors of the Star of Bethlehem that led the Three Kings to the Messiah. Blue is the color that defines the Virgin Mother Mary.
The Best Christmas Flowers
Some of the best Christmas flower arrangements include the quintessential Christmas flower, the poinsettia. Other flowers and plants used in wreaths for Christmas and table arrangements consist of holly, ivy, the Christmas cactus, among others. When you use flowers like cyclamen, amaryllis, and frosty fern, your house will look as fresh as a greenhouse. Besides keeping these plants potted and protected from the winter cold, the flowers and plants do well in flower arrangements in colors appropriate for your best season ever. Below, you will find the best flowers to use in your Christmas arrangements and tips on how to use them.
Poinsettia in White, Pink, and Red
Christmas is not Christmas without poinsettias. This flower is a Christmas classic. The large red, pink, or white petals aren't petals at all like some of us may think. They are actually leaves, and the flowers are in the center, mostly yellow and tiny. These are called cyathia. If you see poinsettias with the yellow centers missing, it means the pollen has shed and the flowers have passed their prime. Such flowers won't last through the holidays. Various types of flowers may be arranged in a vase with poinsettias as the flowers in the middle. These make good cut flowers, and you can combine bright red ones with white amaryllis or paperwhites.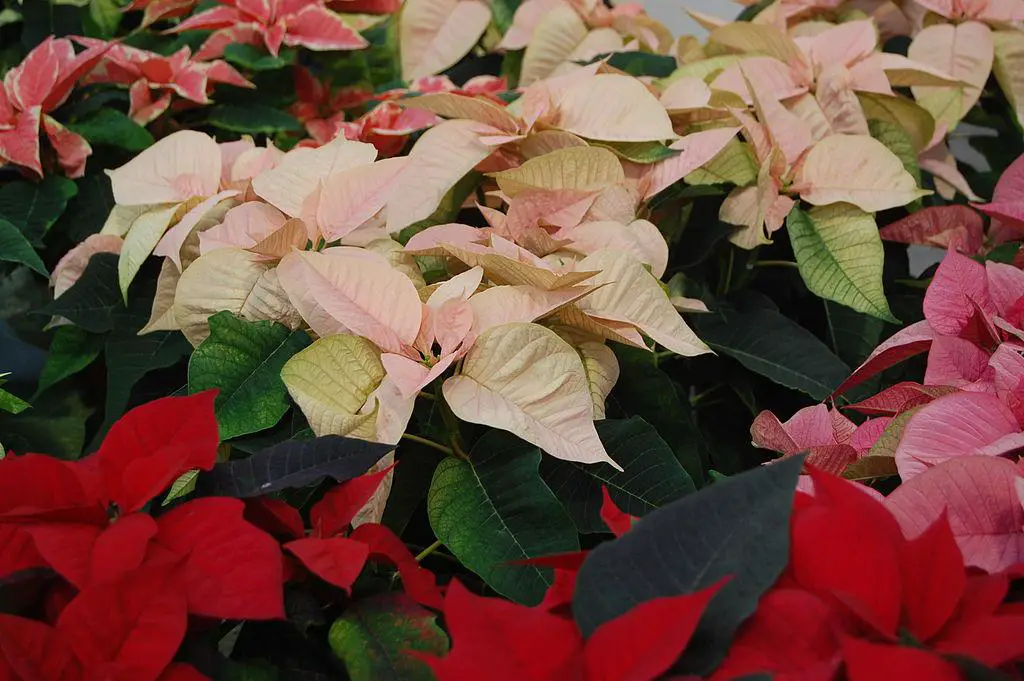 Christmas Rose or Hellebore
Traditional as a Christmas flower, hellebore do not belong to the family of roses. They are perennial flowers that bloom in the midst of winter in the mountains that engulf Europe. The flower is part of the family of buttercups, but resembles a wild rose so much with its white petals lined with pink etching. According to an old legend it was discovered by a young girl who presented some flowers to Christ. Hellebore stay well as cut flowers in a Christmas flower arrangement and you can mix them with deep red poinsettias and white or red roses. The flowers look dainty in the wake of a holly wreath and acorns, and make a nice accent for table arrangements.
Ornate Orchids
Orchids are hardy flowers that look exotic and beautiful at any time of the year and suit almost every occasion. Many types of flowers in the orchid family exist and due to shape and color, can be used differently. Phalaenopsis orchids look especially nice in a table arrangement or a vase for Christmas. They are slender-stemmed and delicate looking. Usually ivory-hued, they can be used with Christmas green fir and berries as an elegant presentation or center piece.
As potted plants indoors, you can have them in red pots all over your home. In indirect light, they will bloom throughout the winter season, almost till spring. Keep them where your home remains pleasant as they prefer cooler areas. With orchid fertilizer, the flowers do exceptionally well and will meet your decorating needs in the whole holiday season.
Christmas Flowering Cactus
Christmas cactus doesn't need any other flowers to collaborate with to look beautiful. Among the different types of flowers, these hardy flowering cacti are long-lasting and will do you proud. For Christmas, you can just plant them in different Christmas-themed pots, add bows, and you have a beautiful Christmas accent. The flowers are a bright pink to red color. You can cut the flowers to use in arrangements with poinsettias or use them in a nature wreath. The plant is placed outdoors for three months in the summer so that it lasts through winter.
Amaryllis is Awesome
This is as exotic as the orchid and as a Christmas flower, it lends an air of extravagance to a vintage vase. Either on its own with sprigs of holly or berry stems, or blended with red cyclamen or roses, your arrangement will catch the eye of many. Flowers bloom approximately four to six weeks after you plant the bulbs. In some varieties, flowers show up before the foliage does. The most adored as a winter plant, it remains in bloom for you to use its flowers as cut blooms.
Requiring a good deal of bright light, these flowers' pots need to be rotated once every two or three days to help the plant grow upright. The soil must be moist, but drained well.
Cyclamen for Christmas
Cyclamen flowers are among the winter types of flowers that thrive for more than eight weeks in the holiday season. They are deep red and truly look as delightful as poinsettias. They complement white amaryllis and white and pink poinsettias in a Christmas arrangement.
Cyclamen needs moderate and diffused light to develop. If you want cyclamen to be in bloom for a while, then you will have to deadhead flowers that die. Pull out spent flowers and leaves from the entire stem where it meets the line of foliage. These plants need to be watered from the base, not from above. You can do this by placing the pot in a saucer of water and letting the soil absorb it for around 15 minutes. Then remove the pot from the water. Whatever you do, don't splash water on the plant's leaves.
Paperwhites are Perfect for Christmas
Paperwhites are bought as plant kits from your local nursery. A soil medium is included with the kit. These white, dainty long-stemmed blooms do well in a shallow pot. After planting them, you will see flowers in two or three weeks. They are as fragrant as gingerbread cookies, and this adds to the Christmas charm in your home. With all the types of flowers available in the holiday season, these do well as they look good with any other contrasting color and smell of the season too. These are inexpensive to buy and keep, and offer up nice accents for the holiday.
You can keep them indoors in a warm and sunny location. Actually, these are tropical flowers that do well in not-too-harsh winters indoors. When you see the flowers sprout, tie the long stems to a stake (you can have red decorative kinds for Christmas). This is done to prevent them from falling over. The plant needs regular water to maintain evenly moist soil. Cut flowers short so that you can use them for a temporary flower arrangement with red roses and sprigs of holly.
Other Christmas Flower Wonders
Technically, you can use any flowers that are red, white, pink and even orange for decor at Christmas. You may notice that these colors go well with other Christmas accents like plaid checks and burlap ribbons. On a wreath, you can have Christmas flowers with acorns and plaid checks. Besides signature poinsettia, you can select other types of flowers from pansies to carnations. Pansies are particularly lovely in deep red tones to blends of red and white. Thriving indoors in cooler weather, they offer a welcome uniqueness to your Christmas home. Surprisingly, pansies bounce back after a bout of frost too.
Give your poinsettia some company with a jolly hydrangea bunch. These grow in a nice round cluster and resemble a Christmas ornament. When paced near the greenery of Christmas, hydrangea look wonderful. In colors from stark white to pink, you can coordinate the flowers easily with other Christmas flora. A single stem is enough for a bouquet. Think of white chrysanthemums as well. These flowers do well in the fall, but they can thrive indoors in winter too. Available in red also, the Christmas colors they blend with are widespread. Hardy flowers that last in a vase, a bunch of these bedecked for Christmas will lift your holiday mood.