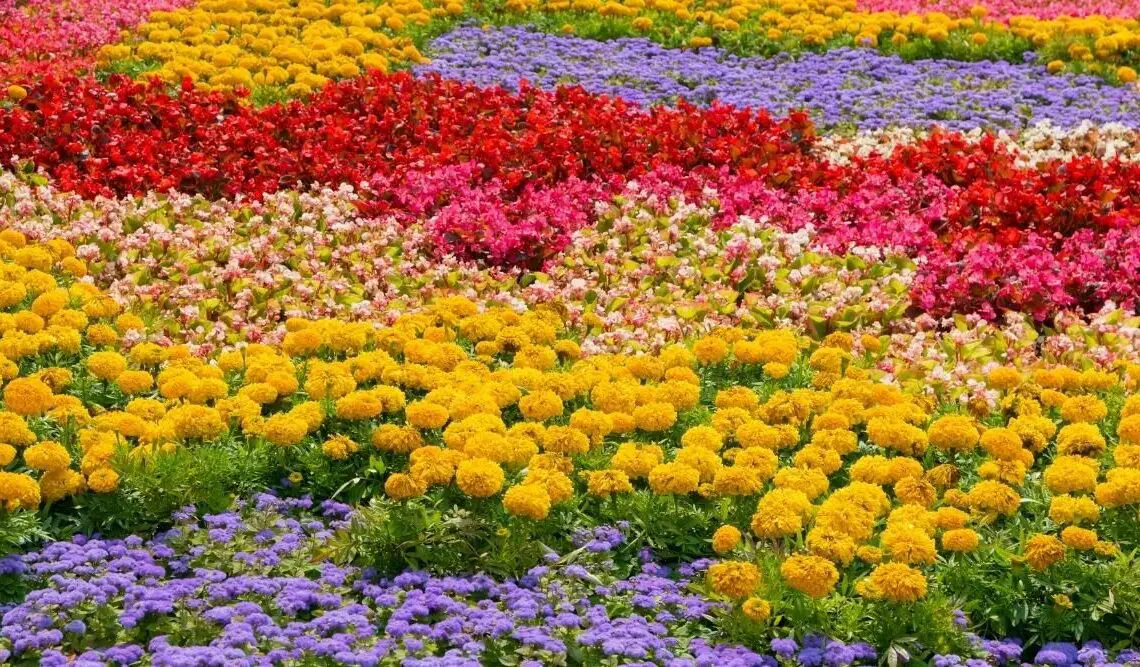 Flowers come in all shapes and sizes, but one thing that makes them stand out is their vibrant colors. It is also the first thing to notice when we see flowers; sometimes, we buy them because we like the color. 
Knowing that every flower's color, from a deep red to pure white, has different meanings and symbolism can help you with gifting flowers to someone. Have you ever wondered what every flower color is saying?
What do flower colors symbolize?
| | |
| --- | --- |
| Flower Color | Symbolism |
| Red flowers | love, admiration, desire |
| Orange flowers | joy, happiness, warmth |
| Yellow flowers | friendship, respect, good health |
| Green flowers | harmony, youthfulness, wellness |
| Blue flowers | intimacy, serenity, openness |
| Purple flowers | success, pride, refinement |
| Pink flowers | gentleness, grace, innocence |
| White flowers | honesty, purity, humility |
Guide in choosing the best flowers to give based on their color
Red flowers
Red flowers convey a powerful message of passionate romantic love. Red is unquestionably the color of passion, and any red bouquet or red flower arrangement will express your unconditional love. 
As it symbolizes beauty, courage, and heat, it's no surprise that a bouquet of rich, red flowers has no boundaries.
Red Roses
The most significant flower was and remained the red rose. For many years, red roses have been the color of love in people's hearts and minds. Red roses are the ideal way to say "I love you" when words fall short, whether it's on your first date, anniversary, Valentine's Day, or just because. They represent passion, true love, romance, and desire. 
Red Tulips
The red tulip shares the same romantic symbol as the red rose since the color red is associated with love. Therefore, the symbolism of the red tulip encompasses all types of love, such as pure love, perfect love, and eternal love.
They are perfect for giving to someone you truly, genuinely love; it may be your spouse, fiance, or long-term partner. You can pick a single tulip, a bouquet, or even a potted red tulip plant to celebrate a special occasion with your significant other.
Red Carnations
The red carnation conveys feelings like respect, love, adoration, affection, and also happiness. Giving someone a bouquet of red carnations expresses your love and special feelings for them. Red carnations are ironically associated with death because they are placed in wreaths and donations to adorn cemeteries and funerals. Their presence vividly reminds us of a friend, family member, or someone we love but who isn't present.
Orange flowers
Orange flowers can lighten up a space and are frequently sent as sympathy gifts to grieving families. They are a more lively color than red flowers, as they are bright and bold; thus, they symbolize excitement and enthusiasm. 
A beautiful orange flower bouquet can immediately make someone feel the warmth of your affection.
Orange Lilies
Sending orange lilies is ideal for congratulating someone on a new job, new home, or other personal achievements because they convey positivity and warmth. Orange lilies symbolize confidence and energy; you can also use them to encourage your recipient to be confident in their abilities.
Orange Marigold
The orange marigold flower represents a lot of good energy, strong feelings, and empowerment. So feel free to give orange marigolds to someone if you want to convey boldness, powerful love, and inner strength or attract these positive energies into their life.
Yellow Flowers
The color yellow is a symbol of loyalty and friendship. When thanking someone for a job well done, yellow flowers are frequently chosen in the workplace. The fact that yellow has gentler color than orange or red can also represent understanding and willingness to rebuild broken relationships. 
Yellow flowers can make someone's day better because of their cheerful nature and fascinating color.
Yellow Sunflowers
Yellow sunflowers convey vitality, intelligence, and happiness. If you notice your friend being down lately, surprise them with yellow sunflowers to put a smile on their face.
Yellow Daisies
Yellow daisies represent friendship and happiness. You can give yellow daisies  to your good friends to brighten up their day.
Yellow Daffodils
In general, yellow daffodils symbolize rebirth and the arrival of spring after winter. It also symbolizes strength, overcoming obstacles, and success. You can give yellow daffodils to your friend who wants a fresh start in life.
Yellow Ranunculus
Yellow ranunculus symbolizes happiness, joy, and positive feelings. You can give yellow ranunculus if you want to bring joy and positive vibes to someone.
Green flowers
The first glimpse of green after a long winter is always a herald of spring. Green flowers are a symbol of rebirth, fortune, and new beginnings. Green bouquets and arrangements stand for well-being, good fortune, and overall health. 
Gifting green flowers to someone means leading a balanced, enjoyable life that fosters resiliency and a positive outlook.
Green Hydrangeas
Green hydrangeas convey good fortune, good health, youthfulness, and prosperity. If you know someone who needs a fresh start, you can bring positive energy into their life if you give them green hydrangeas.
Green Orchids
Green orchids symbolize good health and fortune. If you have a sick friend, you can wish them to "get well" by sending them green orchids.
Green Spider Mum
Green spider mums represent health and strength. If you wish a friend or a loved one good fortune and good health, green spider mums are ideal for giving them.
Blue flowers
While the color red can arouse love impulses, the color blue can keep those feelings alive. Blue flowers are a common choice when a couple wants to convey trust. Many flowers have soothing blue tones, which are said to represent tranquility and peace.
Blue flower arrangements can also calm someone's stress and anxiety.
Blue Iris
Blue irises symbolize faith and hope. Give blue irises to someone if you want them to have a strong faith and be hopeful despite their trials or challenges in life.
Blue Morning Glory
Blue morning glory flowers convey heartfelt emotions like respect and trust. You can give blue morning glory flowers if you know someone going through tough times to tell them to keep going and trust the process.
Blue Hyacinth
The Blue hyacinth flower symbolizes constancy and sincerity. Light blue hyacinths convey peace, tranquility, and new beginnings, while dark blue hyacinths represent elegance, respect, regalness, and good wishes. Give your friend or loved one a blue hyacinth if they wish to have a fresh start or hope for good things to come.
Purple flowers
Purple flowers are a well-liked gift option to red bouquets since they signify a significant turning point in life. Purple flowers, which have royalty and ceremony roots, stand for pride and dignity. 
An arrangement of purple flowers symbolizes achievement and admiration, which you can give to someone you wish to entice those energies.
Purple Lilacs
Purple lilacs represent spirituality and are a wonderful flower to give someone to express your love to them.
Purple Calla Lilies
Purple calla lilies signify charm and passion. They also symbolize royalty and admiration. You can give purple calla lilies at a funeral as a sign of respect.
Purple Asters
Purple asters are the most common and popular color, which symbolizes wisdom, beauty, and admiration. They also signify royalty, nobility, and dignity. Purple asters are a perfect gift to someone you admire greatly.
Pink flowers
Pink flowers are commonly used as a substitute for red or yellow flowers because they convey passionate love and friendship. Pink flowers symbolize openness to life's possibilities and reflect gentleness and delicacy.; they are playful, delicate, and feminine. 
Pink flowers are less vivid than deep red and indicate a wider range of potential outcomes for love. Some people find pink flowers the most romantic and pick them as gifts for their loved ones.
Pink Roses
Pink roses represent gratitude and admiration, a perfect gift to someone you appreciate, like your siblings, friends, or teachers. They signify elegance and femininity, a perfect gift for events like proms, baby showers, or engagement parties.
Pink Dahlias
Pink dahlias signify kindness and beauty. You can give your mother pink dahlias on Mother's day or any special lady in your life on their special day, as these flowers also convey feminine beauty.
Pink Azaleas
Pink azaleas symbolize love, passion, and romance. If you want to express love and care to someone, you can give them pink azaleas.
White flowers
White flowers convey virtues like innocence, thoughtfulness, and loyalty. White flowers can stand alone as solitary bouquets or work nicely with other romantic-colored flowers, making them a popular option for a bride's bouquet or ceremonial displays. 
You can give a bouquet of white flowers to your spouse on your wedding anniversary, to a friend who might be seeking a cure and needs some hope or to express your condolence to a deceased's family.
White Orchids
White orchids symbolize purity, innocence, humility, elegance, and beauty; they are often gifted to people outside a romantic relationship, like family members and friends, as a token of admiration.
White Lilies
White lilies represent purity, faith, commitment, and rebirth. You can give someone white lilies to show gratitude, love, or sympathy.
White Roses
White roses signify innocence, purity, and loyalty. They also symbolize eternal love and new beginnings. White roses can be gifted to anyone on any occasion.
Conclusion
You can easily express your thoughts and feelings for someone when you know the different meanings and symbolism of different flower types and colors that will convey your heartfelt message to your recipient.
The flower color guides above are a great help for you to determine or choose the right flowers for your special someone.