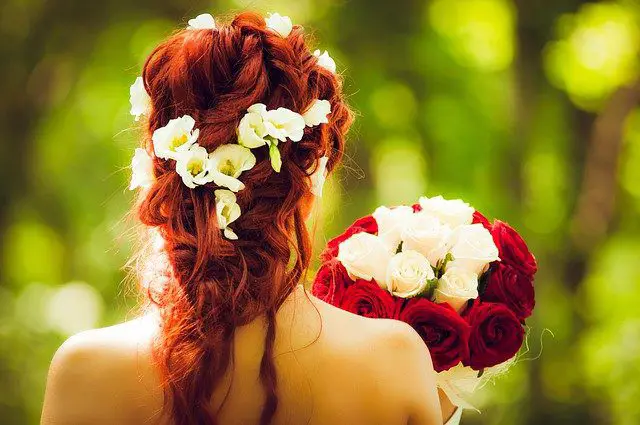 Fall season has a unique feeling on its own with color-changing leaves and getting married in this season is a surrealistic feeling. November weddings are special in themselves because the floral arrangements we get in these weddings have a very beautiful about them. November in an amazing time of the year. With fall season approaching to meet the winters, you can already hear Christmas bells ringing in your ears.
November season provides a humongous amount of choices when it comes to wedding flowers. You can opt for a moderns style, a warm winter look, a boho vintage look, or a luxe look that has a rustic touch. The flowers that we get in November are great alternatives to the flowers arrangements that we get in spring and summer weddings.
So, if you are planning to have a November wedding or early winter wedding, then here is a varied list of November wedding flowers. These floral decorations will make your wedding planning an easy-breezy affair.
Paper Whites
Paper whites are simple miniature blossoms. They may appear plain at first, but they are good choices to give an elegant feel to the wedding venue. So, if you want a soft and classic look at your wedding, then paper whites are a great alternative. With their green stems and white blossoms, paper whites are go-to choices for the November wedding flowers.
White roses are the classic choices to give an elegant and fairytale look to your November wedding. They symbolizer the pure essence of love between the relations and their serene appeal builds up a mood of calmness and happiness in the atmosphere of the wedding venue.
Sunflowers
Fall is the season of falling leaves and what we see all around is orange and brown. In your November wedding, sunflowers will be the best choice to add a dash of color to the season. On top of that, planning your wedding venue near a sunflower field will give you an experience of living your fairytale! Sunflowers are bright and unique choices to add an element of surprise and amazement to your November wedding.
Choosing sunflowers as your November wedding flowers may seem odd at first. But, sunflowers provide a scenic and vibrant background to make you click amazing wedding photos that you will cherish for the rest of your life.
Peonies
Peonies are very beautiful choices for your fall season wedding. These beauties are layered in amazing folds and their soft hues will add a huge charm to your special day. Peonies are wonderful November wedding flowers for a bouquet because the layers in peonies make up a fuller bouquet with a lot a volume. The fragrance of peonies is very magical. These flowers can be found in a range of different colors such as red, white, pink, and yellow. So, mix up rainbow-colored peonies and lit up your wedding venue with these bright beauties.
Roses
No matter how common and old roses are at wedding venues, they will always remain a favorite choice for weddings. So, roses cannot be out of your list of November wedding flowers. Roses are classic wedding choices that never go out of style. The best part about roses is that these blossoms are available all year round in a variety of vibrant hues. So, hands down, roses can be a great pick to be selected as November wedding flowers.
At first, red roses are the famous choices for the couples as they symbolize love. But, you can decorate your wedding venue in a whole range of colors for the roses bouquet. The sweet and soft smell of roses is incomparable to any other blossom in the flower kingdom.
Adding Hypercium berries to a bouquet of white or baby pink flowers will add a special seasonal feel to your wedding decorations. The contrast of dark and white will add a pop of color and will give a beautiful touch to the overall wedding decor.
Liatris
If you want your November wedding flowers to be different from the traditional look, then these long blossoms are the perfect choice. The growth of these blossoms are in upward direction and they give a draped and heightened look for the bouquets and decorations. The scent of this flower is very strong, which makes it unique from other flowers. The pastel purple color of this flower has a royal appeal and the decorations will give a majestic look at your wedding day.
Stocks
Stock flowers are versatile choices and are wonderful options to be November wedding flowers. Stock flowers are available in a whole array of colors. These blossoms are vibrant and subtle and make up a bouquet of stunning quality. These flowers are adaptable to any kind of wedding from rustic contemporary theme to glam extravagant theme. So, you can style these wedding flowers in a range of themes and styles.
Lisianthus
Lisianthus is a wedding flower that is frequently confused with roses and peonies. These flowers are very romantic, sensual, and soft in their appeal. This makes they the perfect choices as your November wedding flowers. The color spectrum of these flowers is very vast from white to pink, green, yellow, red, lavender, blue violets, and deep violets.
So, if you want your November wedding to have a lot of vibrant colors, then these flowers should be at the top of your list for your wedding decoration.
Scabiosa
Scabiosa flowers are very similar to summery cosmos flowers. These blossoms add a nice pop of color and texture to the fall wedding arrangements.
Celosia (or Cockscomb)
Celosia or cockscomb flowers give the appearance of sea corals growing in rounded patterns. They also give the look of feathers that are tapered at the ends. These blossoms have a soft velvety feel about them. Celosia blossoms are available in a large variety of jewel-like arrangements such as cream, orange, and bright pink.
Arranging November Wedding Flowers
Apart from the task of selecting the right flower and having the best style arrangements, you also need to make sure that the flowers are arranged at the right time for your wedding. The weather of November season is quite unpredictable. On top of that, a large number of flower growers are working towards arranging flowers for Christmas season during this time. So, you really need to organize your November wedding flowers in advance during this time of the year.
Planning in Advance
Decide your floral theme in advance so that you do not fret when the wedding day arrives. Have discussions with your florist at an early stage so as to ensure that you get the flowers of your choice on your D-day. The florist will provide the ideas about the options available in flower types and color and you will be prepared what the floral decorations have in store for you. Sometimes, people do not clarify the options with their florists at an early stage, and thin results into making floral arrangements problematic at a later stage.
Floral Decorations More on the Inside
It is for sure that in the month of November, you will get a lot of fresh fragrant choices among blossoms as this is the festive season. Flower growers grow a lot of flowers in different varieties and colors for Christmas and New Year. It is recommended that you use more floral decorations inside the wedding venue rather than outside. Since the outer spaces remain very cold during November, you must arrange the floral decorations inside the wedding venue to create a warm and fragrant atmosphere.
If you use warm colors and scents in your floral choices, then they will make your guests feel at home in winter chill. These floral choices will create a beautiful romantic atmosphere and your photos will be amazing. Burnt oranges and warm reds will enhance the romantic appeal of the winter wedding. You must avoid flowers that are not in the season. Apart from the freshness, spring flowers also come at a premium price despite being available all year round.
Tips to Make the Best of Your November Wedding Flowers
You can make good use of accessories available seasonally such as berries, beautiful leaves, and feathers to enhance the look of your floral arrangements and bouquets.
You can make your floral bouquets have a great statement by using trailing ribbons in the floral decorations.
Employ a large variety in texture by including glasses, metals, and candelabras.
Use candles and LED decorative lights in your floral arrangements as much as possible in order to get a warm look during the cold winter season.
Floral wreaths and garlands are not only meant for Christmas decorations. You can use them in your November wedding to add a special seasonal touch.
Make your November wedding special with these November wedding flowers suggestions. Go out of the box by choosing non-traditional floral arrangements and make your D-day an event to remember for your guests!