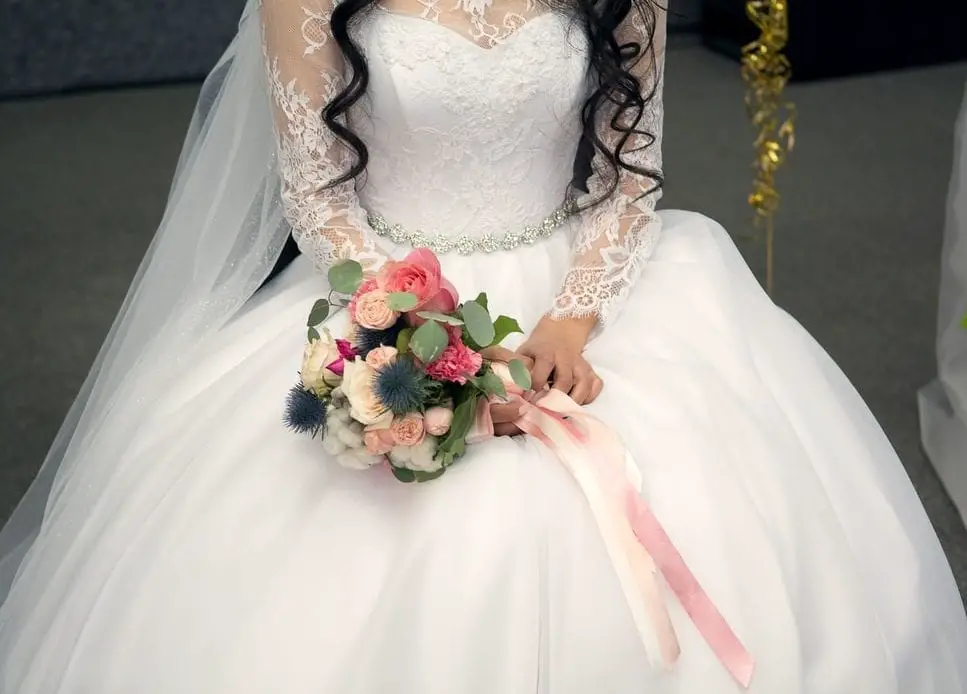 Your wedding is a remarkably special day as it celebrates you and your partner's everlasting love and dedication for each other. It is a day you want to look back to with warmth and fondness. But for that, a lot of planning and legwork needs to happen first. There is a seemingly never-ending checklist of things that make for a memorable wedding. And one of them is the wedding flower bouquet. Your wedding is probably the only time you will find yourself thinking and looking at flowers for hours on end- unless you are a soon to be a married florist.
The internet is not short of information and inspiration for literally thousands of wedding flower bouquets. We are here to trim this unruly shrub for you to reveal a concise list of ideas for that perfect bouquet of flowers for that perfect wedding.
Choose a Bouquet that Speaks to YOU
Choosing a bouquet of flowers that has a unique significance for you will lend greater charm to your special day. It might be flowers that grow locally in your hometown, a national flower or simply flowers that had once adored your mother's wedding bouquet. You could also create the bouquet around your favorite flower to add more meaning to the wedding decorations. Such personalization makes for a beautiful way to pay homage to your family and local heritage.
Let Your Wedding Dress Set the Floral Theme
Remember to keep your wedding dress in mind as you choose and personalize your bouquet of flowers. The flowers must always complement the wedding gown and not dominate it. If you are dressing in white for your big day, then the good news is that just about any color of flowers will go well with it. Even a classic white bouquet with plenty of green in it will look exceptional with a white gown. However, if your dress is colored, then it is best to use complementary colored flowers.
Similarly, if you are donning a finely embroidered dress, then consider using an equally intricate bouquet to not let the flowers overpower your figure or your dress's silhouette. If your gown is bigger, more richly detailed than usual, then your bouquet must also be bigger. On the other hand, if it is a simple dress, go for a single stem bloom. You can support the solitary flower with some beautiful greens. This will make for a wonderful contrast.
Old is Gold
If you are feeling overwhelmed by choices as the D- Day draws nearer and nearer, then fret not. You always have the old classics to fall back on. A natural-looking bouquet of traditional flowers like roses, peonies, lilies and carnations tied together with elegant ribbons can seldom go wrong. Not very large bouquets with gentle blooms are timeless for a reason. Look towards your mother's or grandmother's wedding bouquets for inspiration. You will not be disappointed.
Modern Takes on Wedding Bouquets
If your personal style and aesthetic steer more towards the non- traditional, then the same can be beautifully showcased in your wedding bouquet of flowers. There are several creative ways to go about this. Consider adding berries and fruits to make your bouquet stand out from the usual assortments. For instance, using green hydrangeas and red dahlias along with an unexpected pepper berry will make for a refreshingly original bouquet.
Trying a boho aesthetic would be another way to experiment with your wedding blooms. Boho inspired bouquets are smaller and tidier than the usual ones, but they still make room for a good deal of greenery.
Minimalism is yet another modern style much in vogue since 2019. A minimalist bouquet of flowers will usually contain just a few lovely stems of a single variety. Take carnations as an example. Once sidelined as mere fillers, these blooms have become the crowing jewels of minimalism inspired bouquets. Vibrant colored stems of carnations are unique and very modern.
However, a modern bouquet does not necessarily have to mean a colorful bouquet. There are many options available to you if you love white but do not want a traditional bouquet. Instead of the usual white roses and peonies, you can try unique alternatives like lily of the valley and white dahlia. Combining conventional white with unconventional flowers can make your wedding bouquet look both graceful and original.
You do not have to stick to one style- modern arrangements can have a traditional twist and boho can go with black tie. Do not be shy to mix and match different styles to suit your personal aesthetic. It is your special day, after all.
Creating a Bouquet of Identical Flowers
A bouquet that highlights identical blooms looks highly stylish and elegant. It also goes very well with a modern wedding aesthetic. A clutch of pristine white calla lilies, for instance, looks sophisticated and graceful.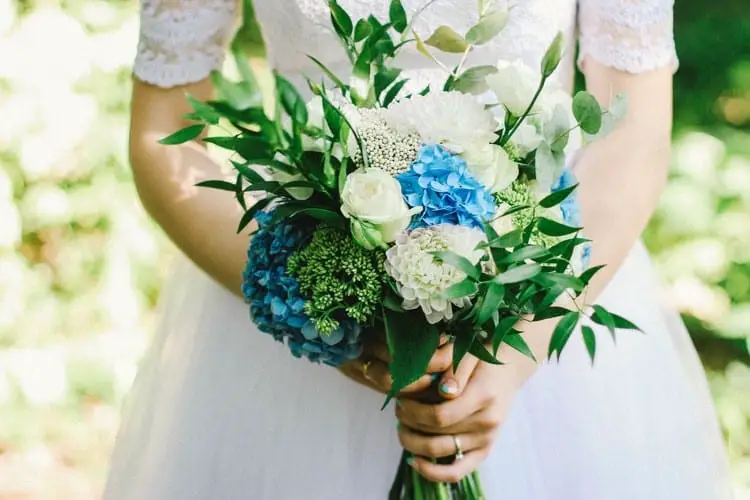 Have Fun with Colors
Let your wedding color palette also direct your choice of flowers for the wedding bouquet. Instead of obsessively matching colors, play around with complementary colors. Try experimenting with different tones and shades within your chosen color palette. Colors can bring a touch of playfulness to your floral arrangements and the wedding aesthetic in general. They will also pleasantly brighten your wedding photographs. However, if you prefer more neutral tones, then go for neutral looking blooms like roses and peonies with little or no greenery.
But if you are bold enough to play with colors, then bouquets are a great way to do so. You can also play around with shapes. Asymmetrical bouquets are a refreshingly original take on the usual tidy, balanced wedding bouquets. If you are intrigued by unusual shapes and styles, then you can try creating a long bouquet of layered flowers with heavy textures and deep colors. You can also use oversized flowers with strikingly rich colors to create a bold fashion statement.
Go Local and Seasonal
For the past few years, there has been a much-needed push to go local with the food we put on our tables. A similar trend has started with flower options and selections. A truly one-of-a-kind bouquet can be created using colors, shades and textures from your local surroundings. Such a floral arrangement feels original and almost like a natural extension of the wedding site.
Also, using flowers that are in- season will save you a lot of money. So, if you are working around a tight budget, opt for alternatives that are more seasonal. Besides being more affordable they are usually of superior quality than the imported ones. They will also look more appropriate than any imported blooms. A florist is your best guide to seasonal and local flowers- so consult one and share your floral vision with them. They can customize any idea to suit your personal style and preference. With their experienced advice on shapes, textures and colors, you can create a bouquet that reflects your unique personality, all within your budget.
Most people give themselves a few months or a year to plan their wedding. This is ample time for you to visit your local flower market and talk to local florists about the different blooms available around different seasons. You might also discover some beauties you never knew existed before.
Using Artificial Flowers
Forget the dowdy plastic flowers you saw everywhere growing up. Now- a- days gorgeous artificial flowers are created using silk and fresh blooms. These can be rented for the D- Day and look entirely convincing and elegant. There are floral companies that specialize in creating fantastic floral displays and bouquets all from fake flowers. Again, if you are looking for cheaper alternatives, artificial flowers might be the solution. They are usually half the price of their fresh cousins.
With artificial flowers, you can ignore seasonal restrictions that limit the availability of so many fresh flowers. So, if you really want the lovely peony for your September wedding when peonies are incredibly hard to find and painfully expensive when found, try silk flowers instead. Silk bouquets are also the safest bet if you or someone in your wedding party suffers from allergies. Artificial flowers will eliminate any allergy or fragrance issue you might have. Due to their long life, they also make for beautiful heirlooms you can pass onto the coming generations.
The Wedding Venue and the Wedding Theme
Your bouquet of flowers must complement the larger space where the ceremony will be conducted. If the wedding venue contains high ceilings and large rooms, then your flower arrangements must also be large. Smaller arrangements will just make the place look even bigger and barer. It is imperative that the wedding florist looks at the venue first hand to gauge the space and its requirements.
The same is the case when it comes to your wedding's theme. There are some floral arrangements that go very well with some themes- carnations for a retro-styled wedding, roses for a classic-style wedding, and big bold blooms for a romantic- themed weddings. Discuss your theme with your florist, so they know what your broader vision is and can share floral options with you accordingly.
Seasons should also ideally have a say in deciding the theme of your wedding. A rustic wedding theme would need warm-hued autumn flowers, whereas deep colors like royal blue and burgundy would suit a winter wedding. Do a quick internet search of your wedding theme to see what floral choices other people made to go with the theme. This way, you will be able to work out your preferences and see first- hand what bouquet of flowers looks good with a certain theme and what does not. The lesson here is to never make decisions about flowers in a vacuum. Always consider your wedding venue and theme before committing to any floral arrangement.
Your wedding bouquet will inevitably be a reflection of your personal style and aesthetic. So, use our list of ideas to create a bouquet that mirrors your personality and that makes you happy.