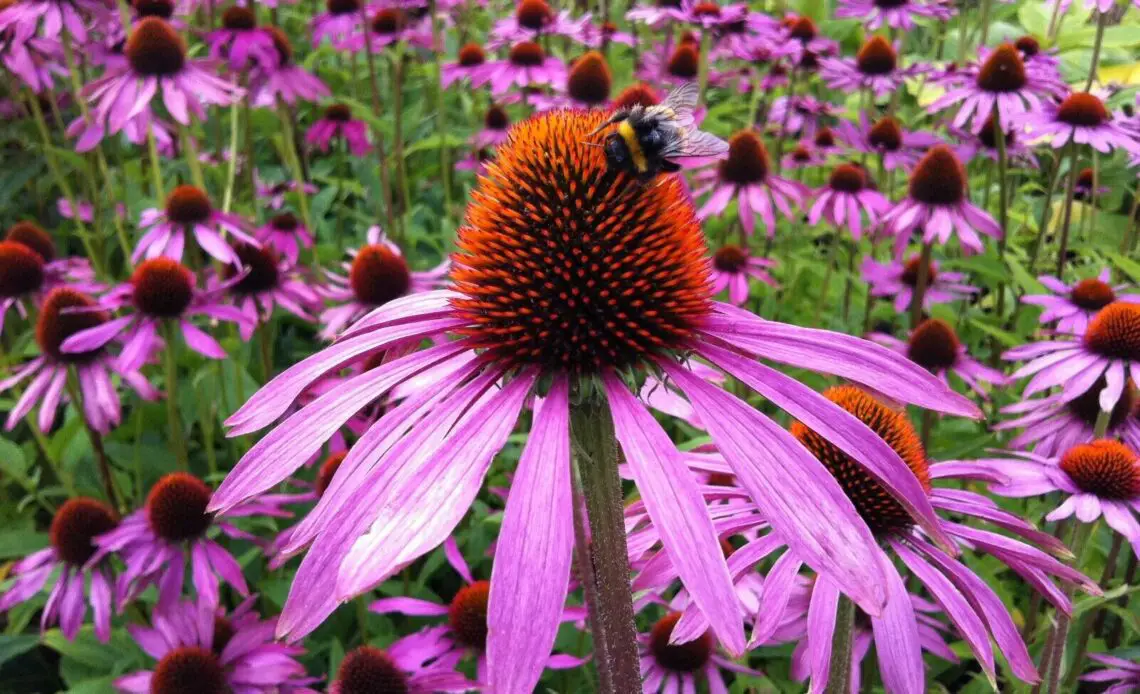 Last updated on May 20th, 2023 at 10:44 pm
The echinacea flower, also known as the coneflower, has a variety of species and is cultivated in almost every part of the world. This flower was known for its unique beauty and medicinal purposes, which were very popular in ancient times.
You will be mesmerized by its beauty if you see a garden filled with echinacea flowers. It almost looks like a daisy flower. The echinacea flower has a prickly cone-shaped disc at the center, surrounded by delicate petals. The petals of the flower come in a variety of colors. The most common echinacea flower comes in purple. 
Scientifically named 'Echinacea purpurea', the echinacea flower belongs to the daisy family. This large-headed flower usually grows during the summer. This plant is native to North America and frequently grows about 2 to 4 feet. It was particularly found in the Rocky Mountains in America. But now it is growing in almost all parts of Europe and several parts of Canada.  
Echinacea is derived from the Greek word "Echinos," meaning "sea urchin" or "hedgehog." This same signifies its prickly cone at the center of the flower. Even the name "coneflower" comes from the approach of the flower. The cone-shaped heads in the center of the flower have almost hundreds of flowers packed.
What does the Echinacea (coneflower) flower symbolize?
The echinacea (coneflower) flower's meaning and symbolism lie in its characteristics. This flower symbolizes "strength" and "health." 
This flower can grow in any weather. It can withstand heat and bloom in extreme climates as well. That is exactly why the meaning of the echinacea flower is connected to strength. 
Coneflower is also used extensively for its medical benefits and is one of the most popular flowers in the herbal industry. This flower strengthens ill and physically weak people and helps them get better and be strong. That is also why this flower symbolizes strength.
The echinacea flower's meaning is also linked with good "health." As mentioned earlier, this flower is widely used to treat people nowadays. Recent research also shows that the echinacea flower can help prevent and cure cancer. This flower helps in keeping people healthy, and that is also why this flower symbolizes health.
The echinacea flower's meaning and symbolism are related to strength and its healing power, and this flower is also believed to have magical potential. Some believe this flower is used to make various magical spells work. It is believed that the echinacea flower helps in boosting psychic abilities. Various fertility spells and spells of abundance include this spell in the process.
All in all, the echinacea flower symbolic meanings are:
strength
health
healing
wellbeing
Meaning of the Echinacea (coneflower) flower colors
Pinkish-purple color
This variety of echinacea (coneflower) flowers has an orange cone in the center, surrounded by rosy pink and purplish shade of petals. Along with symbolizing strength, the color of the flower also symbolizes success. It would be a great gifting option to someone who has succeeded in some sphere of their life. This color also signifies admiration and could be given to anyone you look up to and admire.
White color
Also popularly known as the 'Mary Me' echinacea flower, this white-colored echinacea (coneflower) flower can be gifted for wedding decorations. The white color of the flower also symbolizes marriage, where the bride usually wears white. This could be a great gifting option for those who are getting married. This color also symbolizes purity and innocence.
Yellow color
This lemon-yellow-colored echinacea (coneflower) flower is so bright that it can make anyone happy. This color symbolizes joy and happiness. Gifting this flower to someone will symbolize wanting them to stay healthy physically and mentally.
Orange color
Also known as the 'Marmalade' echinacea (coneflower) flower, this flower color symbolizes enthusiasm and excitement. This bold color flower signifies strength along with confidence. Gifting this to anyone would symbolize how you admire their bold character and want them to grow stronger with time.
Pink color
There is a huge variety of pink echinacea (coneflower) flowers available in the market. Various shades of pink are available, from 'pink shimmer' to 'playful meadow mama.' This color of the echinacea flower symbolizes gentleness, happiness, and femininity. It is also a symbol of love that two individuals share. This flower would be a great gifting option for your friends and family to show them that you love and adore them.
Red color
One of the most amazing and stunning echinacea (coneflower) flowers is undoubtedly red, also known as a 'Solar Flare.' These gorgeous flowers would make anyone feel special. This color of the echinacea flower also symbolizes romantic love and passion. It would speak of your passion for the relationship when gifted to your lover.
Interesting facts about the Echinacea (coneflower) flowers
Echinacea (coneflower) flower brings prosperity and wealth to the household.
Some people drink echinacea tea to enhance their psychic abilities.
Echinacea flower helps in curing respiratory problems.
Echinacea petals can help prevent wrinkles and reduce blemishes on the skin.
The echinacea or coneflower is one of two official wildflowers in Tennessee. 
How to grow Echinacea (coneflower) flowers
Being a perennial flower, this plant is easy to maintain and can grow in almost every weather condition.
Plant echinacea (coneflower) in well-drained soil.
Compost should be added to the top 2-4 inches of soil.
Place them in a spot that receives 6 to 8 hours of direct sunshine daily.
Water thoroughly.
How to care for Echinacea (coneflower) flowers
Water deeply at the soil level only when the soil is dry to the touch.
Apply thin layers of compost, followed by mulch, to the soil surface to help keep plants hydrated and weeds at bay.
Use a water-soluble fertilizer every couple of weeks.
Deadhead slightly below the flower's base to extend blooming.
Best time to gift Echinacea (coneflower) flowers
There is no specific time to give someone an echinacea (coneflower) flower. This mesmerizing flower can make anyone feel special. 
As the flower symbolizes strength and health, it can be a great gifting option to someone who is sick. Gifting them these flowers symbolizes a speedy recovery.
This can also be gifted to anyone to give them strength and encourage them to make difficult decisions in life. Gifting someone this flower will symbolize how you want them to be courageous. It will help them get through difficult times in life. This flower also brings abundance and prosperity and can be gifted to someone to wish them success.
Flowers usually bring happiness to everyone. This particular flower is not uniquely beautiful, but its meaning and symbolism will bring joy to anyone, making the echinacea flowers even more special for gifting.
Conclusion
It's no surprise that echinacea (coneflower) has long been a landscape favorite, given its long history as a valued medical plant. These attractive flowers, with their distinctive drooping petals, provide a splash of color to the garden. They attract pollinators, provide food for birds, and are simple to grow.
Echinacea flowers have symbolic meanings and links with health, healing, and wellness, making them an ideal gift to wish someone well.
If you want to know and learn more about flowers, we at PansyMaiden can help you. Check out our fun, easy-to-read, and informative flower-related content that you will surely enjoy!