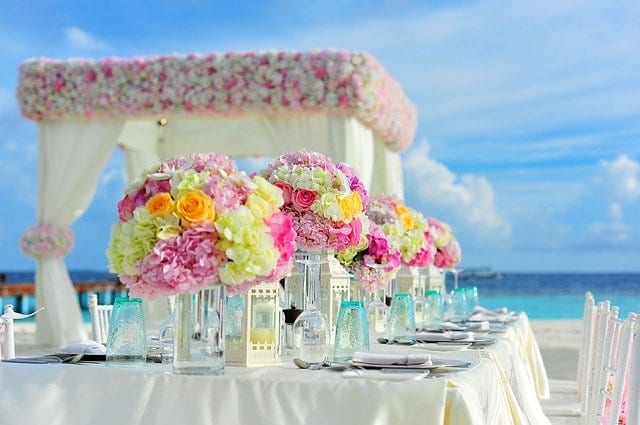 Successful weddings mean different things to different people. While the happy couple looks for love and warm wishes, the party planner feels overjoyed when everything goes without a hitch on schedule. Everyone however enjoys the look and aromas of beautiful flowers in all kinds of weddings, big or small, simple or extravagant.
Flowers and weddings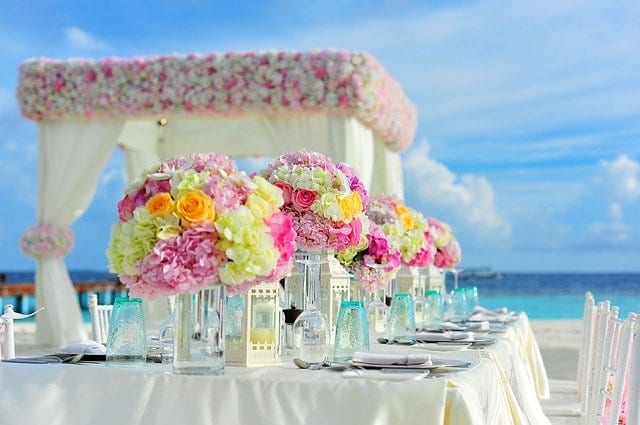 Nature blesses us with flowers in various colors, shapes, and with different scents. Goth-themed weddings look spectacular thanks to amaranthus, blue thistle, and dahlias, for example. Another out-of-the-box wedding concept – a Harry Potter-themed wedding with the bridal bouquet, boutonnieres, and hand corsages to match the colors of the four houses of Hogwarts School of Witchcraft and Wizardry. No matter what kind of wedding you opt for, there are types of flowers and greens suitable to it available throughout the year. Luckily, the most commonly used types of flowers are available in multiple colors, and some are even genetically modified to appear more striking or be available throughout the year.
Popular flower choices for weddings
If you are in the market to select the best wedding flower types to suit you, here are a few options to get you started:
Most common types of flowers
Peonies
Beautiful and available in a variety of colors, the lush appearance and texture of peonies make them a very popular choice among florists. They are easily available in all parts of the world and are not as expensive as the more exotic varieties. Blushing pink or deep red – you can have your pick of peonies and use them in decorations and in the bridal bouquet. These flowers are large with a very romantically soft look, making them a popular choice for many. The best time of the year to obtain the best peonies is between spring and mid-summer. They are considered to be symbols of marital luck and passion.
Garden Roses
These flowers need no introduction. Fragrant and stunning to look at, roses are must-haves in most weddings. The garden variety has more petals in tight a tight furl and is also more fragrant than the regular roses grown in home gardens. There are innumerable colors of roses to select from – white, yellow, black, blue, crimson, pink, and ivory to name a few. Choose the ones which are best suited to your wedding theme, and mix n' match to keep things more interesting. Roses are available throughout the year because they are extremely popular in weddings throughout the year, but they bloom the best during spring and summer. Roses are traditionally used to symbolize romance and friendship.
Ranunculuses
A close cousin of peonies and roses, ranunculuses appear very similar to them but are in fact a different specie altogether. One of the easiest ways to identify them when you're out flower-shopping is their fragrance, or rather the lack of it. So if you are keen on having a wedding that doesn't offend sensitive or allergy-prone noses, then ranunculuses are a must-have. And don't worry about their appearance – they look as enchanting as the first two varieties but are not as delicate as them. They last longer and don't get crushed as easily. Unlike summer beauties roses and peonies, ranunculuses are more easily available from late winter until early summer.
Sweet Peas
If you are fond of the minimal and dainty, then sweet peas would feature on the top of your flower list. They are perfect for boutonnieres and bouquets. Another interesting feature of these flowers is their fragrance. Overusing roses can lead to a thick and cloying fragrance being present throughout the wedding ceremony. But if you are interested in something more subtle with a peppery edge, then sweet peas are a good choice. Due to their small size, they are usually matched with larger, showier flowers but certainly add to the appeal on their own too. They are available in abundance between February and mid-April and are available in a number of pastel shades making them perfect for summer weddings.
Hydrangeas
Hydrangeas are a great combination of large size and beauty. Although a single hydrangea is voluminous as three-four bunched rosebuds, it still has a very delicate appearance thus making it popular in bridal bouquets and table decorations. You can opt for traditionally colored pale blue or white hydrangeas, or the more interesting, tinged varieties. The best time to buy them is between spring and summer but are commercially available throughout the year like roses.
Fillers and exotic wedding flower types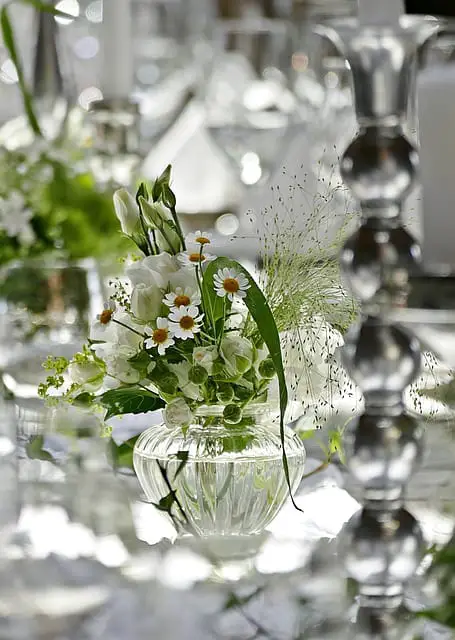 Daisy
It's hard to imagine any happy occasion being celebrated without a bunch of daisies they are just so peppy and bright to look at! Don't let their commonality fool you though. Mixed with pretty, tiny flowers like chickweed and against a backdrop of the right greens, orange or pale pink daisies look stunning. These hardy flowers most abundant during the summer, but are also commercially made available almost throughout the year. What makes these flowers so eye-catching is their contrasting, darker shaded centers. Even the most deeply hued red or pink daisies will have a darker center. There are many light and deep-hued colored daisies to choose from, and these are easy on the pocket too. Daisies are usually used as fillers or for table flower arrangements.
Baby's Breath
Tiny, simple, innocent, this offering of Nature is as widely used in marriages as it is in baby showers. And with good reason – the flower derives its name from its appearance. The soft white booms look like pure and fluffy like driven snow, just like a newborn baby is untouched by the pains and horrors of the world. Almost all brides opt to surround wrap their large and showy flowers in the bridal bouquet with a layer of baby's breath because it makes the whole thing look more romantic and sweeter. Considered to be a filler flower like asters, baby's breath is available throughout the year and is inexpensive.
Carnation
This variety is known for its soft shades and delicate petals with gentle frills. Carnations are extremely popular choices for a number of occasions because they are not that expensive and available throughout the year. They are good for bouquets, mixed or not with other flower varieties. A single, maroon carnation looks great pinned on the lapel of the groom's black suit while the bride carries a bouquet of lavender and pink carnations. This flower is available in a wide variety of colors. While carnations were used mainly as filler flowers earlier, they have slowly become more popular in bouquets or centerpieces mixed with a few exotic flowers.
Orchids
If you don't mind splurging a bit for your special day to add a hint of exotic to the wedding decor, then orchids are your best friends. The uniquely shaped flower available in a number of colors appears even more beautiful because of their fascinating centers. They feature dots and a yellow column that lend to the exotic appeal of orchids. This flower is available throughout the year but there are multiple varieties to choose from. While lavender and pink orchids are quite common and cost lesser, blue orchids are costlier because of their more striking appearance and cost of cultivation. Since orchids are comparatively expensive, they are traditionally used in small numbers in bouquets or corsages.
Lilies
Popular with English royal brides like Princess Diana and Kate Middleton, lilies are popular because of their unique, bell-like shape on long, fresh green stems. Tulips, which belong to the lily family, have a similar appearance and are also quite in demand at weddings. Their petals are especially beautiful because of the contrasting shades they are available in. Brides can choose between white lilies with purple tinges or dark peach with yellow ones, You can also find these fragrant flowers in simple whites and pinks. The best season for lilies is spring. Depending on the type of lilies you opt for, the cost may vary between moderate to very expensive.
Some of the other popular types of flowers are anemones, lilacs, zinnias, chrysanthemums, daffodils, and lavender.
Most wedding planners opt for a mix of wedding flower types – flower vines hanging from the walls of the venue must look every bit as beautiful as the bridal bouquet that catches everyone's eye.