Our association with our workspace is more than just work, it's also about employee appreciation and gratitude. Presenting an employee or co-worker with a gift is a token of appreciation, a reminder of their hard work, and importance in the office. As a gift, flowers do a tremendous job of conveying that message.
Flowers are heart-warming, beautiful, and can certainly brighten up someone's day. Each flower represents its own unique qualities that relate to our personality in a special way. For example, daffodils represent resilience, while hydrangea represents gratitude. Gifting flowers at the office is a way of expressing appreciation for an employee's or coworker's association with the company. You can never go wrong with flowers as gifts. This is because they are symbols of admiration and respect that we have for one another. They can be gifted on any occasion, be it an office birthday party, appreciation, or an office celebration. Here's a list of flowers that you can gift at an office party, what they symbolize, and flower combinations to choose from.
1) Lilies
At the top of the list of flowers are lilies for their beauty and striking elegance. They make for a wonderful gift leaving a lasting impression on a special occasion. Although lilies do not have much of a fragrance, the sight of their color and size is enough to brighten a person's day. There are a variety of lilies such as Asiatic lilies, rain lilies, spider lilies, and oriental lilies. Lilies grow in a variety of colors such as pink, yellow, orange to name a few. Pink lilies signify admiration, while orange lilies signify confidence and pride. Lilies can be gifted as a bouquet in a combination of different colors like pink and white flowers. They can also be paired with flowers such as carnations and roses.
2) Orchids
Next on our list of flowers is the orchid. The orchid is one of the most revered ornamental plants because of its delicate and exotic nature. Gifting an orchid represents strength and wealth, and shows admiration for the person you gift it to. According to Feng Shui, orchids have the unique ability to bring good luck and fortune too. Orchids grow in a variety of colors such as white that symbolizes purity and elegance. The color purple symbolizes admiration, respect, and dignity. The color yellow signifies friendship, joy, and new beginnings. While the color orange symbolizes enthusiasm and boldness. Orchids can be presented as a bouquet of a single color or different colored orchids. They are paired with other colorful flowers such as peonies, roses, or calla lilies. Blue orchids with pink roses would be a beautiful combination of flowers.
3) Carnations
One way to brighten up someone's day is to gift them carnations. Carnations are also known as the Flower of Gods and are a symbol of beauty, innocence, and purity. They grow in a variety of vibrant colors such as red, pink, yellow, white, and scarlet. When presenting carnations in a bouquet, you could present them with a combination of other flowers. For example, white carnations and yellow roses, or lavender carnations with mauve roses are pleasant on the eye. Carnations and chrysanthemums also make a beautiful pair. For example, pink or yellow carnations with white chrysanthemums.
4) Hydrangea
If you're looking for a popular ornamental plant that signifies gratitude, the hydrangea is the flower you're looking for. They also represent grace and beauty. Hydrangea grows almost anywhere in the world, making it easily available. It has a round shape with bunched flowers on each stem that look like a cute flower ball when held together. They come in a variety of colors like blue, lavender, red, pink, and white. They last longer than most flowers, looking lovely even after they've lost their moisture. Hydrangea can be paired with delphiniums that also have long stems and a ruffled texture. They can also be paired with other flowers such as peonies, roses, and tulips.
5) Daffodils
Daffodils are associated with the coming of spring and symbolize new beginnings, good fortune, and happiness. Although a single daffodil, when presented as a gift, is supposed to represent misfortune. From our list of flowers, daffodils are one of the strongest and most resilient flowers that grow year after year. Their beauty and durability make them a good choice for a gift. While the golden daffodil is an iconic springtime flower they are also available in white, pink, orange, and salmon-pink. Although daffodils are best presented as a bouquet in a single color, an eye-catching combination you could try is yellow daffodils along with lavender tulips. Daffodils also go well with a combination of roses, coral bells, and peonies.
6) Anthurium
The anthurium is the only beautifully heart-shaped flower on our list of flowers, and a popular hospitality gift. According to Feng Shui, the anthurium brings good luck, joy, and happiness. It's also known as laceleaf and flamingo flower. Anthuriums come in a variety of colors such as red, pink, purple, and yellow. In bouquets, anthuriums usually look best when used as a single color. But if you're looking to change it up a little, we'd suggest you pair anthurium with roses.
7) Gerbera Daisy
Gerbera daisy is a breed of colorful daisies and their petals that have a beautiful satin look to them. Their beauty and perennial nature make them very popular amongst flower lovers the world over. They are available in a wide range of colors. The common ones being yellow, deep red, pink, and white. The bright yellow color signifies friendship and happiness, red signifies passion and pink signifies grace and gentility. An assorted color combination of bright yellow, red, pink, and white gerbera daisies make a pleasant sight. They can also be paired with roses and a backdrop of dark green leaves that accentuate the bright colors.
8) Dahlias
Dahlias are gorgeous colorful flowers that bloom from midsummer through autumn. These vivid flowers that look like pom-poms symbolize elegance, inner strength, creativity, and dignity. Dahlias often grow with one solid color, but they can also be patterned in stripes or have different colors at the edge. They grow in white, yellow, pink, orange, lavender, red, and purple. Different colors of dahlias, put together in a bunch, make a beautiful bouquet. Dahlias also go along well with other flowers like roses, lilies, and orchids. A beautiful combination of flowers would be to use red dahlias with white and purple snapdragons.
9) Antirrhinum (Snapdragon)
Another flower to gift at an office party is the antirrhinum. The antirrhinum is commonly known as dragon flower or snapdragon because when squeezed, it resembles the face of a dragon opening and closing its mouth. They are mostly found as wildflowers and in many places cultivated for cut flowers. They have a sweet fragrance and remain long-lasting in a vase. These flowers traditionally represent graciousness. They grow in many colors, including white, yellow, pink, peach, orange, red, purple, and violet. Snapdragons are paired with hydrangeas, lilies, and roses. A good combination for you to choose would be to use flowers with larger blooms, like lilies and roses, with snapdragons behind them like a backdrop for the bouquet.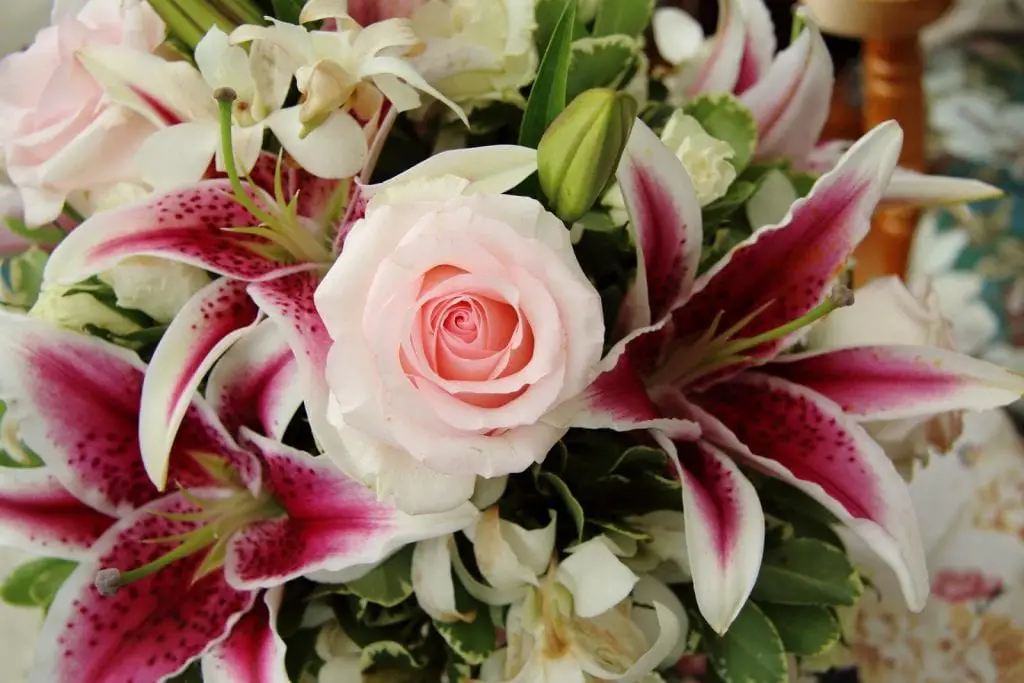 10) Roses
The most popular flower on our list of flowers is the rose. It surely is one of the best flowers to gift at an office party, with white, yellow, and orange colored roses being the most formal and safest bet. Yellow roses symbolize friendship and orange roses symbolize enthusiasm. While white and pink roses symbolize gratitude, admiration, grace, and joy. Roses have a beautiful fragrance and good longevity. They look simply adorable no matter how they are presented, be it a bunch of roses of single-colored or a variety of colored roses. Roses even also look beautiful when paired with almost any other flower. Roses look the best when mingled with dahlias, lilies, and hydrangeas, and spread into one another.
11) Delphiniums
Delphiniums, a very close relative of larkspur, symbolizes cheerfulness and goodwill. It gets its name from the Greek word 'delphis' that translates to 'dolphin,' referring to the shape of the buds of the flower. They grow in a wide array of colors including true blues, pink, lavender, purple, and white. They are usually paired with other flowers such as tulip and peonies. Using pink delphiniums with soft pink tulips, white and pink peonies, and purple irises would make a beautiful impression on anyone it's gifted to.
12) Iris
The iris has three petals that symbolize faith, valor, and wisdom. This can be a beautiful message and gift to give at an office party. Irises grow predominantly in shades of blue, purple, and violet. They are also available in colors of mauve, pink and yellow. A simple yet elegant idea for a bouquet with irises is to use purple irises with pink tulips. Another option would be to pair violet irises with sunflowers or yellow roses, giving the bouquet a beautiful and fresh feel to it.
13) Aster
Last on our list of flowers is the aster. Asters are perennials with star-shaped flowers that look similar to daisies. They are also known as 'Michaelmas Daisy'. They bloom anywhere from late summer to late fall. Aster symbolizes wisdom and faith. It's available in a variety of colors namely white, dark pink, blue, and purple. Lighter colored asters could be presented as a bouquet paired with darker colored carnations or a nice bunch of single-colored flowers.
To gift a colleague flowers is to congratulate an achievement, and celebrate their hard work and persistence. We are sure our list of flowers will ensure you make the best possible choice in achieving that.