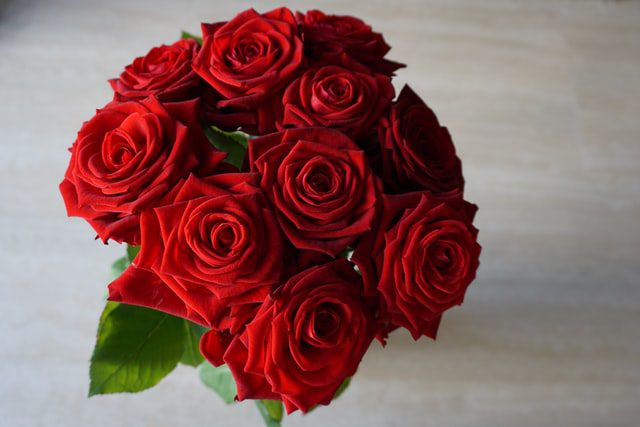 There is no question that flower bouquets with a variety of different colored blooms can look quite special. However, if you are looking for classic elegance and showstopping impact, minimal and monochrome is the way to go. And if you think monochrome is boring, think again. Subtle tweaks in texture and shades can make the simplest of arrangements look outstanding. When choosing the color for your monochromatic arrangement or arrangements, consider the overall scheme of your wedding. And then play around with mixing different flowers in complementary shades of the same color. For instance, you can choose either a single color-white of garden roses. And you can also mix it up with shades of white and ivory in dahlias, clematis and ranunculus.
Adding depth or airiness is possible if you are wiling to be creative. Play up colors in the same spectrum, choose neighboring hues or for the most dramatic impact, opt for blooms in slightly darker or lighter shades. And if you're stuck for ideas on styling your very own monochromatic flower arrangement, check out list of ideas for inspiration.
Something Blue
There's nothing better than a fresh blue bouquet or a wreath to make a wedding celebration come alive. You can even use your blue bouquet as your something blue. For a fresh and vibrant take on blue, combine orchids, thistle and muscari in a fun package.
Green Goddess
Green may not be the obvious choice when one thinks of wedding bouquets. But that is exactly what makes green such a fun choice. Combine slipper orchids, hellebores and ferns for a textured and interesting package that is sure to stand out from the seas of pinks and reds.
Classic White
Love classic elegance? You're not alone. There's nothing that quite says wedding as clean and pure white accents. For a fresh take on monochromatic flower arrangement, combine hellebore, lisianthus, ranunculus, sweet peas, jasmine vine, and Playa Blanca roses. The combination serves well as a wedding bouquet or even a wedding table centerpiece.
Bold Red
Weddings are all about love and what says love more than the color red. For a creative twist on the stereotypical red roses, combine garden roses with giant red peonies and scabiosa for a statement making bouquet or wedding wreath.
Juicy Orange
Orange makes use think of summer, spring and happy times. And a wedding bouquet of vibrant celosia flowers gives just that vibe.
Dark Red
For a fall or winter wedding, a monochromatic flower arrangement of dark and richly colored blooms sets just the right tone. Combine hydrangeas, roses and dried flowers for a lush and dramatic look. And add in fresh and dried flowers in complementary tones for some extra oomph.
Pretty in Plum
For a royal and grand wedding style, a purple monochromatic flower arrangement is the way to go. Include all shades of purple from blue toned clematis to a deep colored anemone for an instant impact.
Bright Yellow
Is there a happier flower than sunflower. We don't think so. But the yellow of sunflower on its one can look quite overwhelming and overbearing. Add in some contrast to your yellow monochromatic flower arrangement by adding in white or yellow roses, ferns and daisies. With the addition of some pretty greens and leaves, you'll end up with a fresh romantic arrangement.
Vibrant White
Another excellent monochromatic flower arrangement is one that uses just two varieties of blooms. Combine orchids and roses in white for a striking wedding arrangement.
Peach Beauty
A super feminine and delicate color, peach is a great option for a wedding floral arrangement. Combine a variety of roses in varying shades of peach and create some diversity by adding different sizes into the mix.
Orange Orange
Combine pretty orange ranunculus, seeded eucalytptus, astrantia and sprigs of safe to create a monochromatic flower arrangement that is perfect for a rustic or country chic wedding.
Think Pink
Pink may be a cliche choice for a monochromatic flower arrangement. But not when you vary shades combining the palest blush pink with the darkest fuchsia
Crimson Pride
Not quite red, a dark , almost crimson floral arrangement is a great choice for a formal wedding. Combine wild and big flowers in different sizes and in varying shades of crimson to create a dreamy and fantastical feel.
Purple Power
Purple is not the most obvious choice for a wedding floral arrangement, But not all weddings are alike so why should all floral arrangements be. Combine varying tones of purple in a wild package for maximum impact.
Black Is the New Pink
Taking it one step further, make your wedding be the talk of the town by opting for a dark almost black bouquet. Perfect for an avant garde bride who likes to create her own rules, a bouquet with dark scabiosa, calla lilies, and dahlias make a great combination. Accent the whole bundle with black-centered anemones and you are good to go.
Purple Orchids
If simplicity is what you are going for a phalaenopsis orchid in a light purple shade is a great choice. The purple color is impactful on its own and doesn't need the variety from different blooms to add interest.
All White, All Right
Combine different textured white florals for a classic arrangement that is truly evergreen. Combine different flower and petal sizes and add in texture. Some fun options include Veronica, sweet pea, and roses.
Elegant Coral
Warm up your wedding by opting for a rich coral arrangement spiced up with almost coral pink and red. Reminiscent of a tropical sunset, this combination is perfect for a resort or beach wedding.
Lovely Lilac
The fragrant and oh so lovely lilac is the perfect choice for a monochromatic floral arrangement as it naturally fluctuates in color. The design of a lilac with tiny petals and cluster of details makes it perfect to stand out on its own with no supporting blooms.
Earthy Beige
Having a fall wedding? The warm and eathy tones of a beige arrangement of warm ivory hydrangea and light gold leaves is just what you are looking for. The colors will sparkle in sunlight throwing even more shades around.
Baby Pink Roses
Don't want to be experimental? That' all right. Baby pink roses are your answer for a wedding worthy floral arrangement for the safe bride. There's no flower than evokes romance quite like the rose. And for some added appeal, you can arrange roses in shades of soft blush and punchy hot pink.
Simple & Satin
Add a little satin and sparkle to an arrangement of white calla lilies bundled together with a satin ribbon and silver brooch.
Not Quite Boring Blue
Blue florals can be hard to find but a blue bouquet is anything but boring. We have already discussed a blue bouquet with multiple varieties of blooms. But why not choose just one flower-such as hydrangeas and choose from different shades of blue. You can go subtle with muted blue blooms or a more darkly vibrant bunch.
Precious Peonies
For a monochromatic classic meets modern look, combine white peonies at the center of the arrangement and add a few sprigs of greenery to complete
Wild and Organic
Want to go for something wild and bohemian? Why not curate an assortment of wild blooms in shades of berry. Maybe, a berry hued bouquet of bougainvillea accented with wild grass.
Grand and Bohemian
Feathers and light sprigs of grass may not seem like the obvious additions to a bouquet. But these little textural elements can really pull an arrangement together. Combine ranunculus, sweet pea, feathers, ferns and pearls and wrap together with a satin ribbon for a grand and bohemian feel.
Marigold Orange
Traditional to some cultures like Hindus, the humble marigold can look just as great for western weddings. Combine marigold with other flowers in the same orangey yellow shade and get some light and bright into your wedding.
Tulip Bouquet
Combine red tulips with similar long length flowers in shades of saturated reds and pinks for a tropical beach wedding. Add some tropical palm leaves and you have a winner on your hands.
Fashionable Red
Another great play on red blooms, combine red anemones and ranunculus in a tall earthy vase for a wedding decor piece. You can even use the arrangement as a bouquet by adding some wild leaves, dried flowers and fresh sprigs.
Whimsical White
Create a whimsical white floral arrangement by combining pure white hydrangeas and stock with creamy daffodils and ivory rose. A lush and clean feel, this arrangement also has a slightly wild visual with blooms arranged together loosely. Add begonia leaves, ferns and fresh sprigs for texture. Complete the arrangement with a little dusting of silver powder and your magical arrangement is ready to go.
Fresh Green
Another inventive take on a green monochromatic arrangement that is fresh and perfect for a summer wedding combines kermit mums, green trick dianthus and ruscus.
Powerful White
Create a wedding centerpiece that will be the talk of all by combining hydrangea, sweet peas, peonies, parrot tulips, lilac, gardenias, and cymbidium orchids in a low arrangement.
All We're Saying
Wedding is the time to be experimental. And there is not better place to show your wedding theme and style than the floral arrangements. With a monochromatic arrangement decided, you can get some ideas and inspiration to decide the rest of your wedding too. Sounds perfect right. We definitely think so. Choose the correct monochrome shade by using either your wedding theme, wedding season, wedding dress or wedding location as inspiration. Grecian wedding-blue blooms will look great, fall barn wedding-yellow sunflowers are the way to go and so on. And finally add monochromatic elements in the form of ribbons, leaves, feathers and pearls.