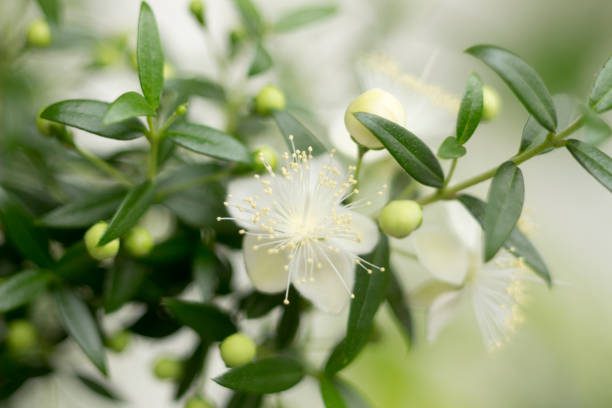 A myrtle flower is small, but it is colorful and beautiful. Its name comes from the Greek word 'Myrtos', meaning 'A sprig of the Myrtle tree.' Myrtles grow on trees. There is a lot of myth, symbolism, and history shrouding this flower in different world cultures. This flower falls under the 'Myrtlus' genus and is a member of the 'Myrtaceae' family. Myrtle flowers grow throughout the year in many places like North Africa, South America, Asia, and the Mediterranean. These were native to North Africa and Europe.
Myrtles grow in Spring and Summer in shrubs having shiny, small, and scented leaves. These are evergreen plants. Myrtle flowers grow as ornamental flowers but are also used in producing aromatic oils. These flowers are white, purple, and pink.
The tiny flowers are delicate to touch and have five petals and sepals in each flower. They grow on short stalks and a myrtle plant can grow as long as five meters. The fruits of the Myrtle plant look a lot like berries and have gastronomical uses. Myrtle flowers are important in many cultures as they are used in world traditions and rituals. It is interesting to know the real myrtle flower meaning. Certain myths have been around these flowers for many years.
What does the myrtle flower symbolize?
If you have recently heard about the myrtle flower, you might want to know about the myrtle flower meaning. This section is dedicated to understanding what this flower signifies under different cultures. You will also be able to know the different meanings attributed to this flower from a historical time till now.
The myrtle flower meaning can be a symbol of marital fidelity or good luck. This flower also symbolizes chastity, prosperity, and good luck in love.
Marital fidelity – Myrtle flower is dedicated to lovers because it represents mutual respect and celebrates the union between two people. It is deemed to be sacred and stands for everlasting love.
Good luck – It is believed that the wonderful myrtle flower can draw positive and good energy. In most of the places where these flowers grow, the people there think myrtles bring good luck to those places. If you have moved into a new house, or are newly married, keep myrtles in your home to draw positive energy. As one myrtle flower meaning is attracting luck, it is a good flower to keep at your workstation too.
Chastity – Myrtle flowers are also linked with innocence and celibacy. As these flowers symbolize purity and abstinence, in many cultures worldwide they are used in different religious ceremonies and rituals. Like other white flowers, myrtles being mostly white, symbolize goodness and virtue.
Prosperity – Myrtle can boost prosperity in your home. As myrtles are linked with wealth, you can keep some near you to bring more security, stability, and prosperity to your life.
Good luck in love – The myrtle flower meaning is incomplete if its association with marriage and love goes unmentioned. As myrtles can bring good luck to lives, it is used for decorating wedding venues. Myrtles are also used in bridal floral bouquets. You can give myrtle a bouquet as a wedding present.
What do the various colors of the Myrtle flower mean?
A myrtle flower meaning can be different from another based on its color. The concept comes from the language of flowers which developed in the Victorian era. A red rose has a different meaning from a white rose. What do myrtles of different colors mean? Let's find out.
White – Being a typically white flower, myrtle is a symbol of spirituality, innocence, truth, and purity. White myrtles are ideal for decorating wedding venues and preparing bridal bouquets.
Purple – You can give purple myrtles to any person you respect a lot. It can be a teacher, your parents, or anyone whom you admire. Purple myrtles have an association with beauty, prosperity, power, and royalty.
Pink – Pink is a soft and gentle color. Pink myrtles stand for love, femininity, and romance. You can give adorable pink myrtles to anyone you love.
Fuchsia – This color stands for femininity too and largely the women population loves fuchsia flowers. If you are in love with a lady or attracted to her, you can impress her by giving her a bouquet of fuchsia myrtles.
Interesting facts and characteristics of the Myrtle flower
A myrtle flower is not so well-known worldwide.

Influential members of society used to cultivate myrtle flowers.

Myrtle flowers have only two real species.

Myrtle plants thrive in India, some Asian parts, and Mediterranean Europe.

The name Myrtle means 'a plant which brings life.'

Myrtle flowers are grown on vines and are very appreciated.

The plant became widely known in the 17th century.

Since the 19th century, these flowers can be found at weddings.

Some cultures believe that a myrtle flower can elevate mood as it brings peace and joy.

Myrtle flowers are ornamental and ideal for decorating interior places.

Birds and insects eat the fruits of myrtle plants.
The Best time to gift someone Myrtle flowers
The myrtle flowers give out the message of love. These flowers symbolize fidelity too, and they are ideal for marriage purposes. You can give a bouquet of myrtles to an about to wed or newly-wed couple. You can put these flowers in a bridal bouquet to hand them over to the bride on her special day.
Myrtles also signify chastity and celibacy. This is why you can take these flowers to a Christening or communion. Myrtle flowers are not officially the birthday flowers of any month. You can give a bunch of these flowers to anyone celebrating their birthday. These flowers are appropriate for any occasion. You can gift myrtles to loved ones to wish them prosperity and luck.
The star-shaped myrtle flower has been historically linked with marriage and love. The love connection found its mention in Greek mythologies and served its purposes in royal weddings. Myrtle reminds us to make truthfulness and love take places of prime importance in our lives.