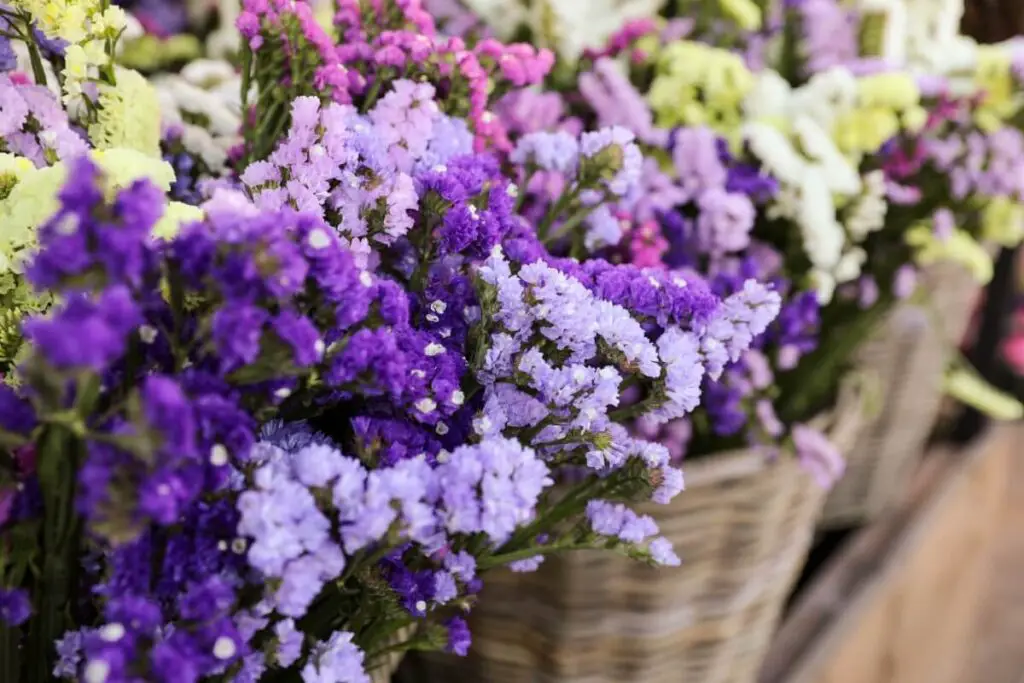 The Purple Statice Flower: Meaning, Symbolism, and Colors
The purple statice flower or the sea lavender is known scientifically as the Limonium sinuatum. It is a flower that blooms in salt-rich soil and is found in many colors like pink, blue, red, white and yellow. Though native to the Mediterranean region, there are over 120 species of the flower growing in many regions across Asia and Europe now. The predominant blossoms are purple and blue statice flowers. They are known for their lovely aroma, enduring colors that don't fade long after withering and popularly used in dry flower arrangements. Belonging to the family of Plumbaginaceae, its etymological coinage comes from the Greek term "leimon" which means "meadows". This is because they were initially wilderness flowers that grew in their original habitat of meadows.
The purple statice flower has an extensive ornamental value as the main purpose of statice lies in its ability to adapt to various scenarios. They can be used as fillers in a bouquet, a part of floral arrangements or cut flowers that infuse your home with their sweet-smelling scent. They are also known as the marsh rosemary. This purple statice flower meaning comes from the plant growing in coastal regions.
Its signature traits include wavy funnel-shaped flowers that emulate a papery texture, sit on top of elongated stems that grow up to 3 feet high and appear in colorful clusters. Depending on the climate, they bloom in an irregular manner from spring through summer and even perennially in some places. Some popular varieties of the statice flower include lemon star, oriental blue, million purple and ballerina rose. They are easy to maintain and capable of thriving in mediocre soil conditions.
What Do Purple Statice Flowers Symbolize?
The purple statice flower meaning is a versatile symbol that can be molded to suit a gamut of situations.
– Determination: This purple statice flower meaning refers to its capacity to grow in poor soil conditions and withstand droughts. Due to its tenacious nature, the bloom is associated with survival instincts.
– Eternity: Contrary to most flowers, the purple statices do not shrivel up after they dry. Their color is present for many years after dying and this is why they are considered an immortal flower.
– Yearning: The flower language of the purple statice flower is one that remembers and longs for near and dear ones. "I'm thinking about you" and "I miss you" are sentiments closely attached to it. They are a piquant choice to send to people you miss and hope to reunite with soon.
– Victory: They make the perfect congratulatory bouquet for graduations, anniversaries, new jobs and other milestones. Purple and white make the ideal blend to accompany important moments in your life that celebrate success.
– Weddings: The purple statice is a frequent visitor in weddings, be it to decorate the avenue or to make wedding bouquets. Combined with the light pink or white statice and white roses, they are often found adorning marriage scenes.
– Consolation: The purple statice is a comfort flower that is used to give condolences and be of encouragement to people going through difficulties. They can be offered in a wreath while conveying sympathy for departed ones or as a bouquet to wish for someone's speedy recovery.
What Do the Various Colors of the Statice Flower Mean?
Purple – The purple statice flower meaning covers the characteristics of charisma, magic and individuality. The purple blooms can be gifted to those you regard highly to appreciate their uniqueness. Their woodland roots and undulating airy appearance make them carry an inherent otherworldliness.
Red – The red statice flowers are the perfect choice for the love of your life. Combined with the fairy-like air they exude, they make a charming gift for an anniversary or Valentine's Day.
White – White statice flowers are used in weddings and as vase flowers to invite an aura of purity into the house.
Pink – Pink statice flowers are associated with inner peace, tenderness and friendship. They are the right choice for the various women in your life and even men who like pink.
Yellow – Yellow statice flowers evoke the feelings of sunshine, cheeriness and positivity. They are the perfect gift for someone feeling blue and for any happy occasion.
Blue – The blue statice flowers exemplify intimacy, openness and conviction. They can be given as both romantic and platonic gifts to people you love and admire.
Interesting Facts and Characteristics of the Purple Statice Flower
– The purple statice flower meaning is closely related to the astrological sign Capricorn. They make a great gift for those born between December 22nd and January 19th.
– The purple statice flower has many medicinal and herbal uses. Its oil is used to cure tooth pain and mild gastrointestinal problems.
– The tiny flowers that grow in clusters interestingly sprout from seeds that are the size of fruits.
– The purple statice flowers gradually give way to white flowers within the same cluster with age.
– The statice flowers are a classic ingredient used in aromatherapy and known for their soothing effects on the mind and soul.
– The plant also goes by the name of seafoam due to its misty appearance and because it grows in the vicinity of the ocean.
Best Time to Gift Someone Purple Statice Flower
The purple statice flower meaning is flexible enough for it to find a home in a multitude of gifts and situations. The purple statice flower is a good addition to both fresh and dried flower arrangements. They can be used to embellish any gift or be offered as a floral gift themselves. Since their flower language denotes remembrance, they are suitable gifts to offer to people you miss such as long distance friends or lovers. Yellow statice flowers make a good housewarming gift, pink statice flowers can be used for children's birthdays and blue for your family members. The statice flowers look their best when their contrasting iridescent shades are used together in gifts. They are a delicately charming bunch that can be used for decoration during get-togethers, festivities, weddings, bachelorette parties, baby showers and so on. They can even be used for solemn occasions like funerals.