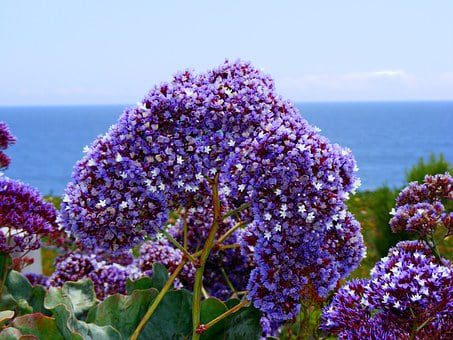 The scientific name of the Statice flower is Limonium sinuatum and it belongs to the family of Plumbaginaceae. This flower has a Mediterranean origin and the word statice means 'meadow' in Greek. Statice is also known as the Sea Lavender. This ornamental flower was also grown due to its medicinal properties. Statice flower has been cultivated for hundreds of years in Eastern Asia and Europe for medicinal and culinary purposes. This flower can presently be found in many places across the world.
It is the birth flower of the Capricorn zodiac sign, which is for people born between 22nd December to 19th January. According to the language of flowers which started in the Victorian era, statice is linked with remembrance and memory. The statice flower meaning is 'I Love You'.
This flower blooms in Autumn or Winter but is used for weddings and regular decorations throughout the year. It is a beautiful filler and works excellently when used in garden-style and traditional floral arrangements. This papery flower can look fresh for 1 to 2 weeks when kept in a vase with water. Statice flower grows in various colors like Red, Yellow, Blue/Purple, Purple, Pink, Orange, Blue, Red/Purple, and White/Ivory. The most commonly grown ones are the whites and the purples.
What does Statice flower symbolize? Statice flower meaning and symbolism.
In the Victorian Age, the statice flower symbolized remembrance and memory. The ability to hold on to its color when dry became the source of this statice flower meaning. When you send white and purple statice flowers to someone, it means that you are thinking about them and are missing them. The statice flower meaning is different in different cultures and also symbolizes success and sympathy. Statice is also called the 'Everlasting Flower' because it can retain its colors for many years when dried. As it signifies sympathy in some traditions, bouquets of sea lavender and wreaths are placed on burial sites too.
What do the various colors of the statice flower mean?
As the petals of the statice flowers are small, people combine or place them with other flowers. If you are thinking of putting together a flower bouquet for someone you love, use these attractive flowers as fillers. These will be great add-ons for any bouquet.
We have shared what the dominant colors of statice flowers mean so that you can choose the appropriate color for any occasion:
Purple – Purple is a mysterious and extravagant color. A purple statice flower meaning is also charm, nobility, and extraordinariness because the color is royal, unique, and graceful. If you want to impress someone with flowers, give them a bunch of purple statices to stand out. Use these to express yourself while contrasting them with brighter flowers in a bouquet.
White – If you want to show your respect to a friend or anyone else, you can give them a bouquet of white statice flowers. White is a pure and dignified color and is a representative of innocence, spirituality, and honesty. A white statice flower looks beautiful and you can add them to any bouquet to make it look more bright and carefully done.
Blue – The color blue doesn't signify anything romantic. But a blue statice flower meaning can be intelligence, loyalty, inspiration, respect, peace, and support. If you want to tell someone you appreciate and respect them, you can do that by giving them a bouquet of blue statice flowers.
Pink – Pink is a gentle color that symbolizes motherly love, kindness, tenderness, romance, femininity, mildness, and love. A bouquet of pink statice flowers can be a great wedding gift. These flowers would look wonderful when used as a wedding decoration. Pink statice flowers are a wonderful gift to be given to anyone you are fond of, but not romantically.
Yellow – Yellow is a color that brings in a lot of positivity and joy. If you want someone to feel optimistic and happy, you can send them a bunch of yellow statice flowers. These flowers will immediately cheer up the recipient of your gift. If you want to make a corner or room look more welcoming or warm, consider decorating it with yellow statice flowers.
Red – Give red statice flowers to someone whom you are attracted to and are in love with. Red is a romantic color that has been forever linked with strong emotions like passion, desire, love, and success. Do not forget to put in red statice flowers when you are decorating a Valentine's Day bouquet for your romantic partner. As red is also associated with success, you can give them to someone to wish them the same.
Interesting Facts and Characteristics of the Statice flower:
If you intend to buy statice seeds and grow a plant, some interesting and fun facts should interest you. These are:
Statice plant blooms in summer or spring and is a low-maintenance plant.

The inflorescence branches of statice are green.

A statice plant can bloom annually or perennially and can be a shrub too.

Due to its medicinal benefits, it is used in herbal treatments. It helps in the remedy of diarrhea, chronic dysentery, bronchorrhea, chronic laryngitis, pulmonary hemorrhage, and also leucorrhoea.

These flowers are called everlasting because they are going to last a long time, even when you dry them out.

They retain their color for a long time too, even in the dried state.

Whether as cut or dried, these flowers are considered valuable.

A statice plant can grow up to 3 feet, i.e.90 cm.

A statice plant has winged but leafless stems.

Statice flowers have various names like Sea Lavender, Marsh-rosemary, misy, and obviously statice.

The flowers bloom in multiple colors like blue, purple, white, yellow, and pink.
The Best Time to Gift Someone Statice flowers:
You can add wonderful statice flowers to any floral arrangement having dried flowers. If you want to add some texture to a bouquet you are arranging as a gift, add these tiny flowers. A bunch of statice flowers will add a spray of colors to it.
If you want your flowers to speak for you, you can give someone a bouquet of statices to say that you miss them dearly. It will be a meaningful way to express your feelings. You already know that these flowers are a symbol of memory and remembrance.
If a near and dear one is unwell and you want to show your sympathy, you can send statice flowers to say 'Get well soon!'. You can send statice as remembrance gifts or funerals as they symbolize sympathy.
Another statice flower meaning is a success. These flowers are a good choice when you want to congratulate someone for any achievements like graduation, promotion, or any positive life events.