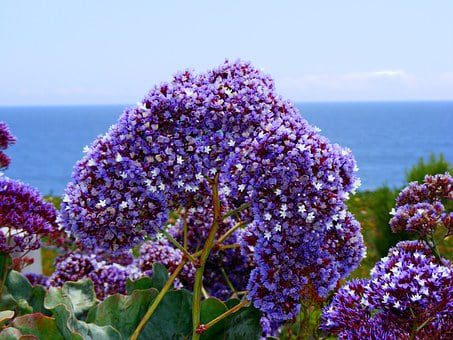 Last updated on May 20th, 2023 at 07:15 pm
The caspia, also known as sea-lavender, statice, or marsh-rosemary, is a year-round flowering plant unrelated to the above floral types despite its common names. 
It is native to Europe and Asia and is great for a bouquet or centerpiece because it is tough, dries quickly, and adds movement and structure.
The scientific name of the caspia or statice flower is Limonium sinuatum which belongs to the Plumbaginaceae family, and its genus has around 120 species with cultivars in various forms, sizes, and colors. Its flowers have white corollas and calyxes in lavender, white, pink, yellow, or purple hues, the latter of which is renowned for keeping its color for a long time. 
Caspia is a favorite filler flower because of this trait, which works well in fresh and dry arrangements.
What does the Caspia (Statice) flower symbolize?
Caspia (statice) flowers are a sign of achievement and success. They are also often associated with recollection, sympathy, and support. They are often used to convey feelings of happiness after a successful event in your life.
The caspia flower's meaning is similar to that of the forget-me-not flower. This flower with a spicy smell is available all year.
They are usually used in conjunction with other flower types since they have tiny petals and are not huge blooms. You may construct a lovely bouquet and give it to someone special.
The full flowers' hazy look gives off a romantic vibe. As a result, it's frequently connected with remembering someone. It's a common complement to any love or friendship arrangement.
All in all, the caspia (statice) flower symbolic meanings are:
success
achievement
determination
eternity
yearning 
victory
consolation
Meaning of the Caspia (Statice) flower colors
Purple color
Purple is a color often associated with monarchy, beauty, extravagance, and grandeur. Purple caspia (statice) flower is associated with strength, and the flowers themselves are extremely stunning and may be mixed with other bigger flowers in colorful arrangements. 
The purple caspia flower also means charm, nobility, and extraordinariness because the color is royal, unique, and graceful. If you want to impress someone with flowers, give them a bunch of purple caspia to stand out. Use these to express yourself while contrasting them with brighter flowers in a bouquet.
The purple caspia flower meaning covers the characteristics of charisma, magic, and individuality. The purple blooms can be gifted to those you regard highly to appreciate their uniqueness. Their woodland roots and undulating airy appearance make them carry an inherent otherworldliness.
White color
White is a color associated with purity, spirituality, and beauty. You may include the white caspia (statice) flower in your arrangement or give a stunning bouquet of caspia flowers to someone you like and consider a good friend.
If you want to show respect to a friend or anyone else, you can give them a bouquet of white caspia flowers. White is also a pure and dignified color representing innocence and honesty. A white caspia flower looks beautiful, and you can add them to any bouquet to make it look more bright and more carefully done.
White caspia flowers are also used in weddings and as vase flowers to invite an aura of purity into the house.
Blue color
Blue is a color that represents loyalty, inspiration, intellect, and support. You may give blue caspia (statice)  flowers to anybody you consider a wonderful friend and supporter. 
Deep trust, respect, and peacefulness are all represented by blue caspia flowers. If you want to tell someone you appreciate and respect them, you can give them a bouquet of blue caspia flowers.
These flowers also exemplify intimacy, openness, and conviction. They can be romantic and platonic gifts to people you love and admire.
Pink color
Pink is associated with romance, love, subtlety, and compassion. Caspia (statice) flowers are lovely in pink and complement your bridal bouquet and decorations. Even if you are not romantically engaged in this individual, you can give a modest caspia flower arrangement to someone you care about. 
Pink is a gentle color that symbolizes motherly love, kindness, tenderness, femininity, and mildness. A bouquet of pink caspia flowers can be a great wedding gift. These flowers would look wonderful when used as a wedding decoration.
Pink caspia flowers are associated with inner peace and friendship. They are the right choice for the women in your life and even men who like pink.
Yellow color
Yellow is a color that brings in a lot of positivity and joy. If you want someone to feel optimistic and happy, you can send them a bunch of yellow caspia (statice) flowers. These flowers will immediately cheer up the recipient of your gift. 
Yellow caspia flowers evoke feelings of sunshine, cheeriness, and positivity. They are the perfect gift for someone feeling blue and for any happy occasion.
If you want to make a corner or room look more welcoming or warm, consider decorating it with yellow caspia flowers.
Red color
Red is a romantic color that has been forever linked with strong emotions like passion, desire, love, and success. Darker shades of caspia (statice) flowers are also found in reddish shades. 
Give red caspia flowers to someone you are attracted to and love; do not forget to put red caspia flowers when decorating a Valentine's Day or anniversary bouquet, as they'll look stunning as a part of your arrangement for your romantic partner. 
As red is also associated with success, you can give them to someone to wish them the same. The red caspia flowers are the perfect choice for the love of your life. 
Interesting facts about the Caspia (Statice) flowers
This ornamental flower was also grown due to its medicinal properties. It can aid in treating diarrhea gleet, chronic dysentery pulmonary hemorrhage, bronchorrhea, leucorrhoea, and chronic laryngitis.
These caspia flowers are sometimes referred to as statice by gardeners.
The statice flower meaning is 'I Love You.'
The most beautiful way to say "I miss you" in floral language may be with the help of caspia flowers.
They are sometimes called "everlasting flowers" because they are grown for their blooms and the look of the calyx.
Caspia flowers are one of the most durable and long-lasting flowers available. They endure a long time in the vase, whether fresh or dry, and they keep a lot of their color. The plant is quite valuable both as a fresh-cut flower and in dried flower arrangements.
Despite their resemblance, they are not the same as genuine lavender or rosemary from the mint family.
Caspia flowers are used in aromatherapy to help you let go of your worries and generate a sense of well-being.
How to grow Caspia (Statice) flowers
Caspia (statice) is simple to grow and maintain. You should keep a few optimal growing conditions in mind when caring for this plant. If you consider the plants' fundamental needs, they will thrive in pots and complement your garden or home.
Plant the caspia (statice) 20 inches apart in full sun and light, well-drained, sandy soil.
Mix the soil with clay, coarse sand, and crusher fines.
Water the plants regularly until they are established and require less frequent watering.
Only water the plants when you notice that the first few inches of the soil are completely dry.
How to care for Caspia (Statice) flowers
Place the caspia (statice) in the sunniest spot to develop and thrive.
Feed them with some fertilizers that are low in nitrogen.
Cut the plant back after flowering.
Remove dead leaves to make room for new growth in the spring months.
Best time to gift Caspia (Statice) flowers
If you want your flowers to speak for you, you can give someone a bouquet of caspia (statice) flowers to say that you miss and love them dearly. It will be a meaningful way to express your feelings. 
These flowers are ideal gifts for someone you want to flourish and go on in life. You may surprise someone you care about and want to succeed at something important with a gorgeous arrangement of these flowers. If you want to give flowers to someone who has done well in their life or career, a bouquet of caspia flowers is perfect.
Caspia flowers may also be brought into your house to bring great energy and nice feelings. These flowers are perfect for family reunions, get-togethers with old friends, birthdays, and other special occasions.
They are commonly used in funeral flowers or memorial ceremonies. Despite this, they are not required to be part of a sad occasion because they represent prosperity and remembering.
Caspia flowers are frequently placed on gravestones as a sign of mourning. They may be given to those who have gone through a difficult time in their lives. You will not convey the wrong message if you want to express real concern for someone. 
If anyone you know is not well or going through a rough time, you can show your sympathy with a bouquet of caspia flowers. They are a great way to let someone know you care about them and will always be there for them.
Conclusion
As the petals of the caspia (statice) flowers are small, people combine or place them with other flowers. If you are thinking of putting together a flower bouquet for someone you love, you can use these attractive flowers as fillers. These will be great add-ons for any bouquet.
You can add wonderful caspia flowers to any flower arrangement, having dried flowers. If you want to add some texture to a bouquet you are arranging as a gift, add these tiny flowers. A bunch of caspia flowers will add a spray of colors to it.
If you want to know and learn more about flowers, we at PansyMaiden can help you. Check out our fun, easy-to-read, and informative flower-related content that you will surely enjoy!