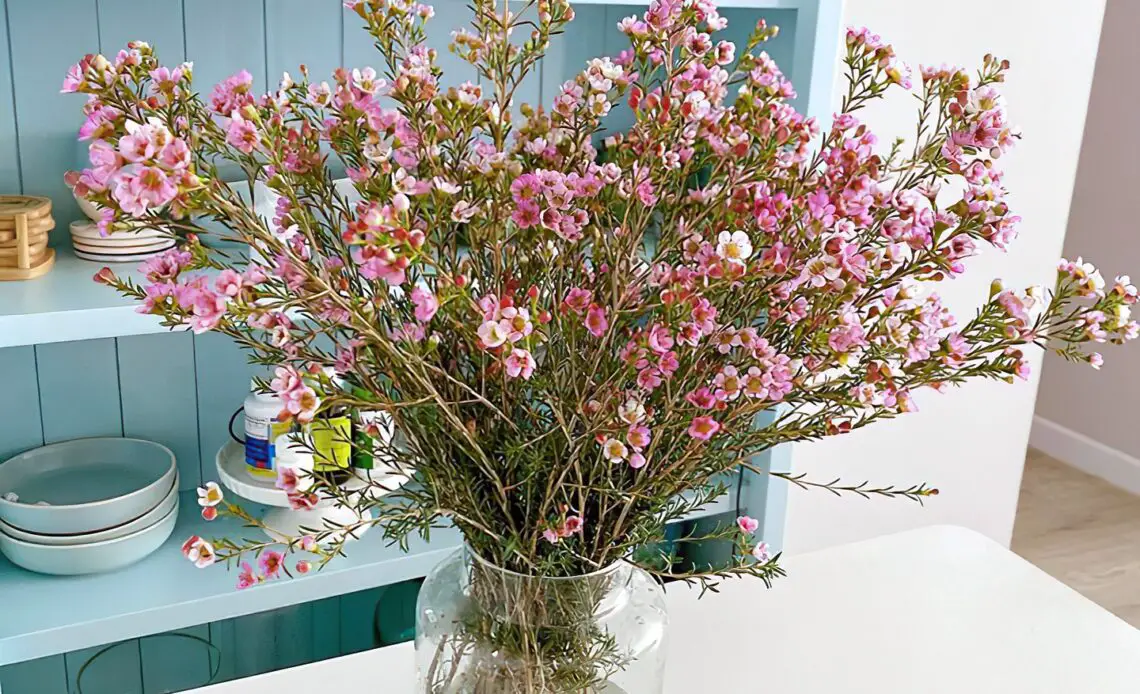 Wax flower is a beautiful, delicate and fragrant flower with five waxy petals on each stem. The small leaves of the Wax flower contain scented oil glands that create a beautiful aroma when crushed. The flowers of this plant also have a lovely scent.
Wax flower was discovered by a famous French botanist named, Louiche Desfontaines. This flower was originally called Geraldton Wax, it was named after the town Geraldton in which it was discovered.
The botanical name of Wax flower is Chamelaucium which belongs to the family Myrtaceae. Chamelaucium. It is believed to have stemmed from the Greek words white dwarf (Leucos and Chamai, respectively). It refers to the plants traditionally, small white-colored petals. In Latin, this flower means "Uncinatum" which means hooked. It refers to the hooked shaped leaves of this plant.
Wax flower is native to Western Australia but is also popular in Florida, Illinois, Alabama, Indianapolis and other parts of the US. This plant enjoys a subtropical environment and a warm and dry climate.
Wax flower meaning and symbolism
Wax flowers have been associated with popular symbolism and meaning. The flower is symbolic of enduring riches and wealth. This flower is used to express best wishes and good luck and long lasting success. Wax flower meaning is also associated with lasting love or love that endures tests and trials.
In Australia, Wax flower is used for weddings as it symbolizes a new beginning and a wedding filled with happy and long-lasting memories. That's why this flower is very popular in a wedding corsage.
What do the various colors of the Wax flower mean
Wax flower is available in a wide range of natural colors like white, pink, orange and purple.
White: The color white in the language of flowers stands for purity, innocence and positivity. White Wax flowers are known to spread good vibes and positivity. They also symbolize new beginning. White Wax flowers are therefore considered ideal for wedding corsage, wedding bouquet and floral crown.
Pink: The color pink is associated with romance. These romantic, long-lasting pink Wax flower blooms are the best gift to express your true feelings to your special someone.
Yellow: Yellow Wax flower meaning is joy, happiness and good wishes. A bouquet of yellow Wax flower will convey best wishes and happiness to someone. These beautiful yellow bloom will surely bring lot of warmth and care to the receiver.
Purple: Purple Wax flower meaning stands for wealth and riches. A bouquet of purple Wax flowers can also mean extreme adoration.
Interesting facts and characteristics of the Wax flower
Wax flowers are shrubs that grow very quickly and they can grow as tall as 6 feet in height.
This flowering plant produces huge quantities of oil from its glands and its leaves are known to give off a fresh, clean lemony scent when it is crushed.
Wax Flowers require well-drained soil and plenty of organic fertilizer. If you are growing younger plants, then for the initial period you should place them in a protective surrounding. More mature plants can grow in tough conditions and withstand drought.
Wax flower plant blooms in the early spring or late winter season. They are a wonderful addition to garden plants because of their low maintenance. Because of their unique smell and long lasting vase life, cut flowers of Wax flowers are a great choice for bouquets and flower arrangements.
These flowers do not require a lot of care. A little bit of pruning, a sunny location and a good drainage will keep the plant healthy. For trimming the plant remember to use a pair of secateurs to cut the thick stems of this flower.
Wax flowers are used as decorative items and for floral arrangements. These native spring blossoms have a romantic and rustic feel and emanate a fresh floral scent, making them an obvious choice for weddings. Their simple style makes them suitable for any wedding without overpowering the existing décor of the wedding.
These beautiful flowers are also used as a floral crown. A Wax flower crown looks very pretty as a bridal headpiece. For those brides who like a bohemian look, Wax floral crown is an ideal choice for them. Wax flowers are also not very expensive and it suits those who are on a budget.
Wax flower wedding bouquets are quite popular as well. The bride can choose to have a bouquet of Wax flower as it comes in a range of colours.
An arrangement of wax flower is a perfect addition as a table centrepiece or at the reception of a hotel or office. These flowers are also used as table napkin decoration for formal dinner and cake embellishment. These beautiful blossoms will provide a fresh cleansing smell, which surely will leave you feeling energetic and uplifted.
There are four common hybrid species which are identified as Wax flowers. They are the Bundara Excelsior with large pink flowers, Album which has white flowers, University with its red stems and rose-purple flowers and Purple Pride with reddish-purple flowers.
Best time to gift someone Wax flowers
The hardy nature of Wax flower allows them to stay fresh in a vase for 3 weeks after cutting. For any special occasion like birthdays and anniversaries you can gift your loved one a bouquet of Wax flowers.
Wax flowers stand for long lasting love. Gift these pretty blooms to that special someone. Nothing can be more heart-warming than a beautiful bouquet of flowers that symbolizes true love. So, next time for your wedding anniversary, gift your partner a bouquet of Wax flowers instead of the usual roses.
The flower is symbolic of good wishes. Hence, a bouquet of Wax flower is a perfect gift to wish someone good luck for the start of a new journey or for a promotion in office. Wax flower meaning is also long-lasting marriages and therefore it is quite common to gift a bouquet of Wax flowers to a newly married couple.
These gorgeous flowers with a fresh lemony scent look wonderful as table centerpiece. Wax flowers exude beauty and fragrance. And hence, it's a lovely gift for housewarming or if you are simply visiting a friend's house for dinner.