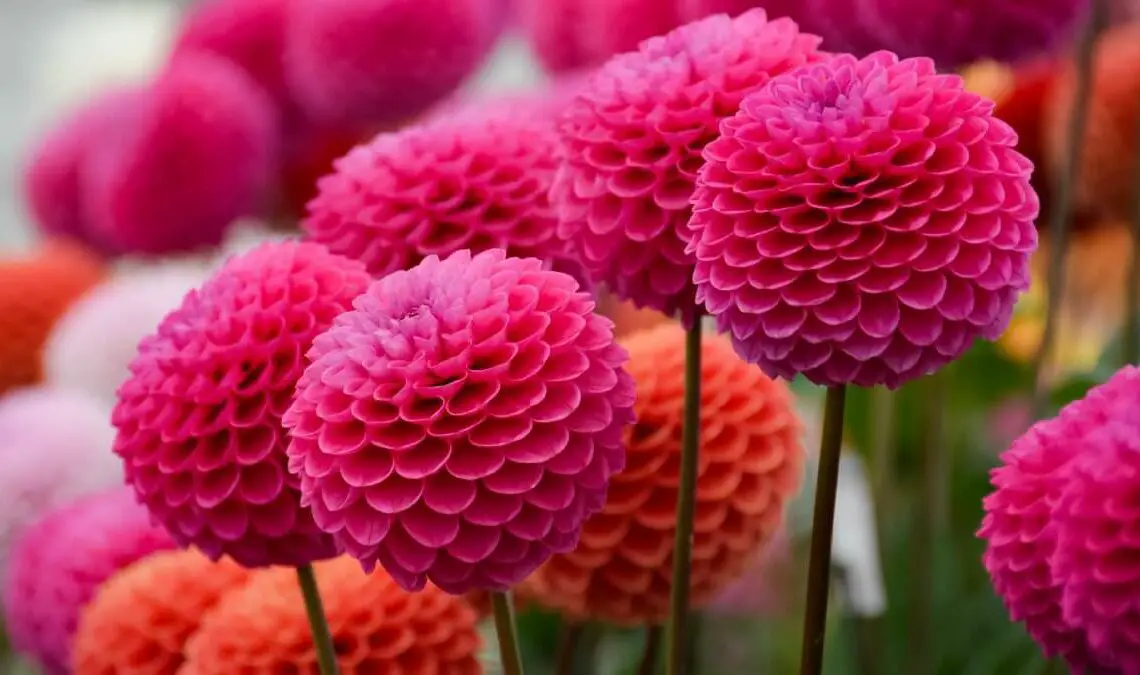 Last updated on May 20th, 2023 at 10:09 pm
Dahlia is the name of a particular genus of flowers. If you are searching for the etymological dahlia flower meaning, it can be a tough job. 
How dahlia got its name is still a mystery. Some people believe that the Swedish zoologist and botanist named this flower after a student. But this might not be because he died before he could name the flower. 'Dal' is a Swedish word that means 'valley.' 'Dalia' is a homophone of this word. These flowers are also referred to as 'valley flowers.' 
Interestingly, some scientists like the botanist Carl Linnaeus tried to unsuccessfully rename this flower 'Georgina.' He tried to do it in 1805 and wanted the flower to be named after Johann Gottlieb Georgi, a botanist.
People from all over the world love the dahlia flowers, originally from Mexico. The dahlia is the country's national flower. These are beautiful flowers, and you can use them to decorate your garden or home. But keep these flowers in a place that is out of reach of pets and kids. Unlike many other flowers, dahlias are not used to make medicines as they are poisonous.
Interestingly, the petals of this flower can be of various shapes—short and long. Even flowers can have different shapes, sizes, and colors. 
What does the Dahlia flower symbolize?
Adventure and relaxation are quite paradoxical, but dahlia represents these contrasting things. It wants you to enjoy life by having adventures and maintaining a balance by rejuvenating and relaxing. Your life should have both of these in moderation.
This dahlia flower means you should be in tune with your feelings and emotions. It is the only way to develop a strong bond with your romantic partner and close friends. Dahlia wants you to be emotionally committed to yourself to keep loved ones close.
Dahlia symbolizes good behavior and impeccable manners. It is a unique and graceful flower. Dahlia's beauty might remind you of an elegant woman with high morals and ethics. You can easily make a favorable impression on others by being graceful.
You may sometimes resort to lying because you don't want to hurt others. Dahlia wants to remind you that it is not the right way to comfort others. It represents being truthful and letting others know about your feelings. If you lie about something, and your loved ones discover your lie later, they will be hurt and disappointed. Remain truthful even when it is hard to do so.
Another great dahlia flower meaning is to be resilient and patient. It also symbolizes perseverance and the ability to remain strong when faced with hardships.
When you show kindness and love to others, they will also be kind and loving to you. Whatever you give to the universe is returned to you, maybe in multifold. Whenever you are angry with someone, remind yourself to approach the situation with kindness. The dahlia represents everlasting kindness.
Dahlia has a unique appearance and reminds you to be confident and not be ashamed of your personality. When you are confident, you will grab the attention of others without having to try hard.
All in all, the dahlia flower symbolic meanings are:
adventure
relaxation
commitment
grace
honesty
inner strength
kindness
positive changes
uniqueness
Meaning of the Dahlia flower colors
Black color
Black dahlias are not pure black; they are more of a deep burgundy color. Dahlias of this color represent negative emotions, like sadness and betrayal. 
Now, this flower is associated with violence and murder. Elizabeth Short, nicknamed 'Black Dahlia,' was murdered in 1947 in Los Angeles. Unfortunately, whenever the black flower dahlia is mentioned, it reminds people of the Black Dahlia murder case.
Blue color
Blue dahlias signify new beginnings and positive changes. You can send a bunch of blue dahlias to someone with a new life development. For example, moving into a new city or house or becoming a parent. 
Blue dahlias can be congratulatory gifts for friends starting a new chapter in their life. You can also buy them for yourself if you live in a new home.
Green color
The meaning of a green dahlia flower is the same as that of a blue one. Green dahlias stand for fresh beginnings and big achievements. It reminds people of sprouts that grow into trees. Green is a color of development while staying true to yourself.
Pink color
Pink is graceful, and you can give pink dahlias to your romantic person when celebrating your anniversary. 
Pink dahlias mean grace and kindness. They are also symbols of service and feminine beauty. You can give these flowers to your mom on Mother's Day, and they will also be a great birthday gift for a colleague or friend, friend, or sister on their birthday.
Purple color
Purple is a respectable and royal color, and the purple dahlia flower means royalty. These flowers are a great way to express your admiration and appreciation.
White color
White dahlias are used in celebrations like weddings and baptisms. White is a pure color that stands for innocence and being focused.
Interesting facts about the Dahlia flowers
Dahlia is the birth flower for August.
It is also considered to be the birth flower of November in some traditions.
These flowers symbolize diversity in some cultures.
Dahlia flowers can have a diameter of up to 12 inches.
A dahlia plant can grow up to 6 feet tall.
These flowers are associated with asters and sunflowers.
How to grow Dahlia flowers
Dahlias are easy to grow and produce gorgeous blooms from midsummer through fall. In many ways, "dahlia culture" is comparable to "tomato culture;" if you can grow tomatoes in your garden, you can grow dahlias.
Plant the dahlias in soil with good drainage to thrive.
Place them in a spot where they can get at least 8 hours of direct sunlight daily. 
Cover the soil with a thick layer of mulch once the dahlia roots are established
Water slowly and deeply to encourage strong root growth.
Feed the plant just before flowering to give them an extra boost.
How to care for Dahlia flowers
Establish the dahlia through deep watering at least twice a week.
Apply fertilizers during flowering if the plant needs to produce more blooms.
Stake taller dahlia varieties to support the large blooms and keep the plant upright in windy conditions.
Start pinching dahlias when the plant begins to take off to ensure they recover quickly.
Pull any weeds as soon as they emerge while the roots are still easy to remove. 
Prune away any affected foliage as soon as it is spotted, and keep an eye on the plant for further spread.
Remove any damaged or diseased foliage to improve overall plant health.
Best time to gift Dahlia flowers
You can send a bouquet of dahlias to a couple celebrating their wedding anniversary, as dahlias symbolize commitment. It can also be a nice get-well-soon flower gift for a recovering friend. 
If you want to encourage someone to stay determined and overlook obstacles, these flowers will remind them to do so.
You can give a bouquet of dahlias to congratulate someone who has made a positive change in their life. For example, it is a good housewarming gift or a congratulatory gift for someone with a promotion. A dahlia also wants you to keep progressing without looking back.
Conclusion
Dahlia is a blooming plant genus that belongs to the same family as sunflowers and asters. Dahlia's meaning in flower language varies as a result of its variation. Because of their cultural value, these magnificent blossoms have various metaphorical connotations.
The significance of dahlia flowers is often good. The most prevalent is discovering inner power, which stems from the plant's ability to survive difficult conditions.
The more typical connotations of dahlias are to be graceful and to stand out from the crowd. These flowers are the ideal gift for someone you like or consider strong.
If you want to know and learn more about flowers, we at PansyMaiden can help you. Check out our fun, easy-to-read, and informative flower-related content that you will surely enjoy!
them to do so.