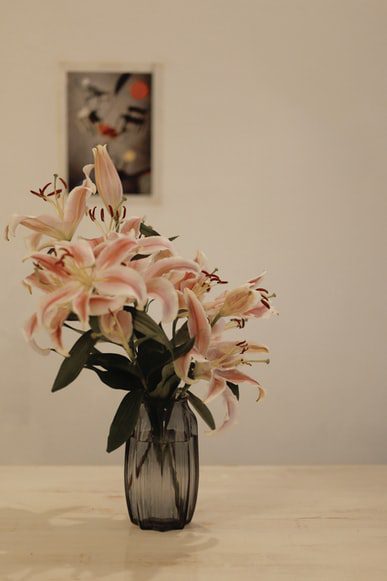 Stargazer lilies are a part of the oriental lily group. These lilies are exceptionally popular. The flowers are known for their bell-shaped look and extravagant smell. These showy flowers look phenomenally beautiful when they are in bloom.
Stargaze lilies are a product of lily breeding, which was introduced in the late 1970s by hybridizer Mr. Leslie Woodriff. Stargazer Lily, auratum-speciosum, is a mix of unknown proportions of other noteworthy lilies.
Although most oriental lilies are downward-facing, these are upward-facing. Hence the name, Stargazer, which signifies looking up to the heavens.
Technically speaking, in the classification system that is used by the American Lily Society, Stargazers fall under Division 7. This division is made of specifically hybrid lilies from the Asian species.
The Stargazer lily is one of the most fragrant lilies of the bunch. The scent is spicy and strong. These lilies are taller than usual lilies. You can place it in the middle of the back row of your flower bed. Also, Stargazers can be the focal point of any type of flower arrangement.
In terms of growing them in your garden, these lilies are easy to grow. Despite being tall, they do not need a lot of effort. Also, Stargazer lilies generally do not require stalking.
Etymology
The Stargazer lily is not a naturally occurring flower. In other words, it was specifically cultivated by crossing different breeds of upward-facing lilies.
This flower was created in 1974 by Leslie Woodriff. The flower falls in the species of Lilium orientalis and the cultivar, which is the name of the flower, is Stargazer.
Stargazer Flower Symbolism
Understanding the flower's symbolism is one of the key roots to understanding the stargazer flower meaning.
In general, lilies are known to have propped in the world thousands of years ago. It is because of this reason that lilies are associated with many myths and lore.
Since the stargazer lily is a recent entrant to the lily family, the meaning and symbolism attached to the flower are different. The stargazer flower meaning is inferred through many different forms of understanding.
Since Stargazers are a part of the lily family, the stargazer flower meaning and symbolism is associated with purity. Like most lilies, White Stargazers are known to symbolize purity.
Pink Stargazers, symbolize romance. Some may even feel that pink stargazers symbolize innocence.
Apart from that, pink flowers in flower langue usually also signify wealth, ambition, and prosperity. Pink Stargazers can also denote an expression of gratitude or an apology.
When it comes to stargazer flower meaning, it must be remembered that these flowers are not the typical type. As they are new in the family, there are many attributed meanings. Traditional meanings and symbols work for these lilies. But new meanings and attributes are also created for stargazers.
In a non-archaic understanding, Stargazers can signify boldness. Since these flowers are easy to see and recognize from afar, they can have a dramatic effect.
One of the most notable stargazer flower meaning is that this flower represents evolution. The reason for being associated with evolution is because it only joined the family of lilies in the 20th century.
Apart from this Stargazer lilies are also known to represent limitless opportunities, heaven on earth, and optimism.
Orange Stargazer Lily Meaning
Orange is a color that represents passion. The color also denotes strong feelings and love. The color denotes the same for the stargazer lilies as well.
Apart from this, the orange Stargazer lily can also symbolize optimism and an uplifting mood. This colored stargazer lily is enough to lift anyone's energies and brings positive energy.
Yellow Stargazer Lily Meaning
Yellow flowers usually signify joy and happiness. Yellow Stargazers are also the same. Also, yellow stargazers can denote optimism and motivation.
Yellow stargazers make for the best present to friends and family members to commemorate a new beginning. You can also gift them as a decoration piece or to motivate your loved ones.
Red Stargazer Lily Meaning
Red stargazers, usually, signify love, romance, and passion. This flower is perfect to gift your loved ones. Red Stargazers actually work the best for your romantic partners.
If you want to send a strong message of love or affection, these are flowers you go with.
Blue Stargazer Lily Meaning
Blue in flower language speaks of honesty, respect, and trust. So, Stargazer lilies are the perfect symbol of trust and honesty. The meaning of blue Stargazer lilies is quite close to the white Stargazers as we talked about before, which is purity.
Purple Stargazer Lily Meaning
Purple flowers are associated with beauty and royalty. The same stands for Stargazer lilies. These lilies signify the emotions without having to use the words.
Purple Stargazers are beautiful to look at. What's more is that these flowers are a real eye-catcher, so they are very attractive.
Golden Stargazer Lily Meaning
The Golden Stargazers are a cross between Oriental lilies and trumpet lilies. These have yellow blooms with some red spots.
This flower signifies success, commitment, and determination. You can gift these to someone when you want to congratulate them.
Some extra Botanical Facts about Stargazer lilies
Stargazers should be planted, if you're planting them at home, during the spring and autumn seasons. The fall season is the best for planting.
The bulbs, after you purchase them, should be cropped. This will help you to ensure that the bulbs are prepared for planting.
When you're trying to plant Stargazers or any flowers for that matter, you should add some extra potassium. Add some potassium fertilizer – K2CO3 around the plant. This should be done especially and carefully when you're planting intensely colored flowering plants.
Conclusion
Once you get the stargazer flower meanings on-point, you can find the right flowers for your flowerbed or gifting. That said since Stargazer lilies are an evolved form of traditional lilies, the meanings and symbolism for these flowers can evolve and change.
The best part of using Stargazers as gifts is that these flowers are versatile. You can use them for any occasion!