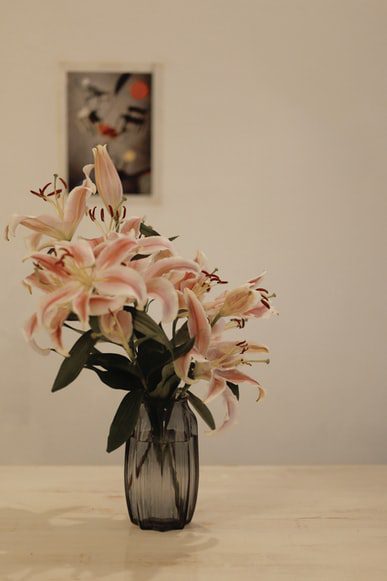 Last updated on May 22nd, 2023 at 10:37 am
Stargazer lilies are a part of the oriental lily group. These lilies are exceptionally popular. The flowers are known for their bell-shaped look and extravagant smell. These showy flowers look phenomenally beautiful when they are in bloom.
These lilies are a product of lily breeding, introduced in the late 1970s by hybridizer Mr. Leslie Woodriff. Stargazer lily, auratum-speciosum, is a mix of unknown proportions of other noteworthy lilies.
Although most oriental lilies are downward-facing, these are upward-facing. Hence the name stargazer signifies "looking up to the heavens."
Technically speaking, in the classification system used by the American Lily Society, stargazers fall under Division 7. This division is made of specifically hybrid lilies from the Asian species.
What does the Stargazer Lily flower symbolize?
In general, lilies propped up the world thousands of years ago. Because of this, lilies are associated with many myths and lore. The stargazer flower's meaning is inferred through many different forms of understanding.
Traditional meanings and symbols work for these lilies. But new meanings and attributes are also created for stargazers. When it comes to the stargazer flower meaning, it must be remembered that these flowers are not the typical type. As they are new in the family, there are many attributed meanings. 
In a non-archaic understanding, stargazers can signify boldness. Since these flowers are easy to see and recognize from afar, they can have a dramatic effect.
One of the most notable stargazer flower meanings is that this flower represents evolution. The reason for being associated with evolution is that it only joined the family of lilies in the 20th century.
Stargazer lilies are also known to represent limitless opportunities, heaven on earth, and optimism.
All in all, the stargazer lily flower symbolic meanings are:
innocence
purity
everlasting love
life
prosperity
abundance
resurrection
Meaning of the Stargazer Lily flower colors
White color
Like most lilies, white stargazers are known to symbolize purity.
Pink color
Pink Stargazers symbolize romance. Some may even feel that pink stargazers symbolize innocence.
Apart from that, pink flowers in flower language signify wealth, ambition, and prosperity. Pink stargazers can also denote an expression of gratitude or an apology.
Orange color
Orange is a color that represents passion and also denotes strong feelings and love. The color represents the same for the stargazer lilies as well.
Apart from this, the orange stargazer lily can also symbolize optimism and an uplifting mood. This colored stargazer lily is enough to lift anyone's energies and brings positive energy.
Yellow color
Yellow flowers usually signify joy and happiness. Yellow stargazers are also the same. Also, yellow stargazers can denote optimism and motivation.
Yellow stargazers make for the best present to friends and family members to commemorate a new beginning. You can also give them as decoration or to motivate your loved ones.
Red color
Red stargazers usually signify love, romance, and passion. This flower is perfect for gifting your loved ones. Red stargazers work the best for your romantic partners.
If you want to send a strong message of love or affection, these are the flowers you go with.
Blue color
Blue in flower language speaks of honesty, respect, and trust. So, Stargazer lilies are the perfect symbol of trust and honesty. The meaning of blue stargazer lilies is quite close to white stargazers, which is purity.
Purple color
Purple flowers are associated with beauty and royalty; the same stands for stargazer lilies. These lilies signify emotions without having to use the words.
Purple Stargazers are beautiful to look at. Moreover, these flowers are a real eye-catcher, so they are very attractive.
Golden color
The golden stargazers are a cross between oriental lilies and trumpet lilies. These have yellow blooms with some red spots.
This flower signifies success, commitment, and determination.
You can give these to someone when you want to congratulate them.
Interesting facts about the Stargazer Lily flowers
Stargazer lilies are often used as ornamental or cut flowers due to their beauty and a pleasant aroma.
Stargazers have a slightly spicy aroma that many people find overwhelming, making them one of the most fragrant flowers.
Stargazers are commonly seen in gardens and can grow up to 4 feet tall!
If consumed, stargazers and all types of lilies are exceedingly toxic to cats and can induce vomiting, kidney failure, and even death. Some creatures, however, are not affected by lilies.
How to grow Stargazer Lily flowers
In terms of growing stargazers in your garden, these lilies are easy to grow. Despite being tall, they only need a little effort. 
Plant the stargazer lilies in any medium soil with average moisture.
Choose a spot where the plants can get eight hours of full sun daily.
Apply a high-potassium fertilizer directly after planting.
Water the plants appropriately to moisten the soil, but do not overwater.
How to care for Stargazer Lily flowers
Water the stargazer lilies whenever the soil becomes dry to the touch.
Mulch around the soil to remain moist.
Feed the plants with an acid fertilizer to thrive.
Water deeply after each feeding.
Deadhead each flower after blooming to promote more budding in the season.
Cut the stalks down to ground level once the foliage turns completely brown.
Best time to gift Stargazer Lily flowers
Stargazer lily flowers can be given as a gift on a variety of occasions. It goes well with arrangements for Mother's Day, Easter, birthdays, and anniversaries. This flower is also a beautiful choice for funerals and life celebrations.
Conclusion
Once you get the stargazer flower meanings on point, you can find the right flowers for your flowerbed or gifting. That said since stargazer lilies are an evolved form of traditional lilies, the meanings and symbolism of these flowers can evolve and change.
The best part of using stargazers as gifts is that these flowers are versatile. You can use them for any occasion!
If you want to know and learn more about flowers, we at PansyMaiden can help you. Check out our fun, easy-to-read, and informative flower-related content that you will surely enjoy!