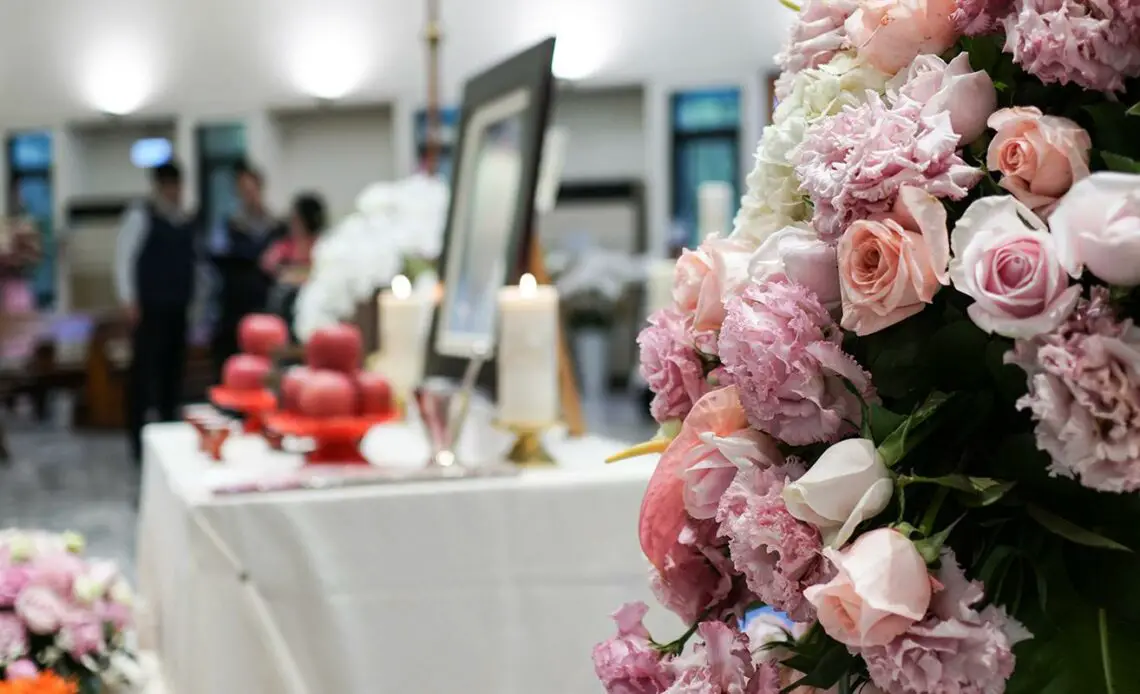 Gifting flowers as a symbol of sympathy is a good way to express your condolences at a funeral. You can send a bouquet or a funeral wreath that expresses how you feel. Many flowers have messages behind them and are a metaphor for quality or emotion. 
1. The type of Flower Arrangement
For many, sending a flower arrangement is nothing short of a time-honored tradition. It is considered a true sign depicting condolence or respect for the departed soul. Flower arrangement has become the preferred option as it achieves three purposes:
It expresses sympathy subtly.
It symbolizes the beauty every life holds.
The funeral flowers help you to show your support to the grieving family of your loved one.
It offers much-needed encouragement and hope to the grieving family.
Floral Baskets
Found in different sizes, these are lovely presentations. They can be delivered to:
A funeral home for any wake viewing
A church for religious service
The family's home
Standing Sprays
They make a great display item near the casket or an easel and can be viewed from one side alone. These sprays are best fit for:
A funeral home
A graveside burial ceremony
A church for a service
Wreath, Hearts, and Crosses
The wreaths, hearts, and crosses are regarded as prominent and larger floral arrangements. The funeral wreath typically represents eternal life; on the other hand, the funeral crosses show faith, and the heart represents love. These are often taken to a grave site or even given to a funeral home.
It will come as a big relief to you. Depending on whether you attend a grave site or funeral home, you can choose according to your needs. Additionally, with so many options available, you can easily decide on one according to your preferences.
2. Get acquainted with the meaning of flowers for funeral
Sending the wrong flower to your grieving friend or relative can have adverse implications. On account of this, it is wise to know the meaning of the flower beforehand. Knowing the meaning and symbolism will ensure the message's smooth and easy flow.
| | |
| --- | --- |
| Flower | Description/Meaning |
| Gladiolus | symbolize a powerful character and manifests the upliftment of the family you send it to |
| Lily | well-known to represent deathsymbolize purity, innocence, and the rebirth of the soulsymbolize hope and peace |
| Pink carnation | show remembrance of the departed loved one |
| White carnation | symbolize innocence |
| Red carnation | speaks volumes about admiration and love |
| Red rose | symbolize great and sincere love and respect for the person |
| Pink rose | signify grace and appreciation, letting the family know you are grateful that the person was in your life |
| Yellow rose | ideal pick for celebrating the life of a dear friend |
| White rose | perfect choice for many a funeral flower bouquetcommunicate messages of innocence and youthconvey a deep reverence and respect for the deceased |
| Orchid | represent everlasting love |
| White chrysanthemum | purity and sympathy |
3. Know the finer details about types of funeral flowers
Choosing a beautiful funeral flower arrangement can be overwhelming. However, some flowers perfectly fit the occasion:
Gladiolus
Normally, flowers are sent to show how much you appreciate the departed soul. While mourning the person who showed great strength, the gladioli flower is a great choice to give. Apart from being very tall, they are a perfect alternative for sprays. When these flowers are chosen for funeral floral arrangements, they appear visually stunning. Combining white and yellow gladioli flowers with yellow roses and, perhaps, chrysanthemums is common. A bunch of them in bright shades reflects the strength of character. They make great backing flowers in upright funeral flower arrangements.
Lily
Lilies have earned a reputation for being flowers for grief. You can give them to anyone who has lost a loved one. Traditionally, these are the best flowers to have or give at a funeral. These flowers symbolize hope and peace. This is the best alternative if you wish to send good thoughts to someone grieving the loss. White lilies resemble a serene nature making them extremely popular flowers for funerals.
Symbolic of the soul of the departed one, lilies stand for a process of renewal. If you send flowers to a strictly pious family, these are an excellent choice. White lilies match well with white carnations and have special significance in honoring departed loved ones. This was especially the case when the deceased was extra special. You can choose bi-colored lilies with hints of pink or deep burgundy in the center of pure white petals.
Carnation
Flowers that top any list of funeral flowers are carnations. Inexpensive and pretty, they are ideal for any large floral display. Fragrant and long-lasting, even as cut flowers, carnations spell innocence and purity of thought, especially in white or cream colors. If you want to show your love for the departed, you can combine pink or red flowers with white in your arrangement.
Rose
Rose is a popular choice among lovebirds. Nonetheless, it is also selected to represent death. Roses of any color have great meaning at a funeral. All religions and people universally love them. Red roses aren't just for Valentine's Day but are also offered as a message of the depth of your sorrow and grief. Crimson roses are a great choice, as they are a dark burgundy color that is austere enough to suit the occasion, as well as pink and yellow roses.
Different countries have different meanings based on the flowers used, but the white rose always symbolizes purity and heartfelt emotion.
Orchid
Orchids say a lot about how you feel. They are extravagant but arranged in the right way with the appropriate color scheme; they send messages of being there for someone, telling them they're not alone. Popular colors given as funeral flowers are pink, purple, and white. Orchids clearly say, "I love you, and I always will."
Chrysanthemum
Please note these flowers have their specific meaning depending on which part of the globe you wish to give them during a funeral. You ought to consider the ethnicity and culture of the mourners before sending these flowers.
For instance, countries like Japan and China believe white mums symbolize grief which is why it is used for funeral arrangements.
Similarly, countries such as Belgium, France, and Austria treat these flowers exclusively for memorial and funeral services.
Not all chrysanthemums are best suited for grieving occasions. For example, the orange or yellow chrysanthemums are often used for joyous moments such as anniversaries or birthdays.
4. Choose the colors wisely to complement their meaning
Flowers have distinctive features, and each color they have has its meaning. It would be best if you send a flower arrangement with the right color to fit into the definition of remembrance for funerals.
| | | |
| --- | --- | --- |
| Flower Color | Meaning | Best Flower for Funeral |
| Yellow | friendship | gladiolus |
| Blue | sorrow | delphinium and larkspur |
| White | innocence and purity | carnations, lilies, mums, and roses |
| Lavender | respect and humility | lavender, irises, and calla lilies |
5. Take note of special aspects worth considering while choosing these flowers
Everyone needs to know which flower will suffice for the purpose. For some, this is very challenging and complicated. Keep these factors in mind while selecting funeral flowers:
Closeness and relationship with the departed soul
Choose a flower that speaks many things about your relationship and closeness with the deceased individual. For example, go for an elaborate funeral arrangement if you share a closer relationship.
You can show the world what an excellent close relationship you shared by buying the biggest funeral flower arrangements. You can even go for:
Casket spray,
wreaths,
heart-shaped arrangements, or
large sprays on stands and wreaths.
For extended family members or friends, you can opt for the following:
Sprays,
flower baskets, or
smaller flower arrangements.
Keep a clear distinction between a funeral and a memorial service
Remember that there is a distinction between a memorial and a funeral service. Each service is different and warrants kinds of flowers.
For example, it relates to a cremation service having no burial; you can send items like:
green plants
flower baskets
funeral flowers
You can use the same flowers if it pertains to a burial service. In addition, you ought to accompany them with a flower stand.
To be safer, read the details about the invitation you received before deciding on the flower arrangement.
6. Give your personal touch to the flower arrangement
You can add your personal touch to the flower arrangement. Before that, consider whether the celebration is unique or traditional.
Sometimes, certain invitations are categorically mentioned to avoid red roses or white lilies. In such a circumstance, go for flowers that reflect the deceased's personality. 
For instance, give sunflowers if the deceased possessed a bright personality.
7. Give due respect to the religion.
Each religion is unique and has its set of accepted norms. Some religions might permit certain flowers for funerals, while others may not. Additionally, consider the religious beliefs and preferences of the deceased person.
The common protocol to be followed is to send funeral flowers directly to the family or funeral home.
White is the preferred color in the Roman Catholic, Protestant, Lutheran, Presbyterian faiths, and Buddhism. 
In Chinese, Japanese and Korean cultures, yellow chrysanthemums are favored as funeral blooms. 
The Hindu faith may accept flowers, but this is not the general custom. 
In the Islamic faith, opinions are varied, and if flowers are acceptable, then red roses are preferred. 
In the Hebrew faith, flowers are not appropriate, whatever the color. 
8. Donate without any second thoughts if requested
Willfully accepting donation requests is one way to show respect to the deceased. Honor this request and donate according to your best abilities without any second thoughts.
Conclusion
Losing a loved one is a hard experience, and gifts may not ease the pain, but sending flowers to the bereaved family can express your sympathy much deeper than financial support. Flowers can be your best ally to show your unmeasurable love and support.
However, you have to choose which flowers to send wisely. Every detail matters, from the type of flowers, their colors, or the flower arrangement. Fortunately, there are several funeral flower arrangements to express your true sentiments. They are often delivered to a funeral home and may be taken to a grave site.