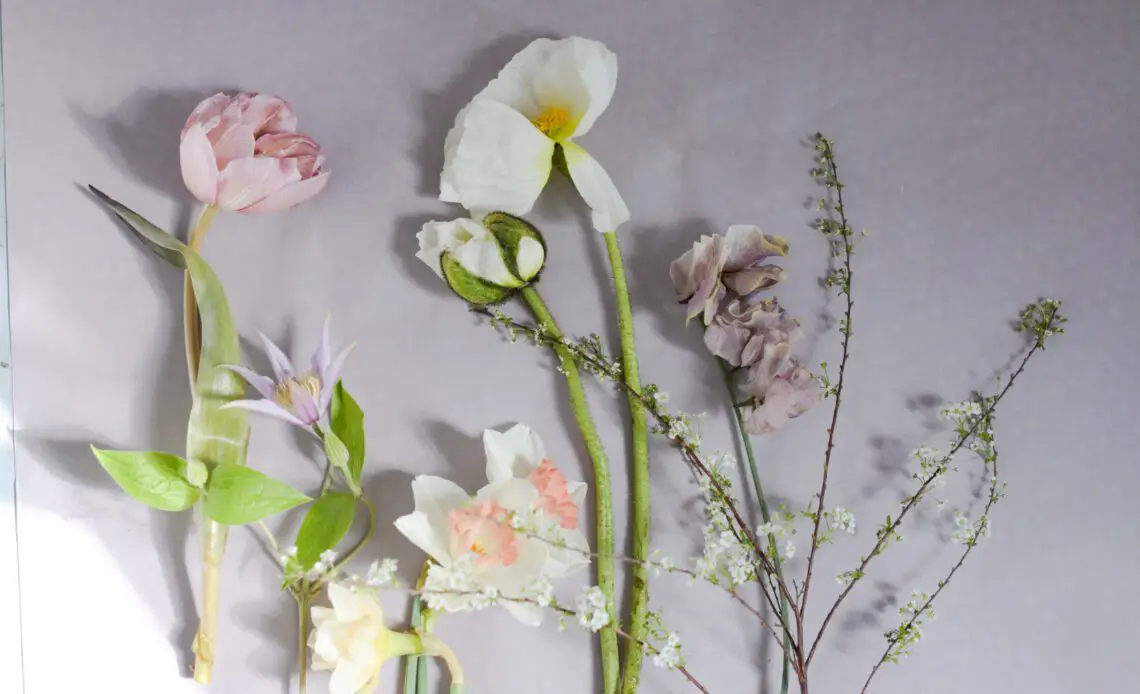 Flowers are a perfect gift to give to your loved ones and close ones. An arrangement of beautiful flowers can instantly light up anybody's day! What's more, you can keep the flowers in a vase and display them wherever you want. You can even keep dried petals in memory of the gift.
All in all, sending gifts to a person you love and care about takes some deliberation and effort. In most cases, gifts are a good option, but you can miss the mark with them.
But with flowers, you can never go wrong.
Wondering what to remember before deciding to send flowers to somebody you know? You've come to the right place. This article covers everything you need to know about gifting birthday flowers.
Why do flowers make for the best birthday gift?
Flowers truly stand out among all the creations of God on the planet. They are simply classy and admired by people for their elegance, simplicity, and peacefulness. It is rare to find someone that doesn't like flowers. They are available in various colors and aesthetics, each representing some distinctive character. Flowers also symbolize purity, innocence, and luck. They are the first choice when gifting someone you love, especially on their birthday.
Here are some reasons to gift flowers on a birthday:
1. Flowers symbolize elegance and simplicity.
Every flower is unique. So, when you arrange the flowers, you carefully select what will make the recipient happy. Since all flowers have meanings, you can choose the ones that fit the recipient you have in mind.
Also, a simple arrangement of beautiful flowers that smell wonderful is the simplest joy you can send to somebody on their birthday.
2. There is no hassle with flowers.
With other kinds of gifts, wrapping the presents and taking them to the person becomes tedious. There's always a chance that the gift you purchase may also become damaged.
Flowers, on the other hand, come as easy. Sure, you have to worry a little about the arrangements and the petals, but that's about it. Also, it does not create waste, such as wrapping paper and bows. 
You don't have to worry about whether the recipient will love it because they will surely do!
3. Flowers have your personal touch.
Since sending birthday flowers requires time and effort, it is personal. The recipient can feel your feelings when looking at the flowers you send.
Also, it is easy and clear to see that you carefully choose the flowers they love or would love.
Guide in choosing what flower to give on a birthday
There are different flowers ideal for different occasions. In gifting flowers, you have to choose a flower or a flower bouquet that seamlessly syncs with the theme of the event you are attending. However, when discussing birthdays, there are corresponding flowers to the recipient's birth month.
Have you ever thought how wonderful it would be if you could arrange flowers according to your recipient's birth month? If you have the least idea, go through the following paragraphs. We have listed flowers meant for different months and their attributes and symbolism.
Here's a list of flowers you can gift for a birthday:
Birth Month
Flower
Description
January
Carnations

Red and pink carnations
Yellow carnations
represent the purity of heart, admiration, determination, affection, and lovesymbolize positivity, love, beauty, and modesty convey disappointment and rejection (must be avoided)
February
Iris 
symbolize wisdom, royalty, faith, hope, and braveryrepresent love, beauty, and affectionconvey feelings to the recipient
March
Daffodils 
represent creativity, renewal, inspiration, and awarenesssymbolize beauty and warmth
April
Daisies 
symbolize cheerfulness, positivity, love, and purity
May
Lilies of the Valley
symbolize happiness, luck, purity, and modesty
June
Rose
Yellow roses Red roses White rosesPink roses
symbolize love, passion, beauty, timelessness, and modestysymbolize friendship and cheerfulnessrepresent love, beauty, and romance portray innocence and purityindicate admiration and passion. 
July
Larkspur
symbolize love, affection, admiration, and beauty
August
Gladiolus
symbolize faith, attitude, honesty, obsession, and strength
September
Aster
represent patience, elegance, diversity, and sophistication
October
Marigold
signify the warmth and beauty of the Sunrepresent zeal, contentment, love, sacredness, and creativity
November
Chrysanthemum
symbolize friendship, devotion, cheerfulness, and loyalty
December
Poinsettia 
represent joy, purity, love, and hope
January—Carnations
Carnations are beautiful flowers that represent the purity of heart, admiration, determination, affection, and love. Red and pink carnations are beautiful and can make your loved one feel special. Carnations have been used across cultures for generations. They symbolize positivity, love, beauty, and modesty and, for a long time, have been used for gifting people on their birthdays. These lovely, delicate flowers are grown across the globe and signify remembrance. They can add to the beauty of any floral arrangement and are the perfect choice for a gift. Both men and women appreciate the beauty of these flowers. 
In gifting carnation flowers for a January birthday, you must avoid the yellow carnations as they convey disappointment and rejection.
February—Iris 
Iris flowers have derived their name from the Greek Goddess "Iris" and are at the top of the list of flowers for birthdays. These amazing purple flowers look lovely and luxurious at the same time. They symbolize wisdom, royalty, faith, hope, and bravery. They represent love, beauty, and affection too. They are soft and small but unique when conveying your feelings to the recipient. You can gift a bunch of Iris flowers to your loved one on their birthday or create a beautiful flower bouquet with Iris as an addition. These flowers can impress the recipient and send your message loud and clear. 
While they are used for gifting on various occasions, Iris flowers are widely chosen for February birthdays. 
March—Daffodils 
Daffodils are special yellow flowers that bloom during the lovely spring season. They come up on the roadside, reminding you the warmer weather is approaching. These small, subtle flowers represent creativity, renewal, inspiration, and awareness, often linked to rebirth. Also called jonquils and narcissus, daffodils are timeless and symbolize beauty and warmth. The fine yellow petals are a perfect contrast with the bright green stems. The color tone and contrast can make anyone turn around for a second look. 
We feel there's no better gift than a bunch of neatly arranged daffodils to make your loved one feel special on his March birthday.
April—Daisies 
Daisies belong to the prominent Sunflower family. They are beautiful white flowers with bright yellow centers, also in pink and purple contrasts, symbolizing cheerfulness, positivity, love, and purity. These flowers appear innocent but bright and full of distinctive personalities.
Suppose you are looking for a way to make your loved one's April birthday extraordinary; give a bunch of fresh daisies or add a few to the flower bouquet. We assure your gift will be memorable.
May—Lilies of the Valley
Lilies of the valley are amazing small white flowers with a unique, sweet fragrance. They symbolize happiness, luck, purity, and modesty. It is also believed that these are flowers of the fairies and can protect the gardens from evil forces.
These elegant flowers are ideal for any happy occasion and should certainly be among the flowers you can give on a May birthday.
June—Rose 
Roses are the most widely available and renowned flowers in the world. They generally symbolize love, passion, beauty, timelessness, and modesty. Roses are found in bright, light-pleasing colors and almost all imaginable colors, representing a particular attribute. For example, yellow roses symbolize friendship and cheerfulness; red roses represent love, beauty, and romance; white roses portray innocence and purity; pink roses indicate admiration and passion. 
These cheerful flowers align with the needs and themes of multiple occasions and can be gifted to friends, colleagues, and family members. Depending upon the relationship you share with the recipient, you can choose a rose to greet the person on their June birthday. 
July—Larkspur
These flowers are generally gifted to those born in July. They are widely found in red, blue, pink, and purple varieties; however, they are also available in several other color combinations. They are bold and beautiful and can add value to any floral arrangement. Different species of larkspur flowers grow in different sizes, but generally, these flowers symbolize love, affection, admiration, and beauty. 
You should consider Larkspur if you are making a list of flowers to be given for a July birthday.
August—Gladiolus 
Gladiolus, also known as sword flowers, are bright and attractive and grow around 2-4 feet tall on a long spike. They are most commonly found in red, pink, orange, and yellow colors; however, they are also available in dual colors. These flowers symbolize faith, attitude, honesty, obsession, and strength and can greatly add depth to any floral arrangement. 
Since Gladiolus flowers are found in various colors and contrasts, choosing one that aligns with your feelings can be an exciting experience if given on an August birthday.
September—Aster 
Aster flowers are beautiful small flowers representing patience, elegance, diversity, and sophistication. The bright asters appear more like a chrysanthemum or a daisy and are cultivated worldwide for floral arrangements. 
Asters are perfect gifts for an engagement, a wedding, a congratulatory party, or a September birthday.
October—Marigold 
Marigold flowers are yet another popular choice if you check out a list of flowers for a birthday. They are native to the Americas and a part of the wonderful Sunflower family. Marigold flowers are found in red, yellow, and bright orange colors. Due to their color, confidence, and brightness, Marigold flowers signify the warmth and beauty of the Sun. They also represent zeal, contentment, love, sacredness, and creativity. 
These flowers make stunning base flowers for any flower arrangement and are an ideal gift for an October birthday.
November—Chrysanthemum 
The cute Chrysanthemum flowers bloom during winter and are found in white, red, pink, and green. They are strong and beautiful, symbolizing friendship, devotion, cheerfulness, and loyalty.
So, if you are looking for a list of flowers to give to anyone born in November, a bunch of chrysanthemums can be perfect. 
December—Poinsettia 
Native to Guatemala and Mexico, Poinsettias appear striking due to their red-colored leaves. They represent joy, purity, love, and hope and are widely used to present near and loved ones during Christmas. 
These sacred bright flowers look unique and can make a great December birthday gift. Craft a distinctive flower basket with Poinsettia leading the arrangement; you will be surprised to see how you've impressed the birthday boy/girl.
Tips for gifting flowers on a birthday
Birthdays are the perfect time to express your love, respect, and friendship to anyone special. Now you know the flowers that correspond to birth months, here are some more flowers you can choose from to give according to whether your recipient is a woman or a man with tips!
Tips on gifting flowers for a woman's birthday
Buying anything for a woman can become confusing, especially on her birthday. Since women have specific tastes and preferences, some deep thought is required. Here are some tips on gifting birthday flowers to women to make the process easier for you:
Roses are the best choice.
You can never go wrong with roses. Red, pink and yellow roses are good options. These colors signify love, care, and friendship. All bouquets of all three of these would make her very happy.
Note that you should avoid giving red roses if the recipient is not a romantic partner or a love interest.
Orchids can make her feel extra special.
Orchids are beautiful. They look serene and colorful, which is why they are best suited to be gifted to women. Another reason to choose orchids as birthday presents is that these flowers can bloom for months with the right care.
Creative color combinations in these flowers make for a colorful birthday gift.
Lilies and Tulips are elegant choices.
If you're looking for tips on sending birthday flowers to an older woman, a mother, or an aunt, you should keep in mind to avoid the smaller flowers.
Mostly, florists prefer to arrange larger flowers, like lilies and tulips, for older women. These flowers suit their tastes better.
You can ask the florist to add carnations or orchids to make the arrangement look better.
Things to keep in mind before sending birthday flowers to women:
You should make sure that the packing is as beautiful as the flowers. Do not go with flowers wrapped in plastic.
Add a couple of chocolates or any other snack she likes to have to the mix—this will make her very happy.
Consider her tastes and preferences when you choose flowers for her. In time, women generally mention the kind of flowers they like or what they may like. Keep that in mind.
Add a personal message to the flower arrangement—this will make your gift more personal.
Lastly, remember to send it to the right place. Avoid sending it to the woman's workplace if your arrangement is too romantic. You can send it to her house instead, or better yet, give the bouquet to her in person.
Tips on gifting flowers for a man's birthday 
Mostly flowers are considered good presents for women. But there are some amazing choices to choose from to send men on their birthdays as well:
White Orchids
White orchids are beautiful, delicate, and sophisticated. These flowers are gender-neutral, which is why they make for a good gift for men.
Also, the white color adds calmness to the environment. Orchids do not need care as much as other flowers, so the recipient does not have to worry about caring for them.
Birds of Paradise
These flowers are eye-catchy; from the shape of the tropical flower to the color combinations, this one will catch anybody's attention.
Giving these to a man will signify faithfulness, love, and thoughtfulness.
And let's be honest, it would look wonderful in any room.
White Anemones
These white flowers with dark interiors look perfect for any man's space. Despite portraying a romantic appeal, this flower remains masculine.
These flowers will make a great birthday gift for a man.
Things to keep in mind while sending birthday flowers to men:
When you think about gifting flowers for a birthday to a man, go bold. Men love to exude power, sensitivity, and love in a masculine sense, which should be kept in mind while choosing something.
White is the best color to choose if you can't find anything you like for the recipient. The color is gender-neutral and adds a touch of elegance.
Always go for striking shapes. If you don't think the recipient will love flowers, you should choose uniquely shaped flowers that catch their attention. It will also make them fall in love with the gift.
Consider the scent carefully. Like women, men like their spaces to smell in a specific manner. It will not be a good gift if the flower looks amazing but has a feminine smell.
Tips on sending birthday flowers to a workplace
As we spend most of our time at work, it is only natural for people to send gifts to the workplace. That said, since it is a professional setting, etiquette is required. 
If you've been contemplating sending birthday flowers to your friend, loved ones, siblings, or family's workplace, here are the tips to keep in mind:
Keep the bouquet subtle.
Bold choices go a long way, but when you send flowers to a workplace, a subtle gesture also goes a long way.
Sending romantic flowers to your loved one's home address could make sense, but that won't fly in a workplace. You may embarrass them in front of their co-workers and business partners.
Remember the capacity of the recipient.
Remember to look for gender-neutral flowers if you're sending birthday flowers to a boss, client, or business partner.
Flowers that do not have a strong scent can also be on your list of ideas to send as a gift.
You can add colors and gifts.
Flowers are a great gift choice, but adding something they love alongside will make them happier. When you send gifts to your loved ones, remember to add something extra personal for them.
You can choose the right plush toys, coffee mugs, cupcakes, or chocolates to go with it.
Think about others.
Since you are sending flowers to a workplace, you must also consider the recipient's co-workers.
Although flowers are for a specific person, if you send gifts, they will need to be for everyone.
If you're sending flowers along with cupcakes, send a whole basket of cupcakes; this will allow the recipient to enjoy their present and share them.
The Takeaway: Be careful of your recipient's needs
When you send flowers on a birthday, you need to consider who you're sending them to and where you will send them.
If you send the bouquet to a home address, you do not have to worry about the choices. But this is for those who are close to you.
Be careful, respectful, and friendly in professional relationships, regardless of the address. Going bold with it will not help you leave a mark on your birthday gift.
Always look for flowers that suit the personality of the recipient. Learn a bit about flowers and flower language. It will help you immensely to choose the right gift for the people who matter to you.
Remember to add a note. If you buy a flower for a person without the meaning in mind but because you thought the flower reminded you of them, leave a note.
Conclusion
Who wouldn't want to receive a gift on their birthday? Your friend, colleagues, or family would love to receive something special from you on their special day. The flowers mentioned above are a perfect gift for your loved ones according to their birth months.
Include their birth month flowers in your recipient's bouquet for them to know how much you love and care for them. The extra thought and effort you put into gifting flowers to them will be much appreciated.