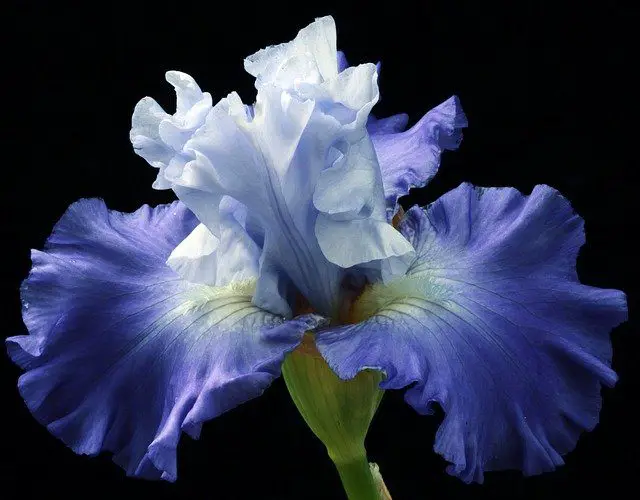 Blue flowers are one of the most uncommon hues for florals, but they're a terrific way to add cool colors to your arrangement. Blues can be light or dark, and they are available in various shapes and forms. It's simple to discover a distinctive blue for your special occasion, whether it's a unique blend or a darker shade of lavender or violet. With these flowers, you may make a great addition to your next blue bouquet!
Blue can convey a multitude of emotions based on the flowers and colors used by your flower shop: sharp and precise navy, striking royal blue, or dreamy sky blue. Many blooms don't have the specific blue we're looking for in reality, but thanks to today's genuine floral colors, no flower is out of grasp for people who want a blue bouquet.
Blue flowers, from iris to forget-me-nots, are among the most captivating and gorgeous blooms on the earth. Our concise overview to Blue Flowers strives to provide you with all the information you require! Including everything their identities, photos, and connotations to a comprehensive list some of the most common types, such as blue blossoms, trees, and bushes, may be found in this compilation.
Summer
Blue blossoms are prevalent during summer, with tints evocative of sea waves! For a nice contrast, use light, breezy blues in your blue bouquet or display.
Bird Bill Dayflower (Commelina dianthifolia) – This flower's vivid hue makes it simple to notice and identify from afar. The smoothly connected stem and grass-like leaves produce a distinctive combination with just three petals.
Lupine (Lupinus) – Lupines are available in a multitude of vibrant colors, notably yellow, purple, and blue, in addition to their great texture and form. Their quirky and one-of-a-kind design is a wonderful match for their desired metaphor: inventiveness!
Forget-Me-Not (Myosotis scorpioides) – Utilise these in an intimate gathering, such as an engagement or anniversaries or reception. It is a reminder of everlasting love filled with a lifetime of memories.
Cornflower (Centaurea cyanus) – Both honeybees and butterflies love these brilliant blue blossoms. To lend a delicate and striking touch to a blue bouquet, use these flared blooms.
Freesia (Freesia) – The pleasant smell and vibrant colors of freesias make these a beloved for so many. They are a symbol of mutual trust, respect and friendship. This bloom is ideal for weddings or anniversaries because it also symbolizes trustworthiness and devotion.
Hydrangea (Hydrangea macrophylla) – Every society and mythology has a different connotation for the hydrangea, from sincere feeling to pretentiousness. Use blue hydrangeas to make amends for whatever wrongdoings you've done, as they symbolize an atonement!
Gentiana (Gentiana verna) – These unconventional blossoms are a superb substitute to the standard rose or daisy in clinical and creative circles. Gentians are a wonderful gift for somebody you care about or believe is gorgeous.
Larkspur (Delphinium scaposum) – The larkspur is an antiquated flower that is just as lovely in the soil as it is newly plucked. It is a celebration of love and strong connection.
Papaver (Poppy ) – Traditionally associated with tranquilly and rest, the blue poppy is now associated with creativity, extravagance, and prosperity. To make the greatest impression, integrate this huge and bright flower into a lavish or expensive occasion.
Morning Glory (Ipomoea) – Morning glory is the designated flower for September celebrations, and it symbolizes innocence and a strong spirit. Incorporate morning glory in a blue bouquet for anyone who requires some motivation to pursue their goals.
Fall
While the traditional fall hues are peppery and earthy, including blue flowers into your styling is a refreshing change. Choose a bold, deep shade for a refined look or a soft, breezy sky blue for a laid-back vibe.
Periwinkle (Corydalis flexuosa) — These five-petaled flowers, a representation of pureness and blooming camaraderie, have been a legacy for centuries and centuries due to their elegance and healing properties. Make an arrangement out of them to present as a token of love to a new acquaintance!
Bluebeard (Caryopteris) – Bluebeards are a fascinating flower to enhance your composition because of their tall stems clothed in little leaves and laden with cornflower blue flowers. To make a gorgeous combo, add blossoms in amber tones.
Monkshood (Aconitum) – The Monkshood flower, also referred to as wolfsbane and a species of the buttercup family, was renowned throughout Middle Ages. These veiled flowers appear in a range of blue shades, including indigo and a brighter variation, if you're seeking for anything special.
Waterfall Azure Mist (Lobelia) — This star-shaped bloom has moderate stems and foliage and varies in colour from pale to royal blue. For a flowing arrangement, waterfall azure mist is ideal.
Salvia (Salvia) — This flower, which is synonymous with rehabilitation and wellness, is suited for a get-well present or a commemoration of conquering an ailment. Send this flower to a pal to let them know you're thinking of them during their illness.
Blue Daisy (Felicia amelloides) – It's no surprise that butterflies are attracted to these vibrant blossoms, which have sky blue edges and bright yellow cores. Blue daisies will add a splash of color and brightness to any design.
Winter
Blue blossoms are a great way to welcome the cooler weather. To make a unique blue bouquet, select blooms with distinctive petals.
Anemone (Anemone coronaria)- This gorgeous can liven up any room with its exquisite aroma and simplicity. Blue anemones are a symbol of protection against evil, bad luck, and ill omens, and they look great in decorations for a baby shower or a farewell party.
Scilla siberica (Siberian Squill) – The Siberian squill is easily detected by its six long arching petals, each one with a dark blue streak in the core. The complex details are also what contribute to making the Siberian squill iconic. Combine with white roses or hydrangeas to create a minimalistic arrangement that will cheer up the dismal winter days!
Glory of the Snow (Chionodoxa forbesii) – This flower develops at the end of the season and is named because of its capacity to peak out during the last snowfall of the year. Although dainty in appearance due to its small size and form, these flowers represent heartfelt charity and understanding in challenging times.
Spring
After a harsh winter, clear skies and lush greenery are two of the finest things to witness! With just an array of indigo blossoms, you may embrace the lovely spring weather.
Desert Bluebell (Phacelia campanularia) – Bluebells seem to be a notable flower historically, termed after their groups of blossoms that resemble little bells. A cluster of bluebells, which are linked with thankfulness and eternal love, is the ideal present to express your enduring love and unwavering dedication.
Bellflower (Campanula) — With its tall and robust stalk, this bell-shaped flower aligns wonderfully in lofty containers. Bellflowers are used in nuptials and engagement party bouquets because they symbolize unwavering commitment and sincerity.
Delphinium (Delphinium) – Blue and light blue are the most prevalent delphinium colors, and they reflect grace and poise. This delicate flower, which is also the national flower for July anniversaries, is ideal for giving as a motivational gift to individuals following their dreams.
Grape Hyacinth (Muscari armeniacum) – The hyacinth, a bell-shaped and aromatic flower, is a signature blossom that shines in any presentation. These flowers appear in bunches and come in various hues, making them an excellent addition to any mix!
Columbine (Aquilegia coerulea) — Incorporate blue columbine into your decorations to entice hummingbirds, moths, and butterflies to your next outdoor venue. The columbine is a good choice for a graduation ceremony because it inspires perseverance for future adventures.
Sea Holly (Eryngium alpinum) – This prickly bloom is a distinctive addition to any arrangement, expressing restraint and independence. If you want to keep your flowers after the occasion, ensure to have sea holly, which makes great dried herb.
Iris (Iris sibirica) – This is a majestic flower that is known to represent faith, grandeur, and optimism. Make sure to utilise this blossom to add an interesting accent to any arrangement. You can also use as stand-alone impression in any blue bouquet or decoration.
Allium (Allium caeruleum) — Also known as the "Ornamental Onion," the allium blossom is beautiful in a bouquet, whether fresh or dried. They offer a fascinating accent to any arrangement because to their distinctive shape!
Agapanthus (Agapanthus africanus) — Also known as the Nile Lily, the Agapanthus' exotic blossoms take center stage in any arrangement. This adaptable flower comes in a variety of colors, from a deep indigo to a light powder blue, and is ideal for cheering up any bouquet!
Because of so many colors to choose from, getting the ideal blue to compose your new favorite arrangement is simple. The hue blue, which is often associated with "calm" and "relaxation," may generate magnificent combinations when combined with bright colors. Whether you favor delicate or bright blooms, you're bound to find something new on this list. Blue flowers can be used as a splash of color or as the primary hue in your design.