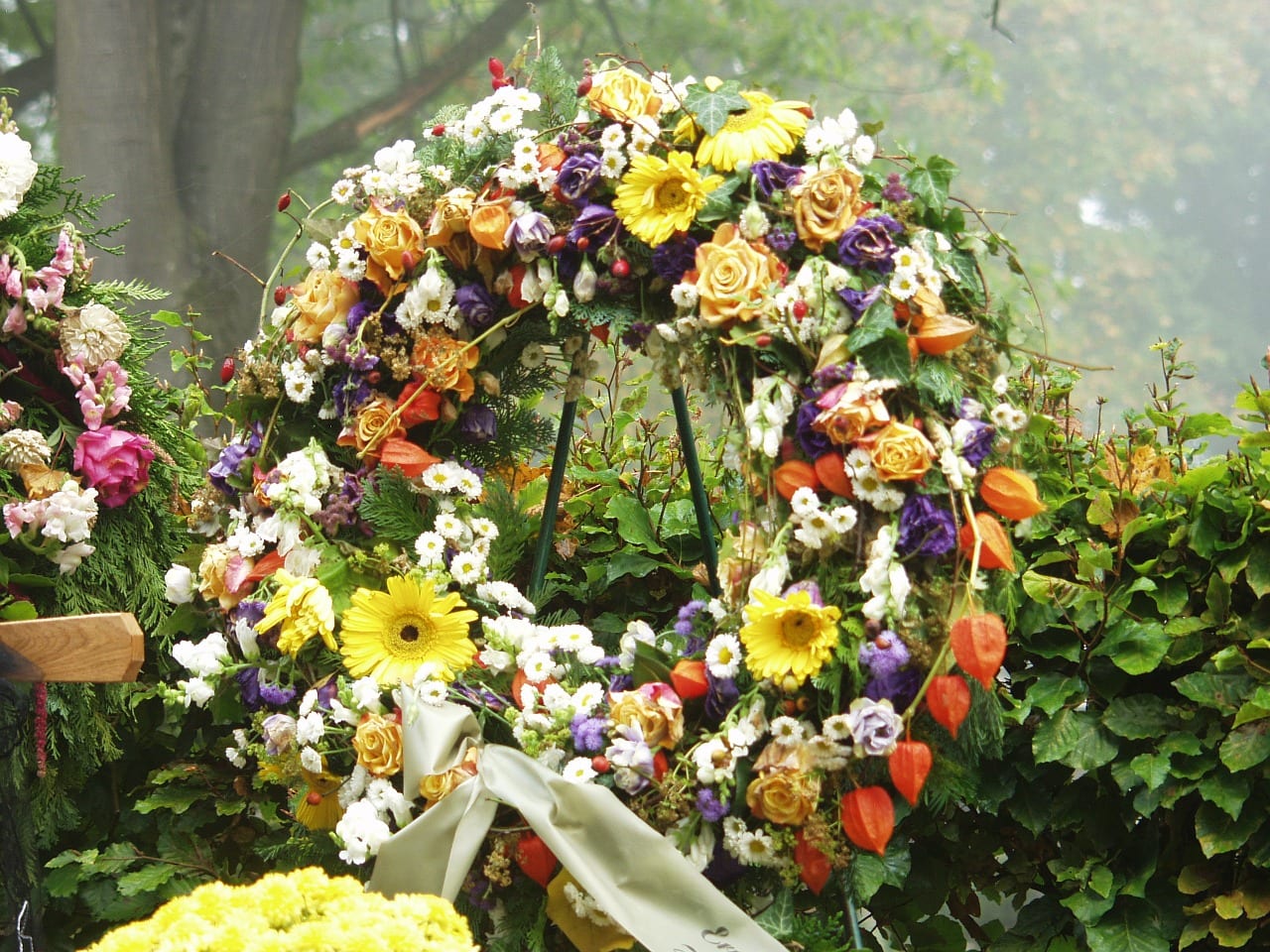 Among life's events that we hope never to go through, funerals are surely at the top of that list. But alas, this is inevitable. Funerals are our last opportunity to say our final goodbyes to the departed's mortal remains. They present us with a final chance to convey how much the deceased meant to us, and flowers have long conveyed that message. Funeral flowers are a sign of our sympathy for the bereaved family and a symbol of a special quality the deceased portrayed throughout their life.
Selecting the best funeral flowers can be a challenge. More often than not, it is common protocol to send a funeral wreath to the family in mourning. 
A smart way to choose flowers to send as a gift is to inquire about the general theme of the funeral. You can do this by talking with the funeral organizer. They will be able to tell you about the color schemes and décor that have been decided on. 
What are funeral wreaths?
Funeral wreaths are flower arrangements that are most related to funeral settings. They are the typical choice of funeral organizers and the grieving family. They are created on a circular frame and are round floral arrangements by design. A flower arrangement fashioned as a wreath symbolizes eternal love and emotion. You may send your wreath directly to the funeral home, church, or crematorium rather than directly to the family.
A funeral wreath may not necessarily be round, as traditional ones are. Wreaths can contain special messages for the person they are meant for and can be in unique heart-shaped arrangements.
Wreath symbolism
Wreaths at funerals have been used since the time of the Ancient Greek civilization. Throughout history, wreaths have come to represent the circle of life and are a poignant way to honor the deceased. Records show that evergreen wreaths were often placed at burial sites of old Christians who died as martyrs in Europe. 
When choosing the ideal wreath for the deceased being remembered, there are many options. Classic white wreaths are popular, and you can't go wrong with them. Combinations of different flowers in similar colors can be blended for a beautiful wreath arrangement. 
Whatever you ultimately choose should be a reflection of your honest feelings and the people to whom you are offering your sympathy.
Popular funeral flowers for wreaths
Before you think of "putting something together," you should consider what different flowers signify in an arrangement. Here are some pointers:
Lilies 
Lilies are the most identified with funerals and are the classic flower for funeral wreaths. Usually, white lilies are selected. These have a strong aroma. Lilies symbolize that the deceased soul is resting in peace and innocence has been restored. This flower is represented by the Christian belief in purity, virginity, and the soul's brilliance. According to Catholic tradition, it is believed that the lily was placed over the tomb of the Virgin Mary.
This six-petalled wonder of nature is also seen as a flower with strong ties to the afterlife and the souls of the dead. They symbolize purity and radiance and a small tribute to something the departed would have been synonymous with within their lifetime.
Carnations
These are versatile flowers as they come in various colors and can be matched with other flowers in an arrangement. They are hardy, long-lasting, and fragrant flowers.
Every carnation color has its distinctive meaning. For instance, white represents innocence, and red represents affection. However, yellow carnations are a safe option. Pink carnations, usually a lighter version, are the favorite of Catholic devotees. They believe that the flowers are created from the tears of the Virgin Mary. 
Personalized tributes with carnations can be created to portray logos and other symbols related to the deceased.
A combination of yellow and white carnations in a wreath or bouquet arrangement makes for a perfect sympathy offering. 
Carnations convey a message of remembrance and respect for the dead.
Roses 
Although traditionally associated with love and passion, roses can also be offered at funerals. They are the go-to funeral flower for wreaths, funeral arrangements, and bouquets. 
Their warm yellow roses are offered to the bereaved family as a sign of strength. Deep red roses exude love and sympathy. White roses are a metaphor for spirituality and purity. Yellow roses stand for the bonds of friendship. Dark pink hues are used to show gratitude to the deceased.
Orchids 
Although a flower symbolizes love and beauty, the orchid also signifies thoughtfulness. These may be placed on a wreath with other fuller flowers like roses. They usually last a long time after they are removed from the arrangement.
This delicate and exotic ornamental plant is a perfect choice for a senior office colleague or someone who would have mentored you in your youth.
Chrysanthemums 
This flower is traditionally viewed as the death flower that implies respect and grief. 
The connotation of chrysanthemums changes depending on which part of the world you are in. These flowers send messages of honor and compassion in the USA and parts of Europe. In Asia, these flowers are symbolic of rebirth.
 A simple wreath arrangement of yellow and white chrysanthemums is a beautiful and thoughtful gesture to offer sympathy to the grieving family.
Best Choices Of Yellow Flowers For Funeral Wreaths
Here is a list of yellow funeral flowers that will help you convey your sincerest condolences for someone's loss.
| | |
| --- | --- |
| Flower | Description |
| Calla Lily | signifies hope and strength for the grieving family |
| Camelia | offered as admiration to the deceased |
| Carnation | convey a message of remembrance and respect to the dead |
| Chrysanthemum | implies respect and grief |
| Daffodil | offer comfort and sympathy to the bereaved family |
| Dahlia | symbol of spirituality |
| Daisy | ideally offered at a funeral of a good or old friend |
| Gladiolus | for someone who is remembered for their strong character |
| Hellebore | symbol for serenity and peace |
| Hyacinth | represents deep sorrow for the departed |
| Hydrangea | symbolizes a strong feeling of sadness |
| Iris | symbolize that the departed was a person that stood for wisdom, faith, and valor |
| Kerria Japonica | appropriate for someone you held in high regard and respected a lot |
| Lilac | presented at a funeral of someone you loved and cherished |
| Lily | symbolizes purity and radiance |
| Marigold | symbolizes despaired love |
| Mimosa | for a thoughtful tribute at a funeral |
| Orchid | signifies thoughtfulness; perfect choice for a senior office colleague or someone who would have mentored you in your youth |
| Pansy | for someone who was near and dear to you |
| Peony | signify healing to the bereaving family |
| Primrose | strong symbol of femininity |
| Rhododendron | indicates a positive memory of the deceased person |
| Rose | offered to the bereaved family as a sign of strength |
| Snapdragon | convey the message of strength during a difficult time |
| Solidago | gives support in difficult times |
| Tansy | symbolizes immortality |
| Tulip | signifies your love and affection for the departed |
| Water Lily | symbolizes purity, peace, and wellness |
| Yarrow | symbolizes protection, and healing for the grieving family |
| Yellow Zinnia | represents remembrance and fond memories of a person you spent time with in this lifetime |
Yellow flowers, mixed with white or other different flower colors, make a perfect funeral flower wreath for a sympathy offering.
Tips to keep in mind when selecting a funeral wreath:
While selecting a wreath to send, make your choice personal. If you are close to the family, you may know what flowers they like. You may also know the colors they prefer.
You must invest some time in researching while choosing a wreath. Specific flowers are metaphors for particular feelings, so you must consider appropriateness. 
Flowers convey a special meaning more than ever at a funeral, so you must choose wisely.
Funerals may be formal occasions or informal ones. The wreath you send should be a reflection of that.
Conclusion
If you have a close relationship with the deceased, a funeral wreath is an ideal flower arrangement you can send to be displayed at the funeral home or church. You can mix beautiful flowers like lilies, carnations, or roses in a circle or heart-shaped funeral wreath.
You can send a funeral wreath from your heart to show your deep condolence and sympathy to the bereaved family.