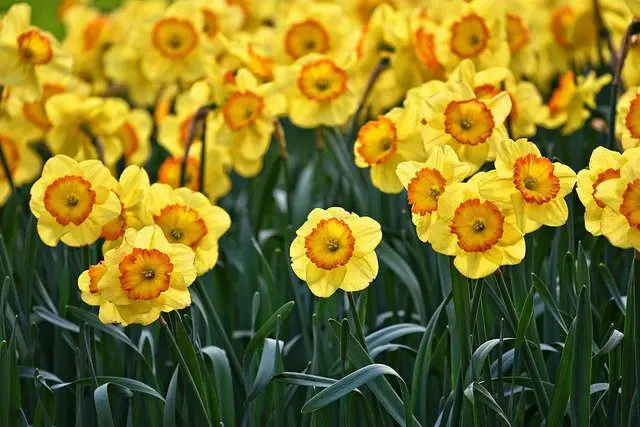 Among life's events that we hope never having to go through, funerals are surely at the top of that list. But alas, this is something that is inevitable. Funerals are our last opportunity to say our final goodbyes to the departed's mortal remains. They present us with a final chance to convey how much the deceased meant to us, and flowers have long conveyed that message for us. Funeral flowers are not only a sign of our sympathy for the bereaving family, but also a symbol for a special quality the deceased portrayed throughout their life. Here are a list of yellow funeral flowers that will help you convey your sincerest condolences for someone's loss.
1. Daffodil
Yellow daffodils have long been used in burial or funeral wreaths. These beautiful yellow funeral flowers offer comfort and sympathy to the bereaved family. An arrangement in the form of a wreath or a simple bouquet makes for a kind and thoughtful gesture.
2. Chrysanthemum
The chrysanthemum is a good and safe choice for a yellow flower wreath when deciding on what to present at a funeral. This flower is traditionally viewed as the death flower that implies respect and grief. A simple wreath arrangement of yellow and white chrysanthemums is a beautiful and thoughtful gesture to offer sympathy to the grieving family.
3. Daisy
Daisies are another good choice for yellow funeral flowers. A combination of yellow and white daisies in a wreath makes for a perfect funeral arrangement. Daisy wreaths are ideally offered at a funeral of a good or old friend.
4. Hydrangea
Hydrangea is a common flower used at funerals and the yellow hydrangea in particular symbolizes a strong feeling of sadness. This makes it a perfect choice for yellow funeral flowers. Hydrangea wreaths look very pretty on a circular frame or even in the form of a cross.
5. Kerria Japonica
Commonly known as the Japanese rose, the Kerria Japonica, is a golden yellow flower that grows mainly in spring. This delicate flower makes appropriate yellow funeral flower wreath for some one you held in high regard and respected a lot.
6. Camelia
Camelia or Camellia sasanqua are beautiful yellow funeral flowers that are offered as admiration to the deceased. A wreath made of yellow Camelia would look lovely highlighted with salmon pink roses.
7. Gladiolus
Gladiolus is a good choice of flower to offer at a funeral, especially for someone who is remembered for their strong character. Yellow gladioli will convey that message along with your sympathy for the deceased's family.
8. Carnation
Carnations are hardy, long-lasting, and fragrant flowers. They are also quite a common and safe option for yellow funeral flowers. A combination of yellow and white carnations in a wreath or bouquet arrangement makes for a perfect sympathy offering. Carnations convey a message of remembrance and respect to the dead.
9. Hyacinth
The yellow hyacinth is used at funerals and burials as a flower arrangement because it represents deep sorrow for the departed. According to Greek mythology, hyacinth got its name after Apollo named it in honor of his dead friend, Hyakinthos. This magnificent flower is perfect in a wreath along with its contrasting bright green leaves as the background.
10. Iris
The yellow iris or commonly known as the yellow flag or water flag, is a good choice for a yellow funeral flower wreath. Irises symbolize that the departed was a person that stood for wisdom, faith, and valor.
11. Lilac
Although rare and usually available during late spring, yellow lilacs are often presented at a funeral of someone you loved and cherished. Lilacs are the perfect funeral wreath or sympathy bouquet for the family of the departed.
12. Lily
Lilies are a classic flower for funeral wreaths or arrangements. This six-petalled wonder of nature is seen as a flower that has strong ties with the afterlife and the souls of the dead. They symbolize purity and radiance, and a small tribute to something that the departed would have been synonymous with in their lifetime.
13. Rose
Although traditionally associated with love and passion, roses can also be offered at funerals. In fact, they are the go-to yellow funeral flower when it comes to wreaths, funeral arrangements, and bouquets. Their warm yellow roses are offered to the bereaved family as a sign of strength.
14. Mimosa
Among other yellow funeral flowers, a bouquet of a dense yellow mimosas bunched together or even paired with lilies is a thoughtful tribute at a funeral. This yellow winter flower is also the perfect arrangement at a funeral, especially someone you cared for and loved.
15. Tulip
This spring time flower that is usually associated with weddings, is also offered at funerals or laid at gravestones. Yellow tulips make for a beautiful bouquet at the grave of the departed and it signifies your love and affection for them.
16. Snapdragon
Snapdragons are a symbol of strength because they are capable of withstanding harsh weather. A wreath made of beautiful yellow snapdragons will convey the message of strenght during a difficult time to the grieving family, while offering your condolences for their sad loss.
17. Orchid
Although a flower that is used to symbolize love and beauty, the orchid is also known to signify thoughtfulness. This delicate and exotic ornamental plant is a perfect choice for a senior office colleague or someone who would have mentored you in your youth.
18. Pansy
This two-toned flower is offered at a funeral for someone who was near and dear to you, someone close to your heart. A combination of yellow pansies with marigolds or chyrsanthemums makes for a beautiful funeral wreath.
19. Water Lily
Many cultures around the world associate water lilies as a symbol of purity, peace, and wellness. A wreath full of yellow water lilies would certainly signify these qualities for someone at their funeral. Yellow water lilies along with white lilies would be ideal as white lilies have a strong association with spirituality.
20. Dahlia
The Aztecs considered the dahlia as a symbol of spirituality that they used for different types of religious ceremonies. Offering a dahlia wreath is also a good gesture to show that the departed was loved. Both yellow dahlias and roses are a perfect combination to offer at a funeral or grave.
21. Yellow Zinnia
Yellow zinnia is a fine way of paying tribute to someone near and dear. It represents remembrance and fond memories of a person you spent time with in this lifetime. Pretty little yellow zinnia with beautiful orange daisies would make a fine flower combination in a funeral wreath.
22. Marigold
The golden hue of the marigold signifies many things, however, at a funeral it would only symbolize despaired love. Someone who has lost a person they loved and cherished. A wreath consisting only of marigold or in combination with white chrysanthemums would be a suitable offering at a funeral.
23. Yarrow
Although commonly used as a medicinal herb, this cluster flower makes for a beautiful wreath, especially yellow yarrow bunched together in a circle. You can always throw in some sunflowers to give it that different hue of yellow with dark brown dots over it.
24. Hellebore
Also known as the Christmas rose, the Hellebore is a symbol for serenity and peace. This is an awesome flower to pay tribute to a person known for those qualities. Yellow hellebores set on a round frame with a dark green foliage background would make for a pretty wreath.
25. Calla Lily
The trumpet-shaped calla lily is an elegant and beautiful choice of flower to offer at a funeral. A wreath of calla lilies is appropriate to offer at a funeral because of its religious association. This long-lasting flower signifies hope and strength for the grieving family.
26. Primrose
The primrose is offered at the funeral of a person who stood for feminism as this cute little flower is a strong symbol of femininity. A beautiful yellow primrose wreath set in a round frame or cross is an ideal choice.
27. Peony
This summer flower symbolizes many wishes you can possibly offer someone, and one of those wishes is healing. A lovely yellow peony wreath would signify healing to the bereaving family following the loss of a loved one. Yellow peonies with light blue hydrangea or salmon pink roses would be a perfect wreath to offer.
28. Tansy
Tansy is a bright and lovely yellow-colored flower that makes for a wreath at a funeral. This strong-scented flower is usually available in autumn and is ideally clumped together to form a beautiful wreath.
29. Solidago
The solidago, more commonly known as goldenrod, is a cluster of bright yellow-colored flowers that look like streaks on the end of a stem. They make for a simple yellow wreath along with its pale green leaves that make up the background.